Art History in the U.S.
The history of art in the U.S. originates with the works of indigenous peoples, often expressed in ritual items, utilitarian objects, and adornment pieces. When Europeans settled in the U.S., they borrowed heavily from European art influences, such as Romanticism and Neoclassical architecture. As African American, Chicano, and Asian peoples arrived in the U.S., they too brought their own traditional styles of artwork and architecture, contributed to the style of the time, or blended the two. Early U.S. art often consisted of portraiture (example: Henrietta Johnston) or folk art (such as Harriet Powers' quilts). By the early to mid-1800s, art collectives and movements, such as the Iroquois Realist School and the Hudson River School began to expand art and artistic styles in the U.S.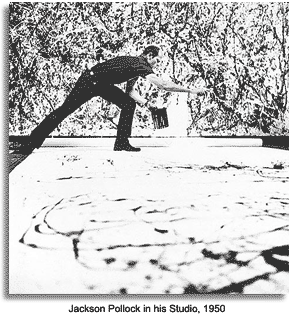 By the early 1900s, American art had developed its own artistic styles and influential movements in photography, the Harlem Renaissance, and American Realism, to name a few. The WPA Federal Art Project, a New Deal program of the 1930s and early 1940s, supported numerous artists and advanced art in the U.S. American art from the mid-1900s to the present expanded into Abstract Expressionism, Pop Art, Minimalism, Environmental art, and Postmodernism.
Click on the links below to learn about a few influential artists and architects, as well as additional information about art museums and colleges:
PAINTERS, SCULPTORS & ILLUSTRATORS

AMERICAN REALISM & FOLK ARTISTS ROOTS OF ABSTRACT & MODERN ART EARLY INFLUENTIAL PHOTOGRAPHERS ARCHITECTS ARTISTS...AND MORE ART MUSEUMS ART COLLEGES