Edward Steichen
Edward Steichen was an American photographer, painter, and curator of an art gallery and a museum.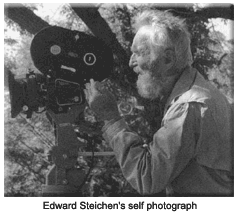 Early Life
Edward Jean Steichen was born in Luxembourg, on March 27, 1879. His family immigrated to the United States in 1881. They settled in Hancock, Michigan, but moved to Milwaukee, Wisconsin in 1889.
Edward's early interest in art was encouraged by his mother. He attended the 1893 World's Columbian Exposition in Chicago, where he was introduced to contemporary works of art. When Edward was 15 years old, he began an apprenticeship in lithography at Milwaukee's American Fine Art Company. From 1894 to 1898, he worked at the Milwaukee Art Students League under Richard Lorenz and Robert Schode. He began to take photographs in 1895, but continued with his painting career as well.
Meeting Stieglitz
Steichen became a naturalized citizen of the United States in 1900. In 1902, he joined with Alfred Stieglitz and 11 other photographers to establish the Photo-Secession, an organization dedicated to promoting photography as fine art. They also founded Little Galleries, located in New York City, where they could exhibit their work.
In 1904, Steichen began to experiment with color photography, and was an early user of the Lumiere Autochrome process. In 1906, he traveled to Paris to select work to be exhibited by Stieglitz in New York. The artists included Picasso, Rodin, and Cezanne, among others.
Steichen and Stieglitz had a stormy relationship. Their differing attitudes toward the First World War precipitated the breakdown of their partnership, and began a 25-year period during which they did not speak to each other.
Work Affects Art
During World War I, Steichen was in charge of the division that took air force photographs for the United States Army. That precision work brought a lasting change to his art; he started emphasizing realism and clarity in his work.
Following the war, Steichen opened a commercial studio in New York City, and specialized in portraits and advertising. Success led to work with Vanity Fair and Vogue magazines. His photographs during this time became some of the most familiar images of personalities during the 1920s and '30s — such names as Greta Garbo and Charlie Chaplin.
In 1938, Steichen retired from commercial photography. During World War II, he organized the Road to Victory and Power in the Pacific exhibitions for the Museum of Modern Art in New York City. In 1945, he became the director of the U.S. Naval Photographic Institute, and was placed in command of all combat photography. He was honorably discharged in 1946, with the rank of captain.
Family of Man
From 1947 to 1962, Steichen was director of the Department of Photography at the Museum of Modern Art. He did not do any photographic work of his own during this period. He was responsible for 50 shows, including The Family of Man, consisting of 500 photos selected from more than two million, depicting life, love and death in 68 countries. It was the most popular exhibition in the history of photography, and also a best-selling book.
In 1961, Steichen was honored with a one-man show of his photographs at the Museum of Modern Art. In 1964, the Edward Steichen Photography Center was established at the museum.
End Notes
Edward Steichen died on March 25, 1973, in West Redding, Connecticut. He was two days shy of 94.
In 2000, Steichen's third wife and widow, Joanna Steichen, wrote and edited a major work spanning seven decades of Steichen's work, with more than 300 photographs. Steichen's Legacy: Photographs, 1895-1973, also tells the story of their years together as husband and wife, artist and assistant.