John Singer Sargent
John Singer Sargent was an American artist, best known for his portraits. Although he was an American by birth, he was born in Europe and spent much of his life there. He was a celebrated portraitist of his time, but at the height of his fame, he redirected his skills to full-time landscape painting, water colors, and public art.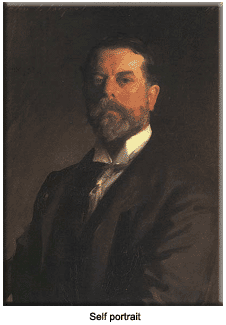 Early Years
John Singer Sargent was born on January 12, 1856, in Florence, Italy, to American parents, Fitzwilliam and Mary Newbold Singer Sargent. John had two younger sisters.
He spent the first 20 years of his life in Europe. As a young man, Sargent studied painting in Italy and France. He was heavily influenced by the Spanish master Velazquez, the Dutch master Frans Hals, and his teacher, Emile Auguste Carolus-Duran. He moved to the United States in 1876, just before his 21st birthday, and stayed for a year.
Sargent was considered to be the darling of Paris until the unveiling in that city of his "Madame X" portrait, in 1884. The portrait was considered to be scandalously provocative and erotic. Given such a negative reaction, Sargent moved to England, where he reached the height of his fame.
A Long Visit
Sargent took a trip to the United States in 1890. In 1918, he was commissioned to symbolize the co-operation between British and American forces during World War I. He painted "Gassed," which became a haunting image of the war.
Sargent was commissioned by the Boston Public Library to decorate the Special Collections Hall in the new library building. His work on that project lasted for 25 years, while he continued to paint portraits. The final panels were installed in 1919.
Before Sargent finished the last of the panels for the library murals, the Museum of Fine Arts in Boston commissioned him to design ceiling decorations for its rotunda. The museum was so pleased with the end result that they asked him to extend his murals over the stairway as well.
In 1921, Harvard University commissioned Sargent to paint two panels at the Widener Library, commemorating the victims of the Great War. The panels were unveiled in 1922.
While in the States, Sargent rendered portraits two U.S. presidents, Theodore Roosevelt and Woodrow Wilson. He also painted waterfalls in the Rocky Mountains, while under a canvas tent in pouring rain. Sargent kept a record of his traveling, not with a diary but by painting. Although he traveled throughout his life, he always kept London as his home.
During the height of his career, Sargent rendered roughly 900 oil paintings and more than 2,000 watercolors, as well as countless sketches and charcoal drawings. He painted the aristocracy of Europe and the tycoons of U.S. business. He also painted gypsies, tramps, and street children with the same passion and love as any other painting he created.
A Singular End
Sargent loved people, however, he never married nor had children. He died in his sleep at his London home on April 14, 1925, at the age of 69. The great painter's remains were interred in Brookwood Cemetery near Woking, Surrey.