Edward Hopper
Edward Hopper, an American Realist painter whose highly individualistic works are a benchmark of American realism, epitomizes an art awareness that eerily depicts contemporary American life as characterized by isolation, melancholy, and loneliness.
Birth and Childhood
Edward was born on July 22, 1882, in the small Hudson River town of Nyack, New York. He was the son of a modest middle-class dry goods storeowner. Not having many friends as a child, Hopper filled his solitude with such activities as reading and drawing. Hopper knew that he wanted to be an artist as early as 1899, the year of his 17th birthday.
He first attended a school of commercial art and illustration in New York City, New York, in 1899. In 1900, he transferred to the New York School of Art. The chief instructor was William Merritt Chase (1849-1916), a painter who imitated the style of John Singer Sargent. In addition, he studied under Robert Henri (1869-1929), one of the fathers of American Realism. Edward Hopper spent several years at the School of Art, honing his craft. He and his fellow students were urged to develop a realistic style, depicting urban culture.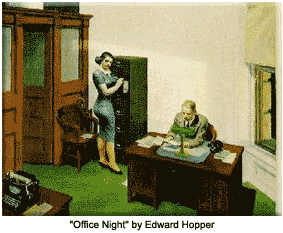 Early Career
As many young artists do, Hopper wanted to study in France. In October 1906, his wish was fulfilled when, with his parents' aid, he left for the Continent. During that trip, he also visited London, Amsterdam, Berlin, and Brussels. Hopper made return visits to Europe in 1909 and 1910. However, after those trips, he never again sojourned in Europe.
Hopper was greatly moved by the works of Diego Velazquez, Francisco de Goya, Honore Daumier, and Edouard Manet. His early paintings exhibited some of the basic Realism characteristics that he would carry all the way through his career, a balanced, combinative style based on simple, large analytical forms; broad areas of color, and the use of architectural fundamentals in his scenes.
For many years, memories of days abroad dominated Hopper's painting style. His first showing, a painting reminiscent of his "European" style, was a failure. Following that attempt, Hopper renewed his efforts by using homegrown American subjects, for which he is remembered most.
Edward Hopper made his first sale in 1913, at an exposition in New York. Despite his success, he was plagued by doubt and fear following his first one-man exhibition at the Whitney Studio Club, where he was unable to sell anything. For several years after he turned 37, Hopper earned a living as a commercial illustrator.
Marriage
In 1923, Josephine Nivison, whom he had known when they were students under Chase and Henri, entered his life once more. Their renewed friendship led to marriage the following year. Although they had a troubled and turbulent marriage, his wife was at the center of his painting. She became his model for all his female figures, and worked so well with him that she could assume any of the various personae he required. It was as if Jo had become his good luck charm. The same year they married, the winds of fortune changed for Hopper.
Later Career
Edward Hopper's banner year was 1924. His second one-man exhibition at the Rehn Gallery in New York, was a sell-out that year. The following year, he painted "The House by the Railroad," which is now proclaimed as his first entirely realized painting. In that work, he commenced what was to become typical of all his creations, a deliberate and disciplined sparseness. His paintings would thereafter be a blend of deceptively mismatched character. They were Modern in their austerity and cleanness, but also complete in reminiscence of the unsophisticated virtues of the American past. Hopper's career took off and would be remarkably unaffected by The Great Depression of the Thirties. Edward Hopper had made his mark on the world.
The Museum of Modern Art (MOMA) held a 1929 exhibition, Paintings by Nineteen Living Americans, which included Hopper's work. A year later, "The House by the Railroad" became part of its permanent collection, and "Early Sunday Morning," was purchased by the Whitney Museum. In 1933 and 1950, Hopper was honored with retrospective exhibitions by MOMA and the Whitney, respectively. Although his work lay outside the mainstream of mid-20th-century abstraction, his simplified schematic style was one of the influences on the later representational revival, and on pop art.
Late Life
Hopper worked into his old age, dividing his time between New York City and Truro, Massachusetts. He suffered terrible creative blocks for the remainder of his career. He died in 1967, all but forgotten, in his studio near Washington Square. Edward Hopper's fame did not endure as his muse dried up. His wife, who died 10 months later, bequeathed his work to the Whitney Museum of American Art.
In 2004, the world remembered and honored Hopper when many of his paintings toured Europe, stopping at the Museum Ludwig, Cologne, Germany, and at the Tate Modern Art Gallery in London. The Hopper exhibition became the second most popular in the latter gallery's history, with more than 400,000 visitors in the three months it was open.
---
See also
Andrew Wyeth
and
Jackson Pollock
.