Andrew Wyeth
Andrew Newell Wyeth is an American realist painter, one of the most famous of the 20th century. Owing to his popularity with the American public, he has been called the "Painter of the People." His most-noted work, one of the best-known images in 20th-century American art, is "Christina's World" (1948), in New York City's Museum of Modern Art.
Childhood and Education
Andrew Wyeth is the son of Newell Convers Wyeth, a famous American illustrator and artist. Andrew is the youngest of five children, was home-schooled, and learned art from his father. At the age of 20, Wyeth held his first one-man exhibition of watercolors at Macbeth Gallery in New York City. Wyeth's career was launched when the entire inventory of paintings sold quickly.
Marriage and Early Career
In 1940, Wyeth married Betsy Merle James, whom he had met the year before in Maine. Betsy introduced Wyeth to Christina Olson, who became the subject of "Christina's World." Christina, her brother Alvaro, and their weatherbeaten house became an important subject of Wyeth's art.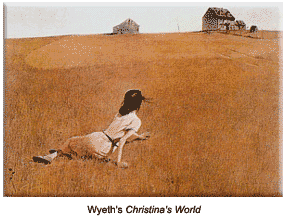 In 1945, Wyeth's father and his three-year-old nephew were killed near their home, when his car stalled on railroad tracks and was struck by a train. Wyeth has often referred to his father's death as a formative emotional event in his artistic career.
Shortly following the tragedy, Wyeth's art consolidated into his mature and enduring style, characterized by a subdued color palette, highly realistic renderings, and the depiction of emotionally charged symbolic objects.
Mature style and Growing Fame
In 1948, Wyeth began to paint Anna and Karl Kuerner, along with their farm. They were the Wyeths' neighbors in Chadds Ford, Pennsylvania, and became important subjects for nearly 30 years.
Dividing his time between Pennsylvania and Maine, Wyeth has maintained a fairly consistent, realist painting style for more than 50 years. His works have become increasingly higher-priced with his growing fame, and today Wyeth's major works can sell for more than $1 million from private dealers and at auction. Museum exhibitions of Wyeth's work have set attendence records. Most people who view Wyeth's art agree that he is exceptionally skilled at handling the media of watercolor and egg tempera.
Wyeth's career was marked by controversy with a number of works he painted of the model Helga Testorf. Wyeth began to paint images of her in 1971, and continued for nearly 15 years without his wife's knowledge. He revealed the pictures to his wife in 1985, and then arranged the sale of the paintings to a private investor. It was suggested that he had a love affair with Helga, thus bringing the group of paintings a substantial profit. The paintings were sold to an anonoymous Japanese industrialist in 1990 and were resold, in December 2005, to an American buyer.
Honors
Andrew Wyeth's works can be viewed in most major American museum collections. He has been the recipient of numerous honorary degrees. In 1963, Wyeth became the first painter to receive the Presidential Medal of Freedom, which was conferred by President John F. Kennedy.
In 1977, Wyeth was elected to the Académie des Beaux-Arts, the first American artist since John Singer Sargent. He also was the first living American artist to be elected to Britain's Royal Academy, in 1980. In 1990, he was awarded the Congressional Gold Medal of Honor by President George H.W. Bush.
---
See also
Edward Hopper
.