Newell Convers Wyeth
Newell Convers Wyeth was born in Needham, Massachusetts, on October 22, 1882. Wyeth studied under and was mentored by Howard Pyle¹, and is best known for his book illustrations of American adventure classics. As a celebrated illustrator in American art history, Wyeth's work² also appeared in many popular magazines of the time, among them, The Saturday Evening Post, Harper's, Scribner's, Collier's, and Ladies Home Journal.
Wyeth's first published work appeared on the cover of The Saturday Evening Post, in 1903. He also painted historical and allegorical murals in the Boston Public Library, the Missouri State Capitol, the National Cathedral in Washington, D.C., and in many commercial office buildings.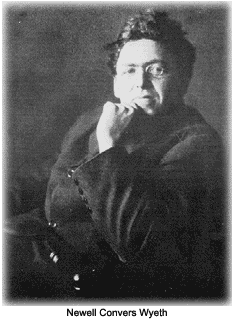 Family, youth, and education
Wyeth was born in the same year as major "Golden Age" gift book illustrators such as John Bauer of Sweden, Edmund Dulac of France, and William Pogany of Hungary. As a child, he enjoyed drawing, spending much of his free time creating images from any inspiration around his parents' farm. Wyeth began his formal art training sporadically. Wyeth's mother, Henriette, encouraged his artistic talent, but his father, Andrew Newell Wyeth, took a more practical approach and urged young Wyeth to pursue drafting. He began his studies in drafting at the Mechanic Arts High School and also attended the Massachusetts Normal Art School. Jumping from school to school — including a short stay at the Eric Pape School — and from instructor to instructor until, at age 20, he was accepted into the Howard Pyle* School in Wilmington, Delaware, for the 1902 sessions.
Wyeth married Carolyn Brenneman Bockius in 1906, at the Wilmington Unitarian church and built their home in nearby Chadds Ford, Pennsylvania. The focus of his painting soon shifted to the land and people of the region in which he lived. In 1911, with a commission from the publishers Charles Scribner's Sons to illustrate a new edition of R. L. Stevenson's Treasure Island, Wyeth began the work upon which his fame would rest.
He provided illustrations for dozens of books, including Kidnapped (Stevenson, 1913), The Black Arrow (Kingsley, 1916), Robin Hood (Creswick, 1917), The Last of the Mohicans (Cooper, 1919), and The Yearling (Rawlings, 1939).
Social life
The Wyeths were members of the First Unitarian Society of Wilmington. All their children — inventor Nathaniel, composer Ann Wyeth McCoy, and artists Henriette Wyeth Hurd, Carolyn, and Andrew Wyeth — grew up in the church, though none of them remained active.
Wyeth was the head of several generations of distinctive American artists. He was, in addition to his own children, the grandfather of Jamie Wyeth, and the father-in-law of Peter Hurd, among others. Internationally famous in his own right, Andrew had gone back to his father's roots in illustration technique and style.
In 1922, the Unitarian Layman's League commissioned Wyeth to illustrate a book on the parables of Jesus. Six paintings were completed by the next year and published in the Boston Traveler. Ultimately, 10 of an originally proposed 20 were published in 1931, as The Parables of Jesus, with commentary by S. Parkes Cadman. Wyeth also donated a painting of Jesus holding a baby, to the Wilmington church, in 1937.
Influences
Wife Carolyn introduced Wyeth to the works of Henry David Thoreau, and shortly after, Walden served almost as the family Bible. Son Andrew later complained that his mother had made his father into an intellectual by getting him to read, "and he was not that kind of man." According to Andrew, his father approached his art with a religious spirit and called the Chadds Ford studio "my church."
Wyeth illustrated many books, magazines, posters, and created many larger-than-life murals. The subject matter was "All American." Far less well-known to the public, but of comparable or even higher importance to Wyeth himself, are his intimate paintings, which are works that characterize his lifelong admiration for nature and depictions of the Old West. While rarely mentioned, another artist, George De Forest Brush, had a tremendous influence on Wyeth's "Solitude" portfolio. Wyeth tried a variety of artistic styles, including realism, impressionism, and fine art, but his illustrations were the works most prized and sought after.
The appeal of Wyeth's work was not in the realism of his images, but the mental images and emotions the illustrations conjured up in the viewer's mind. Many of Wyeth's illustrations bordered on or were clearly surrealistic or dreamlike. Unlike European painters Van Gogh, the impressionist; Picasso, the cubist; or Dali, the surrealist; whose images seemed as though they were wrenched from tortured souls, Wyeth's images were more benevolent and simple.
There was never a question in the viewer's mind as to the subject in Wyeth's illustrations. In most cases, the background of an illustration loosely sets or enhances the scene, while in others, the background is clearly sharing the limelight with the subject.
Revered for his work as an illustrator, Wyeth strove to be accepted as a fine art painter, but his early attempts at the genre were less well-received. His most ambitious project was a set of murals for the Metropolitan Life Insurance Company, on which he was working at the time of his death. N.C. Wyeth died in an automobile accident, along with his grandson, near his home in Chadds Ford, in 1945.
---
¹Howard Pyle: Held summer classes in Chadds Ford, in the 1890s. Pyle was the first illustrator to advance his craft to an art, infusing action and emotion into book illustrations.
² N.C. Wythe's online studio.