I.M. Pei
Ieoh Ming Pei has given the 20th century, and beyond, some of the world's most beautiful interior spaces and exterior forms, including the spectacular Rock 'n Roll Hall of Fame cantilevered over Lake Erie in Cleveland, Ohio. Yet the significance of his work goes far beyond that. His concern has always been the surroundings in which his buildings rise.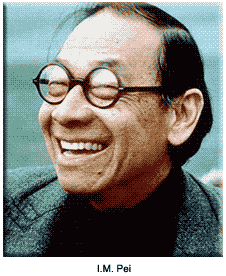 Pei has refused to limit himself to a narrow range of architectural problems. His work over the past 40 years includes not only palaces of industry, government, and culture, but also moderate- and low-income housing. His versatility and skill in the use of materials "approach the level of poetry."
Pei's tact and patience have pulled together people of disparate disciplines to create a harmonious environment for each project's successful completion, no matter how daunting.
The early years
Pei was born in China in 1917, and came to the United States in 1935, to study architecture at the Massachusetts Institute of Technology. He received a bachelor of architecture degree in 1940, and was awarded the MIT Traveling Fellowship. He went on to the Harvard Graduate School of Design to earn a master's degree in architecture in 1946. There he was awarded the Wheelwright Traveling Fellowship.
Pei's subsequent honors include:

Medal of Honor of the American Institute of Architects (AIA), New York Chapter;

Thomas Jefferson Memorial Medal for Architecture,

Gold Medal for Architecture of the American Academy of Arts and Letters (AAAL),

Arnold W. Brunner Prize from the AAAL,

Alpha Rho Chi Gold Medal,

Grande Medaille d'Or of l'Academie d'Architecture (France), and
Gold Medal of the American Institute of Architects.
Rise to Prominence
In 1948, Pei accepted the newly created post of Director of Architecture at Webb & Knapp, Inc., the real estate development firm. That association resulted in major architectural and planning projects in
Chicago
,
Philadelphia
,
Washington, D.C.
,
Pittsburgh
and other cities.
In 1958, he formed the partnership of I.M. Pei & Associates, which then became I.M. Pei & Partners in 1966. The partnership received the 1968 Architectural Firm Award of the American Institute of Architects.
Other partnership awards include:
The Jack I. and Lillian L. Poses Award,

"given to an established artist who has created a distinguished body of work and is recognized as a leader in the development of his or her art form. It is conferred upon I.M. Pei & Partners in recognition of the firm's architectural innovation and excellence, having enriched the American landscape with some of its most graceful and aesthetically satisfying works of architectural art." (1981)

Second annual Chicago Architecture Award conferred upon I.M. Pei & Partners. "The award symbolizes Chicago's century-old tradition of works by major architects of the past and present as well as the works anticipated by future generations of architects." (1985)

"The Metropolitan New York Chapter of the Construction Specifications Institute confers its Honor Award on Pei, Cobb, Freed & Partners for excellence in design and advancement of construction technology in the practice of architecture." (1990)

"The New York Society of Architects confers its Lifetime Achievement Award upon Pei, Cobb, Freed & Partners in recognition of the firm's outstanding contribution to the advancement of architecture, artistically as well as to the architectural profession." (1992)
In addition, in 1982, the deans of the architectural schools of the United States chose I.M. Pei as the "best designer of significant non-residential structures."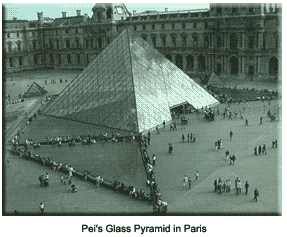 The Résumé
Pei has designed more than 50 projects in this country and abroad, many of which have been award winners. His more prominent commissions have included:
East Building of the National Gallery of Art, Washington, D.C.;

Grand Louvre, Paris;

Bank of China, Hong Kong;

John F. Kennedy Library, Boston;

National Center for Atmospheric Research, Boulder, Colorado;

Morton H. Meyerson Symphony Center, Dallas;

Society Hill development, Philadelphia;

Overseas Chinese Banking Corporation Centre (OCBC) and Raffles City, Singapore;

West Wing, Museum of Fine Arts, Boston;

Fragrant Hill Hotel, Beijing;

Creative Artists Agency Headquarters, Beverly Hills, California;

Jacob K. Javits Center, New York City;

IBM Office Complexes in Somers and Purchase, New York;

Everson Museum of Art, Syracuse, New York; and

Texas Commerce Tower, Houston.
Pritzker Architecture Prize
Probably the most prestigious of all awards in the field, the International Pritzker Architecture Prize is bestowed upon only those whose work shines brighter than all else in the world.
In his acceptance speech for the 1983 award, Pei said in part,
". . . I belong to that generation of American architects who built upon the pioneering perceptions of the modern movement, with an unwavering conviction in its significant achievements in the fields of art, technology and design. . . . I believe in the continuity of this tradition for it is by no means a relic of the past but a living force that animates and informs the present. . . .

"It is easy to say that the art of architecture is everything, but how difficult it is to introduce the conscious intervention of an artistic imagination without straying from the context of life. . . It is this fragility, this preciousness, that elevates and distinguishes this art form. It is this enfolding context that challenges us to transform planning and building opportunities into the exalted realm of architecture."