Norman Rockwell
Norman Rockwell was a prolific 20th-century American illustrator. He is most famous for more than 40 years of illustrations rendered for the cover of The Saturday Evening Post magazine.
Early Life
Norman Percevel Rockwell was born on February 3, 1894, in New York City. He was the second son of Nancy and Waring Rockwell. The family moved to Mamaroneck, New York, when Norman was nine years old. When he was 14, he enrolled in art classes at The New York School of Art. Two years later, in 1910, he left high school to study art at the National Academy of Design. Shortly thereafter, he transferred to the Art Students League, where his studies would prepare him for his first commercial commissions.
Nascent Career and the U.S. Navy
Norman was given a few small illustration jobs as a student, but his first major breakthrough was in 1912 with a set of illustrations for Tell Me Why: Stories about Mother Nature by C.H. Claudy. In 1913, he became an art editor for Boy's Life at the tender age of 19.
Norman attempted to enlist in the U.S. Navy during World War I but was refused entry because he was eight pounds underweight. He spent a night gorging himself, and the following day, weighed enough to enlist. However, Norman did not see any action during his tour — he was assigned the role of military artist.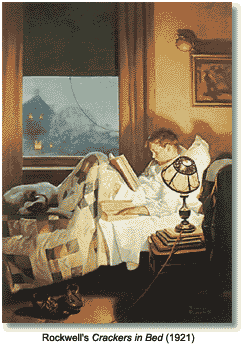 The Post
Rockwell moved to New Rochelle, New York, when he was 21. He shared a studio with cartoonist Clyde Forsythe, who worked for The Saturday Evening Post. With a little help from Forsythe, Rockwell submitted his first successful cover for the Post in 1916, "Boy with Baby Carriage," which was published on May 20. Rockwell's work was featured eight times on the cover of the Post during 1916.
His success on the cover of the Post led to covers of other magazines, including the Literary Digest, People's Popular Monthly, and Life Magazine.
Marriages and a Growing Career
Rockwell married Irene O'Connor in 1916. He used her as the model for "Mother Tucking Children into Bed," which was published on the cover of Literary Digest in January 1921. They divorced in 1930.
Norman remarried soon after the divorce. His second wife was Mary Barstow, a teacher. They had three children. In 1939, the family moved to Arlington, Vermont. The area inspired Rockwell to paint scenes of daily small town American life.
During World War II, Rockwell painted the "Four Freedoms" series. The paintings were published in The Saturday Evening Post in 1943. The U.S. Treasury Department later promoted war bonds by exhibiting the originals in 16 cities.
In 1953, Rockwell's wife died unexpectedly. In grief, he laid aside his brushes for a time. During that hiatus, he and his son, Thomas, wrote his autobiography, My Adventures as an Illustrator, which was published in 1960. Along with his famous "Self Portrait," the Post published excerpts from his autobiography in eight consecutive issues.
In 1961, Rockwell married his third wife, Molly Punderson. His last rendering for the Post was in 1963, which marked the end of a relationship that had produced more than 300 cover illustrations. Over the following decade, he painted for Look Magazine, where his work focused on civil rights, poverty, and space exploration.
Branching Out
Rockwell was commissioned to paint portraits for Presidents Eisenhower, Kennedy, Johnson, and Nixon. His attention to detail made him a favorite of the advertising industry. He was also was the illustrator of more than 40 books, including Mark Twain's Tom Sawyer and Huckleberry Finn. He also was famous for his Boy Scout calenders, published from 1925 through 1976. They were only slightly overshadowed by his "Four Seasons" illustrations for Brown & Bigelow calendars that were published for 17 years, beginning in 1947. In his later years, Rockwell began to receive more attention as a painter when he treated such serious subjects as racism in a series for Look.
A Trust to Preserve
In 1973, Rockwell established a trust to preserve his legacy by placing his works in the custody of the Old Corner House Stockbridge (Massachusetts) Historical Society, which later became the Norman Rockwell Museum.
Norman Rockwell died in his home in Stockbridge on November 8, 1978, of emphysema. He was 84 years old.