Louise Nevelson
Louise Nevelson is best known for her abstract-expressionist boxes grouped together to form a new creation. She used found objects and discarded everyday items. One of her works stands three stories high.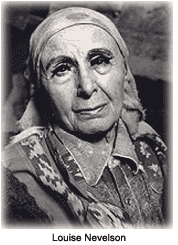 Birth, Youth, and Marriage
Louise was born in Kiev, Ukraine, on September 23, 1899, to Mina Sadie and Isaac Berliawsky. In 1905, her family immigrated to the United States and settled in Rockland, Maine. Louise had a strong bond with her family, especially her father. He advocated equal rights for women, and her mother was a freethinker. Louise knew from an early age that she wanted to be an artist. She graduated from high school in 1918, then met and married Charles Nevelson in 1920.
The Nevelsons lived in New York City, where she began to study the visual and performing arts. In 1922, Louise bore her only child, Myron, who became a famous sculptor. Louise enrolled at the Art Students League in 1928 and also studied with the painter Hilla Rebay.
Charles was opposed to her studies. They separated in 1931, but did not officially divorce until 1941. She took her son to her parents in Maine. Nevelson then traveled to Munich, Germany, to study with the artist Hans Hoffmann for six months, until the Nazis rose to power in 1933. She returned to the United States.
A Career is Launched
Nevelson held her first public showing of sculpture in 1933, and in 1935 she placed some of her work in the Brooklyn Museum. At first, Nevelson was barely able to survive by selling some of her works. However, her reputation as a sculptor grew, and as she exhibited more of her work, she sold more.
In 1937, Nevelson joined the New Deal's WPA and was a teacher at the Educational Alliance School of Art.
During the 1940s, Nevelson presented five major exhibitions that reflected the influences of surrealism and collage. In 1943, her major exhibit of the period was "The Circus, the Clown is the Center of The World." Nevelson was productive during the next 15 years as she developed a sophisticated collage, composed of wood scraps, that became her specialty.
Distinctive Style
During the next two decades, Nevelson staged exhibits throughout the world's major art centers and received numerous public commissions. She had a strong public personality and was a flamboyant woman.
In 1979, the Louise Nevelson Plaza was established in Lower Manhattan, to commemorate her work. It is an outdoor garden, full of her wood and metal collages.
Louise Nevelson died in her home in 1988, in New York City. Her reputation as one of the most significant artists of the 20th century has remained. Nevelson has been commemorated on a number of postage stamps since her death.
---
For additional famous women, see
Important and Famous Women in America
.