Alfred Stieglitz
More than any other American, Alfred Stieglitz compelled the recognition of photography as a fine art. The first art photographer in the United States, he has been called the "patron saint of straight photography."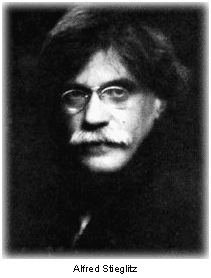 Alfred Stieglitz was born the eldest of six children in Hoboken, New Jersey, in 1864. He was reared in a brownstone on Manhattan's Upper East Side. In 1881, his family moved to Germany. The following year, Stieglitz began to study mechanical engineering at the Technische Hochschule in Berlin, but he quickly switched to photography. He took photographs of peasants working on the Dutch seacoast, and nature in Germany's Black Forest. He garnered attention in the 1880s and won many prizes for photographs he had taken throughout Europe.
Following his return to New York in 1893, Stieglitz married Emmeline Obermeyer. Their only child, Kitty, was born in 1898. Stieglitz did not have to work for a living because he and Emmeline received allowances from his father and hers.
Stieglitz was the editor of "American Amateur Photographer" magazine from 1893 to 1896. However, his editorial style proved to be brusque and autocratic, which alienated many subscribers. He was forced to resign. Stieglitz turned to the New York Camera Club and retooled its newsletter into a serious art periodical known as "Camera Notes."
In 1902 he organized an invitation-only group he dubbed the "Photo-Secession," to compel the art world to recognize photography. The other members of the group included Edward Steichen, Gertrude Kasebier, Clarence White, and Alvin Langdon Coburn. Photo-Secession held its own exhibitions and published Camera Work, a preeminent quarterly photographic journal, until 1917.
From 1905 to 1917, Stieglitz managed, without compensation, the Photo-Secession's exhibition space at 291 Fifth Avenue, which was known as 291. In 1910, Stieglitz was invited to organize a show at Buffalo's Albright Art Gallery, which set attendance records.
Stieglitz divorced his wife in 1918, shortly after she threw him out of their house after finding him photographing Georgia O'Keeffe. He married O'Keeffe in 1924 and they were both successful, he in photography, she as a painter. O'Keeffe had to care for Stieglitz, owing to a chronic heart condition and hypochondria.
In the 1930s, Stieglitz took a series of photographs, some nude, of heiress Dorothy Norman. Those photos, and those of O'Keeffe, are frequently acknowledged as the first to recognize the artistic potential of isolated parts of the human body.
Stieglitz's camera work was ended in 1937 because of his heart disease. He died in 1946 at 82, still a staunch supporter of O'Keeffe, and she of him.