Jackson Pollock
Paul Jackson Pollock was an influential American artist, famous for painting with a drip technique, and is known as a leader in the abstract expressionism movement. He was noted for being the first American abstract painter ever to be taken seriously in Europe.
Early days
Born on January 28, 1912, to Stella McClure and LeRoy McCoy Pollock, Jackson was their fifth and youngest son. Originally from Cody, Wyoming, Jackson was reared in Arizona and California.
While Jackson was attending Manual Arts High School in Los Angeles, he was encouraged to pursue his interest in art. His eldest brother, Charles, had gone to New York to study with painter Thomas Hart Benton at the Art Students League, and suggested that Jackson join him. In 1930, Jackson moved east and enrolled in Benton's class. There he studied the Old Masters and murals.
During that time, Pollock posed for his teacher's 1930 murals at the New School for Social Research, and was exposed to the works of Mexican muralists José Clemente Orozco and David Alfaro Siquieros. Their experimental techniques and large-scale art exerted a lasting impact on Pollock.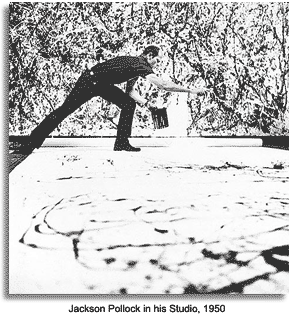 A career begins
At about the same time, Pollock was invited to participate in a group exhibition. His work came to the attention of Peggy Guggenheim, a wealthy New York heiress whose money built the Guggenheim Museum. She became his dealer and patron, and introduced his work to audiences. In November 1943, Guggenheim gave him a solo exhibition and a contract guaranteeing him $150 a month for a year.
In May 1944, the Museum of Modern Art bought one of Pollock's paintings, The She-Wolf, for $650. It was the first Pollock to be purchased by a museum. Later that year, Pollock married Lee Krasner, his live-in mate of many years. In 1945, they moved to "The Springs," in the East Hampton area of Long Island, a large country house where he eventually made the barn his studio.
A revolutionary change
Pollock's style changed dramatically, beginning in 1947. He began to paint with his canvases on the floor, and developed what was called his "drip" technique, or the more preferred term, his "pour" technique. He used his brushes as sticks to drip paint, and was known to use such other unconventional items as broken glass or a cigarette butt to achieve the look he wanted. This was the origination of action painting. In the process, Pollock moved away from figurative art, and dropped the Western tradition of using an easel and brush, as well as using only the hand and wrist — he used his entire body to paint. Owing to that painting style, Pollock was dubbed "Jack the Dripper."
When the first set of his abstract paintings was exhibited at the Betty Friedman Gallery in 1948, it was a huge sell-out. With the profits from that exhibit, Pollock began to use a larger studio building. He produced a series of six paintings in 1950, for which he is most renowned. In 1951, Pollock was profiled in Time Magazine as "the greatest living American artist."
Leaving color
In 1951, Pollock underwent a change of emphasis in his work. He gave up the use of color and rendered a series of black paintings on unprimed canvases. He showed them at the Betty Parsons Gallery in 1947. Discouraged by his disastrous 1951 black and white show, he moved to the Sidney Janis Gallery in 1952.
For the following four years, Pollock struggled with alcoholism, a disease that had plagued him since the 1930s. Pollock's attempts at therapy for alcoholism were ultimately not effective, but according to reports, he was sober from 1948 through most of 1950. His art continued to undergo changes, and he reverted to using colors. In his final year, however, Pollock did not paint at all.
A dreadful end
Although his art was famous and featured in many international exhibits, Pollock never traveled outside the United States. On August 11, 1956, his speeding car overturned near his home, killing him and a passenger.
Pollock's paintings are included in numerous major collections, including museums in New York City, San Francisco, Dallas, and Chicago.
---
See also
Edward Hopper
.