Grandma Moses
Grandma Moses was an American folk painter who became internationally popular for her nostalgic documentation of rural life in the United States in the late 19th and early 20th centuries.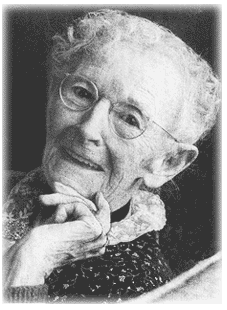 Early Years Grandma Moses was born Anna Mary Robertson in Greenwich, New York, on September 7, 1860. Anna experienced sporadic periods of schooling in her childhood. When she was 12 years old, she left her family's farm and worked until she met and married Thomas Moses in 1887.
The couple bought a farm in the Shenandoah Valley near Staunton, Virginia. In 1905, they moved to Eagle Bridge, New York, and purchased another farm. The couple had 10 children; only five survived past infancy. Anna's husband died in 1927, but she continued to work the farm with her youngest son's help. She retired to her daughter's home in 1936, owing to her advancing age.
Following her husband's death, Grandma Moses created worsted-embroidery pictures, but when arthritis in her seventies made needle-point too difficult, she turned to painting.
Discovered by the Art World
In 1938, Grandma Moses was discovered by Louis J. Caldor, an art collector who saw her paintings in a Hoosick Falls, New York, drugstore window. Caldor was so impressed with Moses' works that he drove to her farm and bought her remaining 15 paintings. In October of the same year, three of those paintings were exhibited at the Museum of Modern Art in New York City as part of a show titled Contemporary, Unknown Painters.
In 1939, art dealer Otto Kallir exhibited some of Grandma Moses' works in his Gallerie Saint-Etienne in New York City. That display attracted attention from art dealers all over the world, and her work became highly prized. From then on, Moses' paintings were shown throughout the United States and Europe in about 150 solo shows and 100 group exhibits.
Moses' paintings were created from scenes from her childhood, such as Apple Pickers circa 1940, Sugaring-Off in the Maple Orchard circa 1940, Catching the Thanksgiving Turkey, 1943, and Over the River to Grandma's House in 1944. Her works belonged to the American Primitive style.
From the age of 76, Grandma Moses created about 2,000 paintings, most of them on masonite board. Her naive style was acclaimed for its purity of color and its attention to detail. From 1946, her paintings were often reproduced on Christmas cards and in print. Her autobiography, My Life's History, was published in 1952.
To a Great Age
Grandma Moses celebrated her 100th birthday on September 7, 1960. The governor of New York proclaimed the date "Grandma Moses Day" in her honor. She lived to be 101 years old, outliving most of her children.
She died at Hoosick Falls on December 13, 1961, and is buried at the Maple Grove Cemetery in New York.