Georgia O`Keeffe
Georgia Totto O'Keeffe was an American artist, widely regarded as one of the great modernist painters of the 20th century. O`Keeffe was a major figure in American art for more than 70 years. She is chiefly known for her blend of abstraction and pictorialism. The style she used stressed contours and subtle tonal transitions, which often transformed the subject into a powerful abstract image.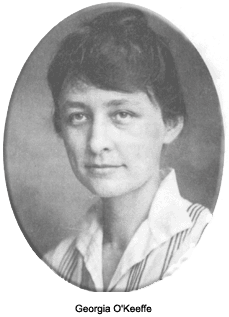 Childhood, education, and early career
Georgia O`Keeffe was born in 1887 to dairy farmers in Sun Prairie, Wisconsin. Her parents were Francis Calyxtus O`Keeffe and Ida Totto O`Keeffe. Georgia was the second of seven children. As a child, she received art lessons at home. She moved to Virginia in 1903 and graduated from high school in 1905.
Later that year, O`Keeffe traveled to Chicago, Illinois to study painting at the Art Institute of Chicago. In 1907, she enrolled at the Art Students` League in New York City, where she studied with William Merritt Chase. She won the League`s William Merritt Chase still-life prize for her oil painting "Untitled" (dead rabbit with copper pot), in 1908. Her prize was a scholarship to attend the league`s outdoor summer school at Lake George, New York. It was during that time that she became familiar with the 291 gallery. It was owned by Alfred Stieglitz, renowned photographer and her future husband.
In the fall of 1908, O`Keeffe returned to Chicago, where she worked as an illustrator. She contracted the measles in 1910 and moved back to Virginia. O`Keeffe stopped painting for a while, but after attending the University of Virginia Summer School in 1912, she was inspired to paint again. It was there that O`Keeffe was introduced to the cutting-edge ideas of Arthur Wesley Dow during a course conducted by Alon Bement.
From 1912 to 1914, O`Keeffe taught art and penmanship in the Amarillo, Texas, public schools, and she spent her summers in Charlottesville working as Bement`s teaching assistant. In 1916, she met and studied with Dow.
In 1915, O`Keeffe attended Columbia College in Columbia, South Carolina. During her time there, O`Keeffe decided to pursue a career as a visual artist. She created a series of abstract charcoal drawings and sent some of the drawings to a friend — who sent them to Stieglitz. He was impressed by the drawings and wanted to display her work. O`Keeffe agreed to let him exhibit 10 of the drawings. On June 23, 1916, her drawings were shown in a group exhibition; more of her work was shown in an informal group show in August 1916. On April 3, 1917 Steiglitz held her first one-person show at his gallery, exhibiting many of the watercolors she had produced while in Vermont.
In 1916, O`Keeffe returned to New York to Teachers College to attend a course in Dow`s teaching methods, as a prerequisite to assuming a position at West Texas State Normal College in Canyon. In August 1916, she moved to Texas to take up a teaching position and remained there until February 1918. She acepted an invitation to move to New York to work for Steiglitz; she arrived in June 1918.
Romantic involvement and a blossoming career
In July 1918, Steiglitz left his wife, Emmeline, to live with O`Keeffe. That is when he began to photograph O`Keeffe. Forty-five of his photographs, including numerous nudes, were exhibited in the Stieglitz retrospective exhibition held at the Anderson Galleries in February 1921. In 1924, O`Keeffe and Stieglitz were married. They spent their winters in Manhattan and their summers at the Stieglitz family house, at Lake George in upstate New York.
During the 1920s, O`Keeffe produced a large number of landscapes and botanical studies during the annual trips to Lake George. She rendered her first huge flower painting in 1924, "Corn, Dark I," and it was first exhibited in 1925. Starting in 1926, she produced a significant body of works depicting urban landscapes and Skyscrapers. Stieglitz organized an O`Keeffe exhibition annually, beginning in 1923. O`Keeffe`s work received a great amount of attention. In 1928 six of her calla lily paintings sold for $25,000, which was at the time the largest sum ever paid for a group of paintings by a living American artist.
Between 1929 and 1949, O`Keeffe traveled to New Mexico almost annually. In 1930, during a summer in New Mexico, she began to collect bones and render paintings of them, and she began to paint numerous landscapes in New Mexico. Each year, O`Keeffe returned to New York after painting in solitude. Steiglitz organized exhibitions of her work at his gallery. It was in August 1934 that she first visited Ghost Ranch, near the village of Abiquiu in New Mexico. Some of her most famous works are the landscapes she painted of Ghost Ranch.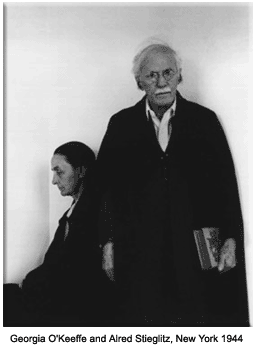 In 1942, the Whitney Museum of American Art in New York established a project to catalog her work. A year later, she was given a one-woman retrospective at the Art Institute of Chicago, and in 1946, a one-woman exhibition at the Museum of Modern Art in New York — the first given by that museum to a woman. She also was awarded honorary degrees by numerous universities.
Losing Stieglitz
In 1946, O`Keeffe`s husband died. She spent the next three years in New York settling his estate, then moved to New Mexico permanently in 1949.
Toward the end of the 1960s, O`Keeffe`s eyesight became poor, and by 1972 she could hardly see at all. O`Keeffe met potter Juan Hamilton in 1973, when he introduced himself and began to do household chores for the artist. He became O`Keeffe`s close companion, assisting her with her final artwork, and the completion of a book titled Georgia O'Keeffe, published in 1976. She completed her final unassisted work in oil in 1972, and worked unassisted in watercolor and charcoal until 1978, and in graphite until 1984.
In 1984 O`Keeffe moved with Hamilton to his home in Santa Fe, to be closer to medical facilities. She died at St. Vincent's Hospital, Santa Fe, on March 6, 1986. She was cremated and her ashes scattered at Ghost Ranch.
Epilogue
Georgia O`Keeffe was inducted into the National Women`s Hall of Fame. She received 10 honorary doctorates. Several plays and many books have been written about her life and work. The United States Postal Service honored O`Keeffe by issuing a stamp of "Red Poppy" (1927). Permanent collections of O`Keeffe`s work include those at the Museum of Modern Art, the Whitney Museum of American Art, and the Metropolitan Museum of Art, New York City; the Art Institute of Chicago; the Boston Museum of Fine Arts; the Philadelphia Museum of Art; and the National Gallery of Art, Washington, D.C.
---
For additional famous women, see
Important and Famous Women in America
.