Oscar Charleston
When one thinks of the Negro Leagues and the well-known personalities that plied their trade there, names such as Satchel Paige, Josh Gibson, Buck Leonard, and Cool Papa Bell immediately enter the stream of consciousness.
In far too many instances, however, Oscar Charleston would not make that list. Not because Charleston wasn't skilled — he has been compared to Babe Ruth and Tris Speaker for his power and speed — but because, perhaps, he was born too early. His peak years as a player were "done and gone" by the time Jackie Robinson broke the color barrier to the Major Leagues in 1947.
Perhaps not a household name to most baseball fans, Charleston was nonetheless considered to be one of the top five players to play in the Negro Leagues and was voted by The Sporting News as the 67th-best player to play the game of baseball in any league.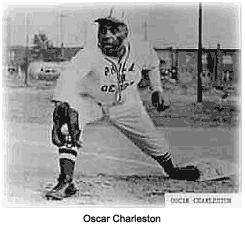 Oscar's Career
Oscar was born in 1896 in Indianapolis, Indiana. As a youth of 15, he joined the U.S. Army and served in the Philippines.
After returning home from his tour of duty, Charleston began his baseball career in 1915, with his home town Indianapolis ABCs, staying with the sport as either player or manager for 30 years. Charleston played for a number of teams throughout his career, depending on who was paying the most. Teams he played on included the Chicago American Giants, Lincoln Stars, St. Louis Giants, Harrisburg Giants, Philadelphia Hilldales, Homestead Grays, and the Pittsburgh Crawfords.
Charleston was a rare talent, a contact hitter able to hit for power — he finished his career with a .353 batting average and was a regular among the top home-run hitters of the day. Regarded as one of the league's best centerfielders, he also was a leader in stolen bases.
His intensity and competitiveness was legend. It was said that if Charleston had to choose between playing in a game and getting into a fight, he would have a hard time making up his mind — as evidenced by his famous brawl with a clutch of Cuban soldiers while playing winter ball in the Caribbean.
In 1932, Charleston became a player/manager for the Pittsburgh Crawfords, then guided arguably the best Negro League team of all time. The team went 99-36 with such players as Hall-of-Famers Gibson, Paige, and Judy Johnson. As a player that year, he hit .363.
Charleston loved to exhibit his skills against all-white barnstorming* Major League teams following their regular season, batting .318 with 11 home runs in 53 games.
Oscar Charleston was elected to the Major League Baseball Hall of Fame in 1976, and was nominated as a finalist for the Major League Baseball All-Century Team.
---
*Gathering ballplayers together after the season is over — white Major League baseball as well as the Negro Leagues — to tour the country, play in exhibition games against local town teams or white All-Star teams against Negro League All Stars, to earn extra money for the winter months ahead, or raise money for a charity.
See also
World Series
.