Cool Papa Bell
James "Cool Papa" Bell played havoc on opposing pitchers and catchers in the Negro Leagues during the 1920s and '30s, using his "fastest ever" tag to steal bases seemingly at will.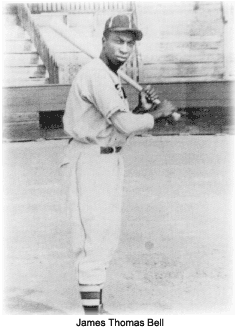 Bell was fast, real fast. Consistent with the habits of storytellers back in that era, a few embellishments about Bell's speed may have occurred. One story often heard, as told by the great Satchel Paige, was that Bell could "turn off the light and be in bed before it got dark." Some claim Bell once hit a ball between the pitcher's legs and got hit by it while sliding into second.
Paige also was quoted as saying that, "If Cool Papa had known about colleges or if colleges had known about Cool Papa, Jesse Owens would have looked like he was walking."* Bell was recorded by a stopwatch at having rounded the bases in 13.3 seconds, but, Bell claimed, he could do it in 12 seconds if the conditions were right.
Bell's Career
After spending his youth on a sharecropper's farm in Starkville, Mississippi, Bell moved north at the age of 17, to St. Louis where he "could live better and make more money." He easily hooked up with a semi-pro team there by virtue of the club's already having four of his brothers on the team.
Bell then was a knuckleball pitcher and, after two years of playing semi-pro ball, he was enlisted in the St. Louis Stars of the Negro National League for $90 a month, by the influential and savvy Bill Greenwood.
"Cool Papa" acquired his nickname early in his career. As a pitcher, Bell "coolly" struck out future Hall-of-Famer Oscar Charleston. Teammates labeled him "cool;" Greenwood added "papa," and a legend was born.
By 1924, Bell was playing centerfield full time and had become the league's best lead-off hitter. His talents have been compared to some of the greats of the game; reckless baserunning (Ty Cobb), slap-and-go hitting style (Wee Willie Keeler), and his style of play in centerfield — extremely shallow (Tris Speaker).
At six feet tall and less than 150 pounds, Bell was willowy, to say the least, but he was strong enough to pop the occasional home run. His specialty was to get on base any way he could — that's when the fun began.
Negro League statistics at that time were somewhat inconsistent, so it is next to impossible to verify exact numbers for any ballplayer, but when hundreds of first-hand observers say Cool Papa was the fastest player in the Negro Leagues and stole a lot of bases, that amounts to a certain level of credibility.
That being said, Bell could have stolen a purported 175 bases in one season and was said to have stolen two bases on one pitch. But to steal bases, you have to get on base — and Bell did. He averaged about .335 for his career, in addition to bases on balls, hits by pitchers, errors of the defense, etc. Cool Papa had ample opportunity to disrupt any defensive rhythm.
In 1929 and 1930, Bell led the Stars to championships in the league. He teamed with Frog Redus and Johnny Russell to form what Bill James, in his Historical Baseball Abstract, calls the best outfield on one team in the Negro Leagues. He also was a part of the best offense in black ball, from 1926 to 1930.
In 1932, Bell won the Fleet Walker Award as the best player in the league. The high-water mark of his average came in 1942 at .373, although he batted .437 in the Mexican League in 1940. Bouncing from teams down South to the Homestead Grays, Bell led his team to titles in 1942, '43, and '44.
After his playing days were over, Bell was hired to manage the Kansas City Monarchs and helped develop the likes of Jackie Robinson, Ernie Banks, and Elston Howard on their way to the Big Time.
James Thomas "Cool Papa" Bell died in 1991.
The Highlight Reel
Among Cool Papa Bell's highlights:
-Rated the third-best centerfielder in the Negro Leagues behind Oscar Charleston and Christobel Torriente, by Bill James in his authoritative Historical Baseball Abstract.
-Rated the 76th best player all time by James and 66th best by The Sporting News (1999).
-Inducted into the Major League Baseball Hall of Fame in 1974, becoming the fifth player from the Negro Leagues to be so honored.
-Was married to Clara Belle Thompson Bell for 62 years and had one daughter, Connie.
-Retired to St. Louis where, in 1987, Dickson Avenue was renamed James "Cool Papa" Bell Avenue.
---
*Since Cool Papa would have been 33 years old during the 1936 Olympics in Berlin, he may have lost a step or two, while Owens would have been in his prime at age 21, so Paige's assertion must be taken with a grain of salt.