Jackie Robinson
A life is not important except in the impact it has on other lives.
- Jackie Robinson.
Jackie Robinson was the first African American to play Major League
baseball
outside of a segregated
black
league, in 1947. He became a living milestone for racial equality and changed the sport of baseball forever.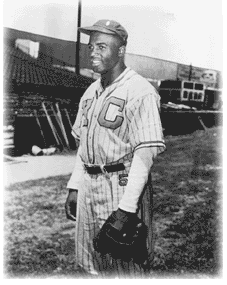 Robinson's remarkable baseball career not only opened doors for other blacks in early baseball history, but also opened many doors for a nation that was struggling to live out the precepts of the 14th Amendment.
Early Years
Born in Cairo, Georgia, in 1919, Jack Roosevelt Robinson was the youngest of five children. He would confront a world of adversity at an early age. Shortly after his birth, Jackie's father, Jerry Robinson, left the family.
The remaining Robinsons lived with racial discrimination on the Jim Sasser plantation. Jackie's mother, Mollie, needed to find a better life for her children. A sharecropper family minus the main breadwinner faced destitution. In 1920, she took Edgar, Frank, Mack, Jack, and Willa Mae to live with their uncle, Burton, in Pasadena, California.
Uncle Burton's house was too small for the seven of them. Making minimal wages as a single mother, Mollie nevertheless socked away money for a four-bedroom house, with Burton's help.
In spite of the restrictive neighborhood that barred blacks from Pepper Street in Pasadena, Mollie persuaded a light-skinned black man to act as if he were buying the house. When the Robinsons moved in, white residents became furious — and threatened to burn them out. However, that did little to scare Mollie out of pursuing her dreams.
As an adolescent, Jackie soon found friends, and became a member of the "Pepper Street Gang" — a group of mischievous blacks, Hispanics and Asians. The Reverend Karl Downs, the pastor at Pasadena's Scotts Methodist Church, saw that Jackie was headed for trouble. The Reverend Downs filled the empty, fatherless void in Jackie's life by influencing him ethically and religiously. As a friend and mentor, the minister formed a structure in Jackie, which would eventually see him through high school and into college.
Education
After graduating from Muir Technical High School, Robinson attended Pasadena Junior College so that he could remain in town to support his mother. As a record-breaking athlete at PJC, Jackie excelled in football, track — and baseball.
In 1939, Robinson enrolled in the University of California, Los Angeles, where he became a football, basketball, track, and baseball star as well. During his first year at UCLA, Robinson met a young nursing student, Rachel Isum, whom he married on February 10, 1947. The two would produce three children: Jackie Jr., Sharon, and David.
While attending the university, Robinson played football with Kenny Washington, one of the first black players in the National Football League since the early 1930s.
Athletic talent ran rich in the Robinson family. Jackie's brother, Matthew "Mack" Robinson (1912-2000), competed in the 1936 Summer Olympics in Berlin, finishing second in the 200-meter sprint behind none other than Jesse Owens.
In 1941, Robinson left UCLA without his degree, and was hired to play football for the semipro Honolulu Bears. After an exhibition game in Pearl Harbor, Hawaii, with the Bears, Robinson was sailing home aboard the Lurline when the Japanese attacked Pearl Harbor.
Second Lieutenant
On April 3, 1942, Jackie Robinson was inducted into the U.S. Army during World War II. While Jackie was in training, Rachel, to whom Jackie was engaged, was equally busy as a nursing student by day and a riveter by night at Lockheed Aircraft Corporation.
Robinson was accepted into officer candidate school. He graduated, earning his second lieutenant's bars on January 28, 1943, and was assigned to Fort Riley, Kansas. After experiencing intense racial discrimination, he was transferred to Fort Hood, Texas, for further training. The intensity of discrimination was not any different in Texas.
A presidential executive order that desegregated the military in 1948, emboldened Robinson to disregard a military bus driver's orders to "go to the back of the bus." Consequently, Robinson was court-martialed for insubordination and didn't ship out to Europe with his unit. However, in 1944, Robinson was exonerated at a trial and received an honorable discharge.
Racial History of Pro Baseball
The baseball world that the young Jackie Robinson knew consisted of a whites-only system of the eight-team National and American leagues, as well as hundreds of Minor league teams.
Blacks played in the "Negro Leagues," which developed after 1900 as an alternative to the segregated white game.
Following the notorious Black Sox Scandal of the 1919 World Series, commissioner Kenesaw Mountain Landis incorporated more of a power-hitting game, which became the dominant playing style, and ballparks became much larger. Ball clubs began to heavily scout promising talent, but black and white players met only in rare non-league games.
Robinson Gets his Break
A segregated league was not what Robinson had in mind. However, without a college degree, and no real trade skills, he decided to pursue his dream of playing pro ball.
During spring training with the Kansas City Monarchs, Robinson thought he had hit the jackpot when he signed on at a salary of $400 a month. It was during his one-year stint with the Monarchs that Brooklyn Dodgers president, Branch Rickey, scouted him, and with some undercover persuasion, eventually signed Robinson to the team at the minimum of $5,000 per month.
The Brooklyn Dodgers
Players and coaches, not only of the Dodgers, but throughout the all-white league, were outraged that Robinson was recruited.
Robinson's first season with the Dodgers was a living hell. A group of Dodger players, led by Dixie Walker, suggested they would strike rather than play alongside Robinson. But the team management told them that Jackie would play and that Dixie and his mates could leave if they wished.
Robinson's debut put him at first base with the Dodgers on April 15, 1947. Although he lamentably batted 0-for-3 during his first game, he would later prove to the world that he had what it took overcome diversity and become great. In 1947, Robinson was named Rookie of the Year, and by 1949, he had received the Most Valuable Player award for the National League.
Although he was a first baseman his entire rookie year, Robinson was most magical throughout his career at second. He also played many games at third base and in the outfield.
Upon entering the "white league," Robinson found comfort in befriending Pittsburgh Pirate Hank Greenberg, the first Major League Jewish baseball star, who also had experienced bigotry. Robinson belittled opposing players by employing an effective double-play combination with shortstop Pee Wee Reese.
Besides superb fielding skills, Robinson also was an exceptionally talented and disciplined hitter, with a career average of .311. Many players have referred to Jackie Robinson as the most aggressive, intelligent, and successful base runner of his era.
Post-Major League Baseball
Out of the 10 years that Jackie Robinson played baseball, six of them were spent leading the Dodgers into the World Series and was a six-time All-Star. However, because he was already 28 when he entered the league, injury began to plague Robinson — forcing him to look down the road for other employment options.
On January 5, 1957, Robinson retired from the game he loved. With ambitions to either coach or manage in the Major leagues, he once again became a victim of discrimination. While either being ignored or turned down for such positions in baseball, Robinson settled for various business opportunities, and served as an executive on the board of the National Association for the Advancement of Colored People (NAACP) until 1967.
Between 1960 and 1968, Jackie involved himself in various presidential elections, in which he publicly expressed his stand on civil rights.
Number 42's Legacy
In 1962, Robinson became the first African American to be inducted into the Baseball Hall of Fame. On June 4, 1972, the Dodgers retired his uniform, No. 42, alongside Roy Campanella's No. 39, and Sandy Koufax's No. 32.
On April 15, 1997, all of Major League baseball also retired No. 42, officially making the 15th of April Jackie Robinson Day, in honor of his April 15, 1947, debut game.
Jackie Robinson died in Stamford, Connecticut, on October 24, 1972, due to complications of heart disease. He was only 53. Robinson's remains were laid to rest at the Cypress Hills Cemetery in Brooklyn, New York.
Following his death, the Jackie Robinson Foundation was instituted. The foundation provides scholarships to 141 students annually who are sent to more than 60 colleges all over the country.