Satchel Paige
Satchel Paige was a montage, a crazy quilt, a collage of the Negro Leagues, an enigma, a wonder of science. Yes, Leroy "Satchel" Paige was all of those — and more.
"You win a few, you lose a few, the rest get rained out."
"Ain't no man can avoid bein' born average, but there ain't no man got to be common."
"Work like you don't need the money. Love like you've never been hurt. Dance like nobody's watchin'."
- Satchel Paige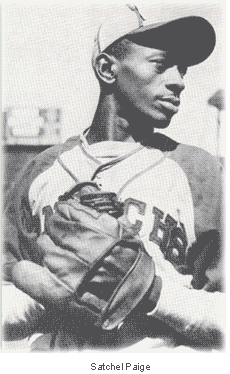 The Early Years
It is entirely fitting that Satchel Paige's birthdate is estimated to be July 7, 1905 — the date his mother put in the family Bible. Except that Lula Paige says, "I can't rightly recall whether Leroy was my first-born or my 15th" — she bore 12 children, including a set of twins. On one visit with a sportswriter, she confided that her son was actually three years older than he thought he was. A few years later, she amended that comment to say he was just two years older than he thought.
"How old would you be if you didn't know how old you are?" Satchel would later ask.
Page (spelled as such until the late 1920s) was born into poverty in a Mobile, Alabama, slum known as South Bay. At an early age, he and friend Wilber Hines earned pocket money by going down to the Louisville & Nashville Railroad station to carry luggage for passengers. When Page got caught trying to steal one of the satchels, Hines immediately saddled him with the nickname.
At age 12, Satchel was sent to reform school for shoplifting. There he learned a little about pitching a baseball. "Swing your front leg high and let the ball fly at the last possible instant," one mentor told him. At age 17, Satchel was released. He soon signed on to play with the local semi-pro team, the Mobile Tigers, where his brother, Wilson, was already playing. As it happened, two future Negro League stars, Ted "Double Duty" Radcliffe and Bobby Robinson, also were with the team.
The Negro Leagues — Early On
Paige was discovered by Alex Herman, player/manager of the Chattanooga Black Lookouts of the Negro Southern League, and former friend from the slums. Herman wanted to sign Satchel for $50 a month, but that was not about to happen until momma Lula exacted a stipend out of the paycheck.
Like many rookies, Paige was brought along slowly, being utilized sparingly in certain situations. Then in June 1926, he got the start against the Albany Giants, when he promptly gave up 13 runs in the loss. During the season, however, Paige got stronger, thanks to the "hesitation pitch" taught to him by a teammate, Bill "Plunk" Drake.
According to the nature of the Negro Leagues of the times, players often "followed the money," playing wherever and for whomever was paying the most. In 1927, for instance, Paige was given a raise to $200 a month and a Ford Model A roadster to continue playing for the Lookouts. After just a few games, Paige pulled up stakes to play for the Birmingham Black Barons of the Negro National league for $276 a month.
As a budding star pitcher — at an imposing 6'4", 180 pounds — and showman, Paige had an undistinguished early career. He was a standout strikeout pitcher averaging almost one per inning pitched. But his ERA and won-loss records were a reflection of his penchant to be wild for stretches at a time. In a game against Cool Papa Bell's All Stars, Paige plunked three hitters on the head in a row, nearly setting off a bench-clearing brawl.
In 1928 and 1929, Paige's record was only 23-25, but he set a single-season strikeout record of 184 in 1929, including a single-game record of 17 against the Detroit Stars. Paige's drawing power grew with his strikeout prowess, allowing him to be "rented out" between his normal starts to other clubs in need of a good attendance figure. Paige received a percentage of the gate.
To Cuba and Back
In 1930, Paige was offered $100 a game to join Cuban legend and future Major League Hall of Famer Martin Dihigo, on the Santa Clara team. Owing to the popularity of gambling on the games by the public, no drinking or late-night carousing was allowed. That policy, plus the "strange" food, didn't exactly excite Paige. Following 11 games, he packed his bags and headed for the mainland, where he hooked up with Jackson and renewed Paige's "have arm, will travel" philosophy.
The defending American Negro League champs, Baltimore Black Sox, leased Paige for a time. Ironically, Paige was looked upon as a "southern hick," a kind of intraracial prejudice. Making Paige the number-two guy in the rotation didn't sit well with him, either.
1932
In the throes of the Great Depression, Gus Greenlee, who purportedly had connections to the Pittsburgh, Pennsylvania, underworld, offered Paige $250 a month to finish out the 1931 season. He finished it in style against crosstown rival Homestead Grays. Paige, in relief, pitched the final five innings of the game, striking out six with no walks.
In 1932, Greenlee "stole" future Hall of Famers Josh Gibson; Oscar Charleston, who would be the player/manager of the club; and Radclife, from the Grays, to join Paige, Hall-of-Famer Judy Johnson, Jud Wilson, and Rap Dixon. That collection of talent was known as the "Yankees of Black Baseball," not to be confused with the New York Black Yankees, also in the same league.
By the end of the season, Greenlee also had Bell, John Henry Russell, Leroy Matlock, Jake Stephens, "Boojum" Wilson, Jimmie Crutchfield, and Ted Page under contract. In all, five future Hall of Famers were included on the roster, which finished the '32 season at 98-32. Some observers wondered if they just lost concentration 32 times that season.
Barnstorming in the Thirties
The early- to mid-1930s, and even into the early 1940s, "barnstorming"* often was more important than the regular season. Blacks had a chance to show their talent, often beating white Major Leaguers and leaving them shaking their heads, wondering why those Negro Leaguers were not allowed to compete at the "ultimate level."
After playing against Paige, Dizzy Dean, with his group of All Stars, called him the pitcher with the best stuff he'd ever seen. In various venues Paige also faced the likes of Joe Dimaggio, Rogers Hornsby, Jimmie Foxx, and Ted Williams. It was Williams, when he was inducted into the Hall of Fame in 1966, who encouraged, even chided, Major League Baseball to find a way to include worthy Negro Leaguers in the Hall.
That seed of an idea came to fruition in 1971, when Satchel Paige became the first player from the Negro Leagues to be inducted into the mainstream Hall of Fame.
Among the eye-popping statistics and miscellany:
Satchel was the first African American to pitch in the World Series (Cleveland, 1948);

he became the oldest player ever to play in the Major Leagues when he pitched three shutout innings for the Kansas City Athletics (1965);

Paige is the all-time Puerto Rican Winter League record-holder for wins (19) and strikeouts (208) in a year;

he was perhaps the greatest pitcher in the history of the California Winter League, holding the records for wins (56), strikeouts (766), games pitched (80), and shutouts (17). He also was tied for second in complete games (47) and third in winning percentage (.889).
Bill Veeck, as in "wreck"
Bill Veeck was one of baseball's most forward-thinking, innovative individuals. He had several gigs as owner/general manager around the league which produced: the now-famous landmark ivy that still climbs the brick walls of hallowed Wrigley Field in Chicago (1937); he signed Larry Doby, the first black player in the American League (1947); he signed and played Eddie Gaedel, the 3'7" midget (1951); he introduced road uniforms for the White Sox featuring the player's last name above the number (March 1960); and he was the driving force behind the "exploding scoreboard" of Comiskey Park in Chicago (June 1960).
Veeck and Satchel Paige were destined to cross paths several times during Major League Baseball's awkward attempts to integrate the game.
When Veeck signed Paige to a major league contract with the Cleveland Indians in July 1948, the howling and naysaying could be heard to the shores of the Atlantic. At age 42, Paige would become the second black player in the American League and the oldest player ever to debut in the majors.
That signing was ridiculed as another publicity stunt, "Veeck has gone too far in his quest for publicity . . .To sign a pitcher at Paige's age is to demean the standards of baseball . . .." (The Sporting News) Paige debunked the critics by earning a win in relief in his first appearance in the Major Leagues, and then went on to a 6-1 season record, including two shutouts, and an ERA of 2.48 with 45 strikeouts, to help the Indians to the American League pennant.
The "Repetoire"
Not only did Paige, in his prime, possess a dominating fastball, but he sported a variety of other servings, most notably his "Hesitation Pitch," which worked with the effect of a changeup. Paige was legendary when it came to the number of different pitches he could throw in any situation and at any count on the batter. Among them were the "Bat Dodger," "Hurry-Up Ball," "Midnight Creeper," "Four-Day Rider," a pitch he called "Nothin'," the "Ball Bee Ball," "Jump Ball," "Trouble Ball," the "Two-Hump Blooper," "Long Tom," and the "Barber."
"I use my single windup, my double windup, my triple windup, my hesitation windup, my no windup. I also use my step-n-pitch-it, my submariner, my sidearmer, and my bat dodger. [A] man's got to do what he's got to do," he averred.
Jack Brickhouse, immortal broadcaster for the Chicago Cubs, once said half-chuckling, Paige "threw a lot of pitches that were not quite 'legal' and not quite 'illegal.'"
"I never threw an illegal pitch. Trouble is, once in awhile I would toss one that ain't never been seen by this generation." -Satchel Paige
Satchel's Life Remembered
Paige had a couple of films made about his remarkable life, including Don't Look Back (1981), starring Lou Gossett Jr., and a 1996 portrayal of life in the Negro Leagues, Soul of the Game.
In addition, Paige is lovingly cast as a warm and caring dog named "Satchel Pooch," in the comic strip Get Fuzzy.
Paige also was honored by The Sporting News, which listed him as the 19th greatest baseball player of all time.
"Satchelisms"
As competitive and as restless as Paige was, he always had a reputation for entertaining a crowd. Sometimes, without even thinking about it, Paige came up with some of the darndest aphorisms:
"I don't generally like running. I believe in training by rising gently up and down from the bench."

"I ain't ever had a job, I just always played baseball."

"Money and women. They're two of the strongest things in the world. The things you do for a woman you wouldn't do for anything else. Same with money."

"Don't look back. Something might be gaining on you."

"Avoid fried meats which angry up the blood."
---
*Gathering ballplayers together after the season is over — white Major League baseball as well as the Negro Leagues — to tour the country, play in exhibition games against local town teams or white All-Star teams against Negro League All Stars, to earn extra money for the winter months ahead, or raise money for a charity.
See also
World Series
and
Babe Ruth
.