Buck Leonard
Walter "Buck" Leonard was a standout first baseman for the renowned pre-World War II Homestead Grays of the Negro Leagues. His onus was to play in the shadow of perhaps the greatest player the Negro Leagues ever produced — Josh Gibson, the "Black Babe Ruth."
Monte Irvin, a product of both the Negro Leagues and Major League Baseball (New York — now San Francisco — Giants and the Chicago Cubs), said, "Satchel Paige and Josh Gibson got more publicity in the Negro Leagues, but Buck was just as good. Josh hit the ball farther, but Buck hit it just as often." "He was major league all the way," averred Hall-of-Fame catcher Roy Campanella, of the Brooklyn Dodgers.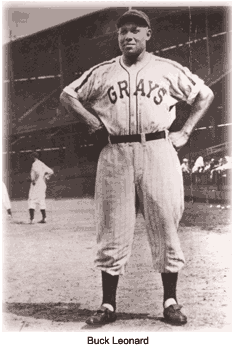 Early Years
Leonard was born in September 1907, in Rocky Mount, North Carolina. He attended school through the eighth grade. Typical of the age in the rural South, education for blacks did not include high school. Leonard found work in a textile mill and as a shoeshine boy at the local railroad station.
The Baseball Years
Leonard started his professional career in 1933, playing with the Brooklyn Rural Giants. He moved on the following year to the Grays, where he was destined to set a record for longevity with one team in the Negro Leagues, with a career spanning 17 seasons.
The Grays, a Pittsburgh-area team, were legend among fans, often drawing double the average attendance figures when visiting an opponent's home ballpark. From 1937 to 1945, the Grays won nine consecutive Negro National League championships and three Black World Series titles, and were considered to be the best baseball team of any color and of any time.
As for Leonard's part, batting in the cleanup spot in the lineup behind Gibson, oftentimes went to bat with no one on base, leaving RBI opportunitities at a premium. Nonetheless, Leonard put together some eye-popping statistics during his stay in the Negro Leagues. He has been compared to "a left-handed Hank Aaron," with a smooth, compact swing that generated prodigious power.
He was elected to a record 12 East-West All-Star games that were earned by a lifetime batting average of .341 and .382 against barnstorming white Major Leaguers. In 1942, he hit 42 home runs as the Grays appeared in four straight Black World Series, winning two. In 1944, he tied Gibson for the home-run title and hit an incredible .500 BWS.
In 1945, Leonard hit .375 while finishing behind Gibson in homers. In 1948, as Leonard's great career was winding down, he hit .395 to lead the league for the third time.
Past Prime
Evidence exists that Clark Griffith, owner of the Washington Senators, considered signing both Leonard and Gibson a few years before Branch Rickey of the Brooklyn Dodgers actually broke the color barrier by inking Jackie Robinson to a contract in 1946.*
Leonard had to decline a legitimate offer that finally did come, but too late in his career to accept. He pointed out that he was too old, and didn't want to embarrass himself and perhaps damage other African Americans' chances of making it to "the show."
After retiring from the Negro Leagues in 1950, Leonard played in the warmer winter climes of Mexico and the Caribbean.
Leonard returned to his native Rocky Mount, to set up a minor league (Carolina League) team, in 1962. There he also served as the club's vice president.
Leonard was voted as the 47th best baseball player ever in 1999, by The Sporting News, and as a fitting tribute to a "respected, quiet, intellectual man," he was elected into the Major League Baseball Hall of Fame in 1972. Leonard was 90 years old at his death in 1997.
---
*Bill Veeck of the Cleveland Indians quickly matched Rickey's signing with one of his own — Larry Doby — and soon after, added Paige to his roster.