Babe Ruth
George Herman Ruth, known to the world as "Babe Ruth," was the first sports superstar. He might have become baseball's greatest left-handed pitcher. Instead, he moved to the outfield and became its greatest hitter. After leading the Boston Red Sox to two World Series victories, he was traded to the New York Yankees following the 1918 season. The Yankees, who had never won a pennant before, became perennial American League and World Series champions. The Red Sox did not win another World Series until 2004.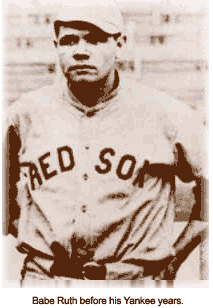 Childhood
Ruth was born on February 6, 1895, in Baltimore. His parents had eight children, but only one other, his sister Mamie, survived infancy. While his parents worked in the tavern they owned, Ruth spent much of his time on his own and got into trouble frequently. Unable to control their son's behavior, Ruth's parents placed him in St. Mary's Industrial School at the age of seven. Ruth hated the regimented discipline of the school, but he learned the game of baseball. By the age of 15, he was playing both catcher and pitcher for St Mary's varsity team.
Early Career
At the age of 19, Ruth was spotted by Jack Dunn, owner of the Baltimore Orioles of the International League, who signed him to his first professional contract. Ruth's parents had given custody of the boy to the Jesuits at the time he enrolled at St. Mary's, where he was supposed to remain until he turned 21. To complete the contract and remove him from the school, Dunn was forced to adopt him. This led to Ruth's being described as Dunn's "baby," which became "Babe," the nickname the stayed with him for the rest of his life.
Ruth spent only five months with the Orioles before he was sold to the Boston Red Sox. During three seasons in Boston, Ruth was primarily a pitcher. In his first World Series, he pitched 29 2/3rds scoreless innings, breaking Christy Mathewson's record and setting a mark that would stand for 43 years. The Red Sox won the World Series that year and again in 1918. In three regular seasons, Ruth had compiled a record of 94 wins and 46 losses, but despite his stellar performance as a pitcher, he was already developing a greater reputation as a hitter. He played some outfield and some first base during the 1918 season. Playing exclusively outfield for the first time in 1919, he set the major league record with 29 home runs, but the Red Sox finished far behind in the pennant race.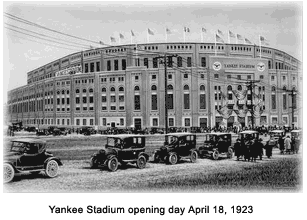 To the Yankees
Following the 1919 season, Red Sox owner Harry Frazee sold Ruth to the New York Yankees to raise money for his Broadway theatrical productions. The sale price of $125,000 was more than double what any team had paid for any baseball player prior to that time, but it would prove to be one of the worst business decisions in history. Prior to the trade, the Red Sox had won five of the modern, post-1903, World Series. The Yankees had never appeared in one, let alone won one. It took the Red Sox until 2004 to win their sixth World Series. With Ruth, the Yankees won their first pennant in 1921, won another in 1922, and their first World Series in 1923. In 1920, the Yankees became the first team in baseball history to attract a million paying fans to its stadium, the Polo Grounds, which they shared with the New York Giants. When Yankee Stadium was opened in 1923, it became known, with good reason, as "The House that Ruth Built."
After several spectacular years, Ruth had health problems in 1925 and his home run output declined to 25. Some people began to suggest that Babe was past his prime, but Ruth returned to form in 1926 and in 1927 set a single season home run record of 60 that would not be topped until Roger Maris hit 61 in 1961, in a season that was eight games longer.
In 1930, Ruth was earning a salary of $80,000 a year, a spectacular number in that era. A reporter suggested that perhaps he was overpaid, since Herbert Hoover was only getting $75,000 as president of the United States. Ruth is reported to have replied, "Why not? I had a better year than he did." There have been several reported variations of the statement.
In game three of the 1932 World Series against the Chicago Cubs, Babe was batting in the fifth inning. After pitcher Charlie Root took him to a count of two strikes and two balls, he appeared to point to center field and to shout something at Root. He hit the next pitch about 500 feet into the stands behind center field, the longest home run ever hit at Wrigley Field.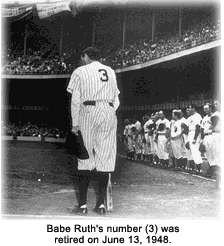 Late Career & Retirement
Ruth wanted to manage a major league team following his career, but the opportunity never arrived. His production began to fall off and he ended his career with the Boston Braves in 1935. At the time of his retirement, his regular season record of 714 home runs was hundreds ahead of his closest competitor and would not be exceeded until Hank Aaron hit his 715th in 1974. His lifetime slugging average of .690 has never been approached. When the Baseball Hall of Fame was inaugurated in 1936, Ruth was one of its first six inductees.
After baseball, Ruth lived a quiet life with his second wife Claire. He had married his first wife, Helen, in 1914 when she was a 17-year-old waitress. The couple had separated by 1926 and the marriage ended tragically when Helen died in an apartment fire in January 1929. Ruth married Claire within three months; they remained together until his death.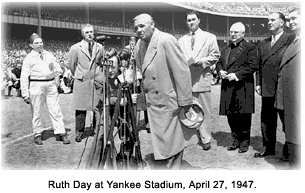 During the fall of 1946, Ruth was diagnosed with a malignant tumor on his neck. His health began to decline quickly. Baseball fans honored him on April 27, 1947, which was declared Babe Ruth Day for every organized baseball league in the United States. His jersey number 3 was retired at his last appearance at Yankee Stadium on June 13, 1948, which also commemorated the stadium's 25th anniversary. Ruth died on August 16, 1948. More than 100,000 people paid their respects at Yankee Stadium and at his funeral at St. Patrick's Cathedral in New York City.