Hank Aaron
"Hammerin' Hank," they called him — which was fitting for a man who made Major League Baseball pitchers literally quake like aspens when he strode to the plate.
"Trying to sneak a fastball past Hank Aaron was like trying to sneak the sunrise past a rooster." - Braves Teammate Joe Adcock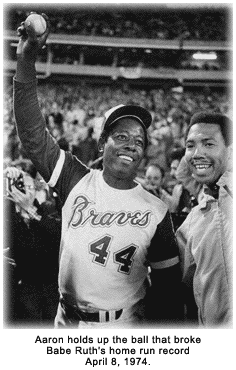 Here was the man that would break
Babe Ruth
's record for most home runs in a career, at 755. Aaron was a model of consistency when it came to hitting home runs — he hit more than 40 in a season eight times. He is the only player to hit at least 30 home runs in each of 15 seasons, and 20 in each of 20 seasons. He also was the first player to reach 3,000 hits and 500 home runs.
But hitting home runs wasn't all he did to earn a living.
Hank Aaron was a gifted, all-around player who won three Gold Glove awards, and was the National League's Most Valuable Player in 1957, the year he led the Milwaukee Braves to a World Series victory over the New York Yankees in seven games.
Along with 24¹ All-Star Game appearances, Aaron set the career standard for RBIs (2,297), extra base hits (1,477), and total bases (6,856). He finished third all time in hits (3,771) behind only Pete Rose and Ty Cobb. Aaron's longevity, skill, and a generally injury-free career led him to accumulate more than 12,000 at bats (second-most all time) and more than 2,100 runs scored (also second). In addition to his MVP in '57, Aaron finshed a strong third in the voting another six times.
All the fame and notoriety was not earned without a stiff price, however.
Early Years
Although Hank was born in the midst of the Depression in 1934, in Mobile, Alabama, his all-around athletic skills were evident at an early age. He excelled in football as a wide receiver, in addition to having that certain gift for playing baseball. At the age of 15, Hank signed to play semi-pro baseball with the Pritchett Athletics, as a shortstop and third baseman for $3 a game. His next step up was to play for the Mobile Black Bears, also a semi-pro team, for $10 a game.
Hank's prowess caught the eye of a scout for the Indianapolis Clowns, the Negro American League champions. He agreed to a contract to play for the Clowns, and led them to the 1952 Negro League World Series Championship.
Aaron's contract was sold to the Major Leagues' Boston Braves for $10,000, and he was assigned to the Eau Claire (Wisconsin) Bears, a Class C minor league club for the Braves. Aaron, who was paid $350 a month, was the next-to-last player from the Negro Leagues (the last being Hall-of-Famer Ernie Banks) to make the jump to mainstream baseball, and make any significant impact.
Following a successful first year in which he won the Northern League's Rookie of the Year Award while batting .326, Aaron was sent with Felix Mantilla and Horace Garner to the Jacksonville (Florida) Tars of the South Atlantic (Sally) League to help break the color barrier that still existed south of the Mason-Dixon line, long after Jackie Robinson had made his Major League debut in 1947.
Aaron completed an outstanding year, notwithstanding threats and racial epithets thrown his way. He won the league's MVP award after batting .362 on 208 hits, including 36 doubles. He scored 115 runs and had 115 RBIs. One baseball pundit said, "Aaron led the league in everything except hotel accommodations."
One dark incident occurred in 1953, when Aaron was attending a skills camp in the swamps of Waycross, Georgia. Since the camp was isolated from the main part of town, a team bus took the players into town once a week to do laundry and other needful things. Light was dimming and the bus departed on schedule for its trip back to camp. Aaron, a first-timer on the trip into town, was not on it.
The shortest route back to camp was to walk straight through the woods, then negotiate a fence surrounding the camp. A guard saw only a black youngster trying to break into private property, and opened fire. As bullets whizzed past his ears, Aaron could visualize his career, even his life, ending right there in the red Georgia clay.
He managed to crawl under the spray of fire and under the fence, back to his barracks, in one piece.
Following the season, Aaron played winter ball, as many rookies and prospects do, to prepare for the jump to "The Show." He learned to play the outfield to take advantage of his long, graceful strides. During spring training, 1954, the (future Milwaukee) Braves' left fielder broke his ankle, which allowed Aaron to step in and get a jump start on his Major League career. As a prelude of things to come, Aaron hit a home run in his first spring training start.
Early Major League Success
Although Aaron went 0-for-5 in his Major League debut, teammate and future Hall-of-Famer Eddie Mathews hit two home runs — the first two of an eventual record 863 home runs they would hit as teammates. The duo were featured on a classic bubble gum card with the title "Fence Busters" (ca 1962).
Aaron delivered his first Major League hit in his third game, and his first home run 11 days after the season start of St. Louis Cardinals pitcher Vic Raschi. Aaron broke his ankle in early September, which ended his season with 13 home runs, while batting .280 in 122 games.
The following year, 1955, Aaron was moved to right field, where he would play for most of his career. Aaron finished the season with 27 home runs and 106 RBIs, while hitting .314.
In 1956, Aaron won the first of two batting titles with a .328 average, and was named The Sporting News Player of the Year.
Stardom on the Horizon
Aaron's breakout year would be 1957, owing in part to a couple of changes — he switched to a lighter bat so he could generate more bat speed, and he was moved into the cleanup spot in the line-up behind Mathews. The results were dramatic — Aaron won the National League MVP on the basis of a .322 batting average, 44 home runs, and a career-high 132 RBIs. The year included the 100th home run of his career and a berth in the World Series, in which Aaron hit .393, including three home runs and seven RBIs.
In 1958, the Braves again advanced to the World Series, but dropped the matchup to the Yankees, 4-3. Aaron had another superlative year, hitting .326, slugging 30 home runs, and driving in 95 base runners. Despite the post-season loss, Aaron earned his first Gold Glove and finished third in the voting for MVP.
The year 1959 exerted a profound effect on Aaron and his approach to hitting — hitting home runs, at least. For the only time in his career, Aaron hit three home runs against the San Francisco Giants, and was later asked to appear on a new television series called Home Run Derby. The appearance money of $30,000, which was nearly as much as his baseball contract called for, convinced Aaron that he should "swing for the fences" a little more, noting that "they don't have a television show called Singles Derby."
In 1961, Aaron became part of a foursome that became the first to hit back-to-back-to-back-to-back homers. The other Braves involved were Mathews, Adcock, and Frank Thomas.
The Braves reached the post season only once after 1958, losing the National League playoffs in 1969 to eventual World Series champion "Amazin' Mets," led by future Hall-of-Fame pitcher Tom Seaver and outfielder Tommie Agee. Incidentally, Aaron hit home runs in each of the three playoff games, which were swept by the Mets.
What drama remained in Aaron's career was his inexorable quest for Ruth's record. He would realize his dream in 1974.
Vitriol and Derision
During "The Chase" after Ruth's record, which began in earnest in 1972, Aaron was exposed a deluge of vile racial hate mail. In less than two year's time, Aaron received 930,000 pieces of mail, estimated to weigh about 58,000 pounds or 100 pounds (approximately 3,000 letters) a day. Aaron estimated the mail ran 60-40 against him. What hate mail came in was fervent:

"Dear Henry Aaron, how about some sickle cell anemia, Hank?"
"Whites are far superior than jungle bunnies."
"You are not going to break this record established by the great Babe Ruth if I can help it. My gun is watching your every black move."
Amid the racial tensions of the times, Aaron missed his children most. He spent hours alone, sequestered under constant security in separate hotels from his teammates; they came to him with take-out dinners, companionship, and encouragement.
Still, teammates were in awe of Aaron's powers of concentration — of being able to set all of the off-field threats aside and tend to business. He was known, at times, to hold his baseball cap close to his face and focus on the pitcher through one of the small vent holes on the top. He carried that small, focused image into the batter's box with him, such that it would seem that there were only two persons in the entire world — at least to Aaron.
The year 1973 ended with Aaron one homer short of the Babe, at 713. Some controversy was stirred up during the off-season, when it was made known that the Braves management wanted Aaron to break the record at home. He would not enter the first series of the season on the road against the Cincinnati Reds. Baseball commissioner Bowie Kuhn partly overruled that decision by ordering Aaron to play two of the three games.
Aaron smacked the tying home run in his first at bat, but number 715 was not to be. That would occur back at the Fulton County Stadium in Atlanta.
Had it not been set against the era's racially charged atmosphere, number 715 might easily have been known as "the second shot heard 'round the world." The historic home run came in Aaron's second at bat of the game against the Dodgers, with lefty Al Downing on the mound. Cannon fire and fireworks exploded over the stadium parking lot, leaving no doubt about what had just happened.
By the end of the '74 season, Aaron had amassed 733 homers, but his career was effectively over. The wear and tear that playing defense, especially that long run out to right field and back to the dugout every inning, had exacted its toll on his 40-year-old body. But Aaron managed to extend his career by two years when he was traded to the Milwaukee Brewers, to be their Designated Hitter. He retired as a player in 1976.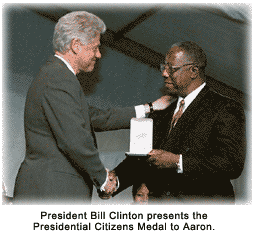 Post-Player Career & Life
Aaron rejoined the Braves as an executive shortly after he retired as a player. A special diamond in Aaron's crown was placed in 1989, when he was named as Atlanta's Vice President of Player Development, one of the first such appointments held by an African American in Major League Baseball. Typically, Aaron understates his own position, while championing the ideal of including more qualified blacks at the decision-making levels of management.
Aaron's number 44 jersey was retired by both the Atlanta Braves and Milwaukee Brewers, and each franchise boasts a bronze statue of Hammerin' Hank outside their respective stadia — Turner Field in Atlanta, and Miller Park in Milwaukee.
Aaron owned and several businesses, including car dealerships and restaurants later in life and also published his autobiography, I Had a Hammer, in 1990.
Hank Aaron died on January 22, 2021 at the age of 86.
Milestones, Minutia, and Miscellany
In 1958, Aaron hit his 100th home run, and the first of an eventual 17, off of future-Hall-of-Fame pitcher Don Drysdale of the Los Angeles Dodgers.

In July 1960, Aaron hit his 200th home run.

In April 1963, he hit number 300.

Number 400 followed in April 1966.

Home run number 500 came in July 1968. Aaron became just the eighth player to reach that plateau, and second youngest at age 34.

In 1970, he received the Lou Gehrig award, which is presented annually to the Major League baseball player who, on and off the field, best exemplifies Lou Gehrig's character.

In the strike-shortened season of 1972, Aaron reached a number of milestones, including his 14th career grand-slam home run to tie Willie McCovey (Giants) and Gil Hodges (Dodgers) for the most in the National League. He also passed Babe Ruth for most home runs with a single team, stroked his 2,000th RBI, and surpassed Stan "The Man" Musial's record for total bases, with 6,134.

In 1982, Aaron was inducted into the Hall of Fame on the first ballot, receiving 97.8 percent of the vote, second all time only to Ty Cobb.
On his 65th birthday in 1999, 25 years after setting the home-run record, Major League Baseball established an elite award in honor of Aaron, the Hank Aaron Award, to be given to the best all-around hitter in each league. The first recipients were Sammy Sosa of the Chicago Cubs (NL) and Manny Ramirez of the Cleveland Indians (AL). The award was the first given by MLB honoring a living person. Also in 1999, The Sporting News named Aaron as the fifth-best player in Major League history, and he was elected to the All-Century (20th) Team of MLB.

In 2002, Aaron was awarded the Presidential Medal of Freedom, the highest honor for a civilian in America.
---
¹Two All-Star games were played each year between 1959 and 1962, with the extra-game proceeds going to benefit the players' pension fund. Aaron was chosen also for the first All-Star game in 1962 (raising his total All Star selections to 25), but could not compete in the game because of an injury.
² See articles on the
Martin Luther King Jr.
assassination in 1968, and the general tone of the times toward the end of the
Vietnam War
and the
Civil Rights movement
; one can envision Aaron becoming the next African-American hero³, the next black target for assassination.
³
Maya Angelou
: "Black people thrive and survive in direct proportion to the heroes and sheroes that they have. Always and all ways."