Martin Luther King Jr.
Martin Luther King Jr. was born in Atlanta, Georgia, on January 15, 1929. In 1964, he was awarded the Nobel Peace Prize, the youngest person ever to win that honor. In the presentation speech given by Gunnar Jahn, Chairman of the Nobel Committee, Jahn said of King,
"He is the first person in the Western world to have shown us that a struggle can be waged without violence. He is the first to make the message of brotherly love a reality in the course of his struggle, and he has brought this message to all men, to all nations and races."
Four years later, King was assassinated by James Earl Ray on April 4, 1968, in Memphis, Tennessee.
King's grandfather, on his mother's side, was A.D. Williams, the prominent minister of the Ebenezer Baptist Church in Atlanta. Michael King, born in 1897 into an impoverished family of nine children, had developed a desire to become a minister. Having begun a courtship of A.D. Williams' daughter Alberta, he was encouraged and supported by her parents in his religious quest. Michael King married Alberta Williams in 1926. Upon the death of A.D. Williams in 1931, Michael King became the minister of Ebenezer Baptist Church, making it even more successful than before. He soon changed his name to Martin Luther King Jr.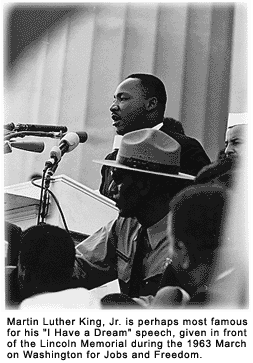 Martin Luther King Jr. was the second of three children born into the family in the first four years of marriage. From his father, he learned to appreciate the need for political action as well as religious faith. King's schooling began at Yonge Street Elementary in Atlanta. Later he attended the Atlanta University Laboratory School and Booker T. Washington High School. Skipping the ninth grade and leaving high school early, King enrolled in Morehouse College while still 15 years old.
Graduating from Morehouse in 1948, King next enrolled in Crozer Theological Seminary in Chester, Pennsylvania. He was senior class president of a predominantly white senior class and gave the valedictory address when he graduated with a Bachelor of Divinity degree in 1951. He proceeded to Boston University for doctoral studies and received his Ph.D. in 1955. He subsequently received 20 honorary doctorates from colleges and universities throughout the United States.
In early 1952, King met Coretta Scott, the daughter of Alabama farmers. They were married in June 1953. Four children were produced by the marriage, two sons and two daughters.
King had entered the ministry in 1948, but after finishing his doctorate, he accepted the position of pastor at the Dexter Avenue Baptist Church in Montgomery, Alabama, where he served from September 1954 to November 1959.
The turning point for King and the entire Civil Rights Movement came on December 1, 1955, when Rosa Parks was arrested for refusing to yield her seat on a Montgomery public bus to a white male. King and other prominent blacks in Montgomery decided that the time had arrived to take a stand. The organizers chose King to be their leader and the 381-day Montgomery bus boycott began.
The boycott was challenged by the white legal system, as well as by violence. King's home was bombed on January 30, 1956. In February, 100 people were arrested for participating in a boycott, which was illegal under Alabama law. However, the boycott persisted and gradually the tide turned. The legal arguments against the boycott suffered reversals in court and the continued economic cost to the white business community led to its eventual triumph.
Less than two months after the successful conclusion of the boycott, a group desiring to maintain the momentum that had been achieved formed the Southern Christian Leadership Conference (SCLC), making King their president. The following month, he made his first international trip when he attended independence ceremonies in Ghana.
Problems with the NAACP soon developed. A much more conservative organization, the NAACP opposed direct action and its head, Roy Wilkins, was concerned about the effect of a second black organization in the South.
As the power of King's peaceful resistance campaigns became apparent, the white response was modified. In September, 1958, when King decided to serve a 14-day jail sentence rather than pay a $14 fine, the police commissioner paid it for him. The following year, King took a 30-day trip to India under the sponsorship of the Gandhi Memorial Trust.
The SCLC was experiencing difficulties in organizing and fundraising, so in November 1959, King resigned his ministry in Montgomery and moved to Atlanta to devote his time to SCLC duties. The Civil Rights Movement gained new life in February 1960, when students from North Carolina Agricultural and Technical College requested to be served at a Woolworth lunch counter in Greensboro. When they were refused service, they stayed in their seats. That form of protest generated a new name, "sit-in," and sparked similar protests in other states. In order to give the student protesters their own organization, King agreed to the formation of the Student Non-Violent Coordinating Committee (SNCC, pronounced "snick") later in the year.
In October 1960, King was arrested in Atlanta and sentenced to four months in the Georgia state prison in Reidsville. Presidential Candidate John F. Kennedy called King's wife to express his support. King was released after serving eight days. The following spring, he agreed to a compromise desegregation plan for Atlanta.
In May 1961, the Congress of Racial Equality (CORE) began Freedom Rides in the South. The riders were met with violence in Anniston and Birmingham, Alabama. That summer, a Voter Education Program was established that included SCLC and other black organizations. Voter registration efforts were carried on throughout the South with varying degrees of success.
The church bombing in Birmingham in December turned King's attention to Birmingham. Protests were organized and met with the egregious behavior of Birmingham Chief of Police "Bull" Connor. King was jailed for nine days, during which he composed his famous Letter from Birmingham Jail.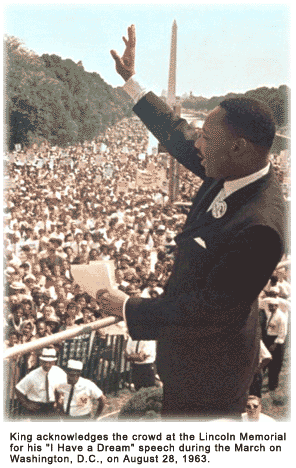 Following the events in Birmingham, King began to organize a massive demonstration in Washington, D.C. It finally took place on August 28, 1963, on the Capitol Mall, with a crowd of 200,000 in attendance. At that event, King delivered his most famous oration, the I Have a Dream speech. The most memorable portion of that speech began towards then end:
And so even though we face the difficulties of today and tomorrow, I still have a dream. It is a dream deeply rooted in the American dream.

I have a dream that one day this nation will rise up and live out the true meaning of its creed: "We hold these truths to be self-evident, that all men are created equal."

I have a dream that one day on the red hills of Georgia, the sons of former slaves and the sons of former slave owners will be able to sit down together at the table of brotherhood.

I have a dream that one day even the state of Mississippi, a state sweltering with the heat of injustice, sweltering with the heat of oppression, will be transformed into an oasis of freedom and justice.

I have a dream that my four little children will one day live in a nation where they will not be judged by the color of their skin but by the content of their character.

I have a dream today!
The next few years brought mixed results. National legislation, such as the Civil Rights Act of 1964, secured many of the rights that King had been fighting for, but the progress of the Vietnam War convinced King that the war must be opposed as a racist undertaking. His opposition to the war was not popular with all of his supporters. SNCC abandoned his non-violent approach in 1966, purging the organization of white members and openly advocating violence.
In early 1968, King was invited to Memphis to assist the striking sanitation workers. A demonstration on March 18 was a disorderly failure, but King was trying again when he was shot on the balcony of his motel room around 5:30 p.m. on April 3, 1968.
The assassination cemented King's legacy. Even though later revelations would show that his doctoral thesis was partly plagiarized and that he had indulged in numerous adulteries, he will forever be remembered for the Montgomery bus boycott, the I Have a Dream speech, his commitment to non-violent action in the struggle for black equality, and the Nobel Peace Prize he received. Since 1986, the federal government has celebrated his birthday as a national holiday.