Maya Angelou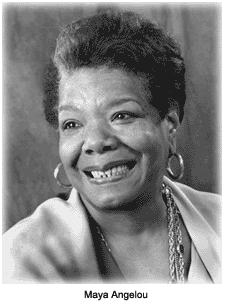 Maya Angelou is an author, actress, and a civil rights activist. She is best known for her autobiographical writings, I Know Why the Caged Bird Sings and All God's Children Need Traveling Shoes. Angelou was nominated for a Pulitzer Prize for her volume of poetry, Just Give Me a Cool Drink of Water 'Fore I Die. A traumatic childhood Maya was born and named Marguerite Johnson in St. Louis, Missouri, on April 4, 1928. Her parents were Bailey, a naval dietician and doorman, and Vivian, a nurse and realtor. She had one brother, Bailey Jr.; they spent most of their childhood being shuffled between St. Louis and Stamps, Arkansas, where their grandmother lived. Her nickname, Maya, originated from her brother. At age seven, Maya was raped by her mother's boyfriend. Her brother persuaded her to tell him who raped her. Shortly after, the man was murdered. Maya thought that because she let on, it was her fault he was murdered, so she refused to speak to anyone, except her brother, for four years. Motherhood and hard work In 1945, Maya graduated from George Washington high school in San Francisco. She became a single mother shortly afterward. Maya named her baby Clyde Bailey "Guy" Johnson. To support her son, she danced in night clubs, cooked at a Creole cafe, and removed paint at a body shop. Maya also became the first African-American woman to conduct cable cars in San Francisco. Maya married Tosh Angelos, a Greek-American sailor, in 1950; they divorced a few years later. In 1953, Maya changed her new surname to Angelou, for a stage name while performing at a San Francisco night club. She toured internationally, as a chorus member with the Everyman's Opera Company production of Porgy and Bess, from 1954 to 1955. Writing and social activism A few notable friends — author James Baldwin included — encouraged Angelou to take up writing, after they heard her life stories. In 1959, Angelou moved to Brooklyn, New York, to join the Harlem Writers Guild. Later that year she became the northern coordinator of the Southern Christian Leadership Conference (SCLC), at the request of Martin Luther King Jr. In 1960 she married South African freedom fighter, Vusumi Make. From 1961 to 1962, Angelou was the associate editor of the only English-language news weekly in the Middle East, the Arab Observer, in Cairo, Egypt. Angelou and Make divorced in 1963, and from 1964 to 1966, she was the feature editor of the African Review in Accra, Ghana. Angelou returned to the U.S. in 1970 and was appointed to the Bicentennial Commission by President Gerald R. Ford. She was later named to the Commission for International Woman of the Year by President Jimmy Carter. Angelou's book, I Know Why the Caged Bird Sings, which chronicled her life up to age 16, was published with huge success in 1970. In 1971, she wrote the original screenplay and musical score for the film, Georgia, Georgia, and was the author and producer of a televised mini-series, Three Way Choices. Angelou married Paul Du Feu in 1973; they were divorced in 1981. Angelou became the first African-American female director in Hollywood. Her directorial debut was the film All Day Long in 1974. Angelou was nominated twice for Tony awards, for her Broadway acting debut in Look Away in 1973, and for her performance in the miniseries Roots in 1977. In addition, she became a close friend and mentor of Oprah Winfrey. A tenured professor In 1981, Angelou accepted a lifetime appointment as Reynolds Professor of American Studies at Wake Forest University in Winston-Salem, North Carolina. At the request of President-elect Bill Clinton, she read her poem, "On the Pulse of the Morning," at his inauguration in 1993. In addition to her numerous talents, Maya Angelou speaks fluent French, Spanish, Italian, Arabic, and West African Fanti.
---
See also
Important and Famous Women in America
, and
Important and Famous African Americans
.