Jesse Owens
Jesse Owens was a pioneering track athlete and is perhaps best remembered by sports aficionados as the man who upset Adolf Hitler's Aryan nation apple cart by not only winning four track and field gold medals (the first individual to do so), but setting or tying world or Olympic records in the process.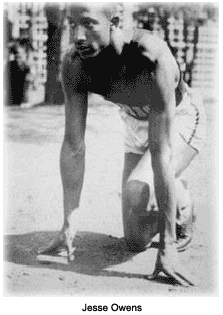 Owens' Herculean feat occurred during the 1936 Berlin Olympics — Hitler's supposed showcase for his "Aryan racial superiority." By winning his four events, Owens, at the age of 21, tied the world 100-meter dash record at 10.3 seconds, set Olympic records for the 200-meter dash (20.7 seconds) and the broad jump* (26' 5 1/4"), and ran the first leg for the Olympic and world record-setting 400 meter relay team (39.8 seconds).
What most people do not know about Jesse Owens' track career is that he realized an even more impressive achievement.
A year earlier, in May 1935, during the Big Ten Conference Championships in Ann Arbor, Michigan, Owens tied the world record in the 100-yard dash at 9.4 seconds and broke the world records for the broad jump*, 220-yard dash, and the 200-yard low hurdles.
The astounding thing about those records was that they were set after Owens had fallen down a flight of stairs and was suffering from back pain — and they were accomplished in a time span of about 70 minutes.
That feat was considered to be one of the "greatest individual athletic achievements" in the past 150 years.
Early Years
James Cleveland Owens was born in a small, rural town in west-central Alabama, in 1913. At the age of eight, his parents, Henry and Emma, decided to move to Cleveland, Ohio, in hopes of bettering their financial future.
J.C., as his family called him, enrolled in a public elementary school. When asked his name by his teacher, she heard "Jesse" instead of J.C., and the name stuck.
Because things had not worked out financially for his family, Jesse went to work after school, taking such jobs as grocery delivery person, freight car loader, and shoe shop apprentice.
As he grew, Owens had an affinity for running. He was quoted at one time, "I always loved running — it was something you could do by yourself and under your own power. You could go in any direction, fast or slow as you wanted, fighting the wind if you felt like it, seeking out new sights just on the strength of your feet and the courage of your lungs."
Owens was spotted in a gym class when students were timed in the 60-yard dash. Coach Charlie Riley, witnessing the potential Owens displayed, invited him to train with the track team. Owing to his after-school duties, Owens asked to train in the morning, which was readily accepted by Coach Riley.
Owens went on to star at Cleveland East Technical High School, tying the world record, as a senior, of 9.4 seconds in the 100-yard dash.
As a result of his prowess, Owens was heavily recruited. He chose to stay "close to home," attending Ohio State University in Columbus, albeit without a scholarship.
The Color Barrier
Owens faced the stark reality of being a black athlete in 1933 — a time when the nation was grappling with the segregation "problem." Owens, and other African-American athletes traveling with the team, encountered such discriminatory acts as being forced to stay in "blacks-only" hotels and eat at "blacks-only" restaurants. Those "whites-only" motels that let black athletes stay there, had to use the back door and use the stairs instead of the elevator.
Post-Olympic "Barnstorming"
Owens left Ohio State following the Olympics to try to cash in on his fleeting fame. It did not come easily.
Because he was black, Owens was not offered any endorsement deals from major corporations. Instead, he became a "runner-for-hire," entertaining crowds by racing against horses, motorcycles, and some of the Major Leagues' fastest players, giving them a 10-yard head start before beating them in the race.
Owens had a little trick when he raced against horses: He would have the starter get as near the horse's ear as he dared. After firing the pistol, the horse usually reared slightly, giving a nice head start to Owens, who usually won the race.
Post-Athletic Work
Because of his outgoing personality and his experience in front of cameras, Owens was often asked to appear for public speaking engagements. That led to establishing his own public relations firm.
Owens criss-crossed the country, speaking of the importance of hard work, loyalty, and religion, for such entities as the Ford Motor Company and the United States Olympic Committee. He also involved himself and his firm in working with underprivileged kids and their sports programs.
Later Life & Legacy
President Gerald R. Ford, in 1976, bestowed upon Owens the Medal of Freedom, the highest of civilian honor awarded by the United States, signaling to the world that the man, Jesse Owens, had transcended the invisible obstacles of all things racial, to become a galvanizing, ethnic role model for an entire nation.
Owens and his wife, Ruth, had three daughters, Gloria, Beverly, and Marlene. Owens died in 1980, but his legacy lives on in the Jesse Owens Foundation, which aims to support deserving youth in search of their goals — a venture about which Owens would surely smile.
---
*The broad jump is today known as the long jump.
See also
Important and Famous African Americans
.