George H.W. Bush
George Herbert Walker Bush was the 41st president of the United States, from January 20, 1989 to January 20, 1993. He was born on June 12, 1924, in Milton, Massachusetts, to Dorothy Walker Bush and Senator Prescott Bush (Republican of Connecticut 1952-1962). Bush graduated from Phillips Academy, Andover, Massachusetts, on his 18th birthday, June 12, 1942. That day, he enlisted in the U.S. Navy as a Seaman Second Class. Receiving his wings and commission in June 1943, while still 18 years old, he was the youngest pilot in the Navy at that time.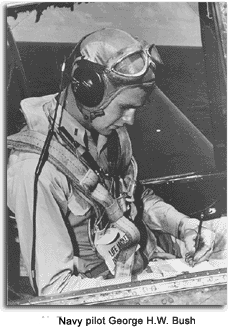 The war years
On active duty from August 1942 to September 1945 during World War II, Bush flew torpedo bombers off the carrier USS San Jacinto. On September 2, 1944, Bush's plane was hit by anti-aircraft fire while making a bombing run over the Bonin Island of Chichi Jima, 600 miles south of Japan. Although the plane was afire and severely damaged, he completed his strafing run on a Japanese installation before flying towards the sea to bail out. Bush managed to bail out and was rescued by a Navy submarine, the USS Finback. Tragically, his two crew members were killed. Bush flew 58 missions. For his courageous service in the Pacific Theater, Bush was awarded the Distinguished Flying Cross and three Air Medals.
Education and marriage
On January 6, 1945, Bush married Barbara Pierce of Rye, New York. Today they are the parents of five children: George, John (Jeb), Neil, Marvin, and Dorothy Bush Koch. Their second child, Robin, died of leukemia in 1953. The Bushes have 14 grandchildren. Following World War II, Bush entered Yale University, where he pursued a degree in economics and served as captain of the varsity baseball team. He graduated Phi Beta Kappa in 1948.
Entrepreneurial years
Following his graduation, George and bride Barbara Bush moved to Texas, where he worked as an oil field supply salesman for Dresser Industries. In 1951, he co-founded a small royalty firm, the Bush-Overbey Oil Development Company. Two years later, he co-founded the Zapata¹ Petroleum Corporation. In 1954, at the age of 30, he became the co-founder and president of a third firm, Zapata Off-Shore. Zapata pioneered in experimental offshore drilling equipment.
Government and politics
Following an unsuccessful bid for a Senate seat in 1964, Bush was elected to the U.S. House of Representatives in 1966 from Texas' Seventh District. One of the few freshman members of Congress elected to serve on the Ways and Means Committee, he was reelected to the House two years later without opposition. Bush lost a second campaign for the Senate in 1970.
During the 1970s, Bush held a number of leadership positions. In 1971, he was named U.S. Ambassador to the United Nations. He served there until 1973, when he became chairman of the Republican National Committee. In October 1974, Bush traveled to Beijing, China, where he served as chief of the U.S. Liaison Office during the critical period when the United States was renewing ties with that country.
Director of the CIA
In 1976, Bush was appointed director of the Central Intelligence Agency. He was credited with strengthening the intelligence community and helping to restore morale at the agency.
The Intelligence Authorization Act for Fiscal Year 1999 was signed into law by then President Bill Clinton on October 20, 1998. Among its provisions, the law directed that the new headquarters compound of the Central Intelligence Agency located in Langley, Virginia, be known as the George Bush Center for Intelligence. In a dedication ceremony, a letter from then President Clinton was read. Clinton wrote in part,
"As you know, in my time as president, I have turned to you more than once for your wise counsel, and I have benefited greatly from it. And I have been well served by the talented and dedicated men and women who make up the intelligence community that you did so much to preserve and strengthen."
Bush was director of Central Intelligence and head of the Central Intelligence Agency from January 30, 1976, to January 20, 1977. Vice President Bush
In 1980, Ronald Reagan chose George Bush to be his running mate. On January 20, 1981, Bush was sworn in for the first of two terms as vice president. In that office, Bush coordinated administration efforts to combat international terrorism and wage the international war on drugs. Vice President Bush also piloted a task force on regulatory relief, aimed at reducing government size and increasing American competitiveness. In 1988, George H.W. Bush became his party's nominee and the American people's choice to be the 41st President of the United States.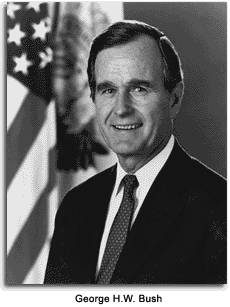 President Bush
Bush's initial Cabinet choices reflected a balanced choice for an efficient, nonideological government. With his usual cautious instinct, in 1990 he nominated to the Supreme Court the erudite David H. Souter, known to have broadly conservative views.
In his first year, Bush was confronted with the Lebanese hostage crisis, the Exxon Valdez oil spill in Alaska, and the continuing War on Drugs. His public approval soared following the invasion of Panama in late 1989, but a spectacular budget deficit and the savings and loan crisis caused the president's popularity to dip sharply in his second year. That decline followed Bush's relinquishment of his famed campaign "no new taxes" pledge as he sat down with congressional leaders to tame the budget deficit and deal with a flagging economy.
Operation Desert Storm
President Bush marshaled a 30-nation coalition of Western democracies, Japan, and even some Arab states to free Kuwait following an invasion by Iraqi dictator Saddam Hussein in August 1990. Operation Desert Storm stands as an example of presidential leadership and American resolve in an uncertain and often dangerous world.
The coalition forces drove out the Iraqi invaders in little more than a month after Desert Storm was launched on January 17, 1991, and a nation grateful for sensing the end of the "Vietnam syndrome" gave the president an 89 percent approval rating in the polls. However, the high rating fell as the year went on, as doubts persisted about the war's outcome. Iraqi president Saddam Hussein remained in power and persistently avoided complying with the terms of the peace treaty. In addition, concerns continued to grow about the faltering U.S. economy and other domestic problems.
A major Bush accomplishment in 1991 was the Strategic Arms Reduction Treaty (START), signed in July with Soviet president Mikhail Gorbachev at their fourth summit conference, marking the end of the long weapons buildup.
President Bush's leadership proved critical to the resolution of some of the most daunting conflicts of the time. After 40 years of superpower stalemate, historic events became nearly commonplace: the fall of the Berlin Wall and the reunification of Germany, the end of the Cold War and the flowering of democracy in Eastern Europe, the emergence of a new partnership with Russia, anchored by the historic arms reduction treaties; START I and START II — the first-ever agreements to dismantle and destroy strategic weapons since the advent of the nuclear age.
On the international economic front
President Bush sought to seize new opportunities through a policy of free trade, pushing to lower trade restrictions and tariff barriers in the GATT talks. In this hemisphere, President Bush's free trade efforts culminated in the Enterprise for the Americas initiative and the North American Free Trade Agreement, (NAFTA). With the passing of the Cold War came new challenges, including seeking to demonstrate the post-Cold War possibilities of collective security.
On the domestic scene
The Bush administration promoted new ideas for educational reform, home ownership, and environmental protection. The Americans with Disabilities Act (ADA) paved new ground for accommodating disabled people, and the revision of the Clean Air Act was deemed the most significant environmental legislation ever passed. In the 1992 presidential election, Bush was defeated by Governor Bill Clinton of Arkansas.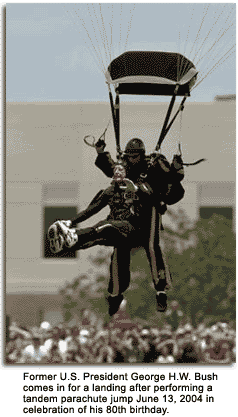 Latter lives The former president and Mrs. Bush are residents of Houston, Texas, and serve on the Board of Visitors of M.D. Anderson Hospital. They are members of St. Martin's Episcopal Church, where President Bush has been a vestryman. He is currently on the board of the Episcopal Church Foundation and serves on the vestry of St. Ann's Episcopal Church in Kennebunkport, Maine.
In 2005, former president Bush appeared on national television with former president Clinton to beseech American citizens and the world to generously contribute to the December 2004 Indian Ocean Tsunami relief effort, where more than 100,000 people died.
---
¹Emiliano Zapata, 1877-1919, Mexican revolutionary and agrarian reformer; guerrilla leader, 1911-1916.