Bill Clinton
Very few American presidents have figure skated through their terms in office with a perfect "10," and Bill Clinton was no exception. Controversy and scandal overshadowed a remarkable turnaround in the economy during his tenure, erasing a budget deficit of about $250 billion and creating a budget surplus of about $525 billion.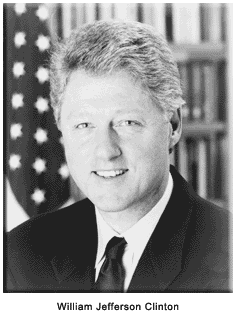 Clinton was the first president to be a part of the baby boomer generation, and was the third youngest president elected in U.S. history. He was the first Democratic president to serve two full terms since Franklin D. Roosevelt. Clinton also was the second president to be impeached over the issues of obstruction of justice and perjury.
If there were major criticisms, they would have to fall into the categories of foreign policy and his personal comportment in the White House. He can, however, be credited with initiating or signing into law significant domestic legislation, including the Family and Medical Leave Act, the Brady Bill, the Minimum Wage Increase Act, and the Taxpayer Relief Act.
The early years
William Jefferson Blythe III was born in August 1946, three months after his father, a traveling salesman, was killed in an automobile accident. His stepfather, Roger Clinton, stepped in to marry his mother, Virginia, in 1950, and loaned his surname to "Billy," as he was known in his youth. The Clinton name was not formally adopted, however, until Billy was 14.
Clinton enrolled in the School of Foreign Service at Georgetown University and joined the service fraternity of Alpha Phi Omega. While working for J. William Fulbright, he won the preeminent Rhodes Scholarship to Oxford University just northwest of London. He then attended and graduated from Yale Law School, where he met Hillary Rodham, future wife and First Lady.
Goin' home
Upon returning to his native state of Arkansas, Clinton taught law at the University of Arkansas. While teaching, he ran an unsuccessful campaign for the House of Representatives in 1974. Two years later, he was elected the Arkansas Attorney General. In 1978, he won the governorship, which put him on the fast track to the White House. He was the youngest governor in the U.S. at the time, and the youngest governor of any state since 1938.
He was defeated after his first term, but reclaimed the governor's office in 1982. In 1984, he pushed for and got an amendment extending the term of governor from two to four years, and subsequently served a total of five terms until his presidential bid in 1992.
The road to Washington
Clinton's first splash on the national political stage occurred during the 1988 Democratic National Convention in Atlanta. He was asked to give a 15-minute introduction of the eventual nominee, Michael Dukakis, then governor of Massachusetts. Clinton turned what was supposed to be a lively 15-minute peptalk into a 32-minute drone. Turning the snafu into a joke at the 1992 convention, Clinton scored points for his self-deprecation.
When Clinton won the nomination for president at the 1992 Democratic Convention, he was given little chance of unseating the incumbent George H.W. Bush. President Bush was expected to ride the wave of euphoria over the Desert Storm tour de force in early 1991. Clinton countered with a platform of domestic issues, drawing from the economic downturn in the U.S. He used the phrase "It's the economy, stupid!" early and often during his campaign.
Clinton's opponents, meanwhile, chided him for his past use of marijuana, to which he replied, "I smoked but didn't inhale." Other issues Clinton had to deal with included his avoidance of military service, rumors of womanizing, and allegedly shady business deals. Those issues weren't enough to sway many voters, but did inflame the conservatives in Congress, and set the tone for future battles over legislation.
Due to a strong third-party showing by H. Ross Perot, Clinton became the first president since John F. Kennedy to win the election with just a plurality of the vote.
The catbird seat
Clinton began his presidency by signing an executive order to place stiff restrictions on senior political personnel who would try to lobby their co-workers after they leave their stations.
His first piece of legislation fulfilled a campaign promise — the Family and Medical Leave Act of 1993. The new law required large corporations to grant unpaid leave for those employees that were pregnant or suffering from a serious medical condition.
Another campaign promise, dealing with the sensitive issue of openly gay military personnel, was not handled well. Angering conservatives and liberals alike, some thought the measure went too far, others felt it did not go far enough. A compromise led to the controversial "Don't ask, don't tell" policy.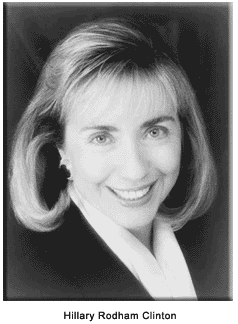 Clinton's most notable campaign promise, to reform health care (with the task force led by Hillary Clinton), was shot down in a ball of flames by conservatives and the health insurance industry.
The 1994 elections proved to be ominous for the Democrats; they lost control over both houses of Congress for the first time in 40 years. The Republican majority began to flex their collective muscle by bringing to the table their "Contract with America," which would "clean up" Congress and the way their predecessors conducted business. A squabble with the Republicans over the budget resulted in a brief shutdown of the government.
Clinton was re-elected in 1996, again without a majority of the vote, and again Perot received a substantial third-party ballot. Clinton's "centrist" or "populist" political stance was agreeable, and his approval ratings had steadily increased throughout his presidency, having mainly to do with the country's economic recovery.
Clinton could claim that more than 22 million jobs were created during his administration, as well as the lowest government spending as a percentage of Gross Domestic Product since 1974, among other favorable economic indicators.
Foreign policy
For Clinton, foreign policy was a mixed bag. He sent troops into Mogadishu, Somalia, in 1993 in an attempt to capture a local warlord. That operation included the "Blackhawk Down"* incident and was a miserable failure and embarrassment to the U.S.
In 1994, he sent troops into Haiti to prop up the administration of duly elected Jean-Bertrand Aristide. Clinton also twice sent U.S. troops into the former Yugoslavia to stop the "ethnic cleansing" perpetrated by the Serbs against local Muslims. Charges of war crimes were later pursued.
But perhaps his biggest gaffe was, because of Somalia, he, and other First World nations, declined to send troops into Rwanda to stop the genocide there in 1994. More than 1 million Tutsis and Hutus were slain in internecine fighting in about three months.
Also in 1994, Clinton negotiated the Nuclear Accords with North Korea. At the time, North Korea agreed to give up aspirations of developing nuclear weapons in exchange for assistance with their energy needs.
In Iraq, Clinton continued the economic sanctions put in place by George H.W. Bush, but were seen as largely ineffectual and contributed to the deaths of more than 100,000 people. Clinton also cultivated the notion that Iraq had "weapons of mass destruction" (WMD) and was likely to deploy them or make them available to terrorists, organized crime, or drug traffickers.
The scandals
It is not within the scope of this article to delve into the explicit detail of each incident that occurred during the Clinton administration, but the degree of seriousness ranged from barely significant to the impeachment of the president for obstruction of justice and perjury.
Relatively minor mischief included "Travelgate," "Filegate," "Chinagate," and "Pardongate." More serious charges were related to alleged sexual misconduct and the "Whitewater" scandal involving real estate dealings in Arkansas, which eventually led to his impeachment by the House of Representatives. He was acquitted by the Senate in February 1999.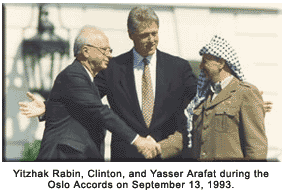 Other notable events during Clinton's administration
In chronological order:
The first terrorist attack on the World Trade Center — February 1993

The Branch Davidian siege near Waco, Texas — April 1993

Signing of the Kremlin Accords — January 1994

Oklahoma City Bombing killing 168, including 19 children — April 1995

White House hosts Jiang Zemin, President, People's Republic of China — October 1997

Monica Lewinsky testifies about her relationship with the president — August 1998

Clinton testies about Lewinsky, nationally televised address about the case — August 1998

U.S. aircraft accidentally bomb Chinese embassy in Belgrade, Yugoslavia — May 1999

The collapse of the Slobodan Milosevic regime in Yugoslavia — October 2000.
Post-presidency
Like many former presidents, Bill Clinton has been a popular speaker at many functions, and his memoirs, published in his book My Life, were wildly popular. His constant and notable thesis has been to advocate a multilateral solution to problems facing the world.
After the Clintons established their residence in New York state, Bill Clinton displayed his close association with the African-American community by opening an office in Harlem. Later he campaigned for his wife and former First Lady in her successful quest for the New York U.S. Senate seat.
In November 2004, Clinton dedicated his presidential library in Little Rock, Arkansas. It is the largest such library in the nation. Also in November, New York governor George Pataki named Clinton as an honorary board member of the the World Trade Center reconstruction committee.
---
*An arresting film (2001) about the debacle.