Oklahoma City Bombing
The image of a fireman carrying the limp form of a pre-school-aged girl during a rescue attempt after the bombing of the Alfred P. Murrah Federal Building in Oklahoma City, will long be etched into the collective psyche of the American public. The attack on the building took 168 lives, including 19 children, and was regarded as the worst terrorist strike on American soil until September 11, 2001. It remains as the worst attack perpetrated domestically. The reasoning behind the bombing still eludes investigators. 9:02 a.m. At this time and at this place, the Arthur P. Murrah Federal Building in Oklahoma City on April 19, 1995, a terrorist bomb exploded, shredding the north side of the structure. About an hour and a half later, Timothy McVeigh, an ex-Army soldier who had served in the Persian Gulf War, was stopped for speeding, heading away from the blast area.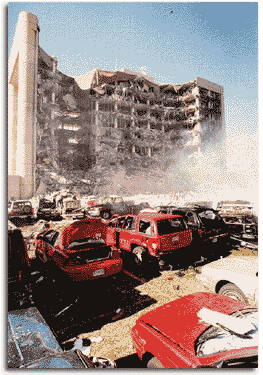 McVeigh, whose connection to the bombing was unknown at the time, was arrested on concealed weapons charges. A short while before he was to be released, he and friend Terry Nichols were charged with murder and conspiracy. Nichols was arrested in Herington, Kansas, west of Topeka and Kansas City. The bomb was composed of a simple combination of about 5,000 pounds of a common farm fertilizer, ammonium nitrate, and nitromethane racing fuel and remotely set off by a blasting cap. It was loaded onto a 20-foot-long Ryder rental truck and parked in front of the federal building shortly before detonation. What is known — a timeline What happened to the mind of a Bronze Star winner after returning from war is anybody's guess. Investigators do know about some of the events that occurred along the way:
September 30, 1994: The first ton of ammonium nitrate was bought for the bomb from a farm co-op in McPherson, Kansas.

October 18: The second ton of fertilizer was purchased.

October 21: McVeigh, disguised as a biker, bought $2,775 worth of nitromethane racing fuel at a Texas racetrack.

Dec. 16: McVeigh drove by the Alfred P. Murrah Federal Building and pointed it out as his target to a friend, Michael Fortier.

April 14, 1995: McVeigh bought his getaway car, a 1977 Mercury Marquis, at a Firestone store in Junction City, Kansas. He checked into the Dreamland Motel.

April 16: McVeigh left the car in Oklahoma City. His friend, Terry Nichols, drove him back to Kansas.

April 17: McVeigh showed up at Elliott's Body Shop in Junction City to pick up the 20-foot Ryder truck that would hold the bomb. He used the name Robert D. Kling and claimed his destination was Omaha, Nebraska.

April 19: An explosion ripped through Alfred P. Murrah Federal Building at 9:02 a.m., killing 168 people, including 19 children, and injuring hundreds of others. McVeigh was arrested 90 minutes later on firearms charge after a traffic stop near Billings, Oklahoma.
After a lengthy trial, during which the venue was moved to
Denver
and cost the federal government millions of dollars, McVeigh was convicted on all counts on June 2. He was unanimously sentenced to death on June 13 and, after a series of appeals, was executed on June 11, 2001.
Conspiracy?
There are strong indications that McVeigh had been in contact with
al Qaeda
operatives and such extremist groups as those affiliated with the Aryan Nation movement. He had been linked to the "Midwest Bank Robbers," a gang who went on a robbery spree in the early 1990s. They were caught, and in their possession were blasting caps of the same type McVeigh allegedly stole from a quarry to use in the attack. Prosecutors believe the gang helped finance the bombing. In February 2004, the
FBI
said they would reopen the Oklahoma City Bombing case in light of the new evidence. In addition, telephone records show that McVeigh was in contact with some members of Elohim City, a private community in eastern Oklahoma affiliated with the extremist "Christian Identity" group. Whatever conclusion one draws, it is unlikely that McVeigh planned and executed such a horrific crime by himself.