Hillary Rodham Clinton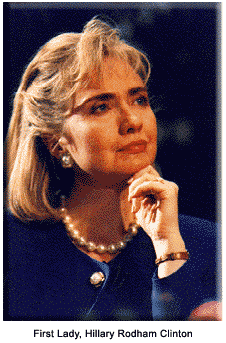 As a U.S. Senator for New York and former first lady to President Bill Clinton, Hillary Rodham Clinton has led a successful political career despite numerous scandalous hurdles. Since her political career began while attending Wellesley College, Massachusetts, the list of her political and personal accomplishments reveals her steady climb in politics, often standing in her husband`s shadow. Hillary Diane Rodham was born on October 25, 1947, in a Park Ridge, Illinois, suburb to Dorothy and Hugh Rodham. Hugh, a former Army drill sergeant, provided a disciplined environment in which Hillary earned every possible Girl Scout badge, was involved in the youth group of the local Methodist church, a member of the National Honor Society, and was a student leader. Education and beginning of political involvement Rodham entered Wellesley, a prestigious women's college, after graduating from high school in 1965 where she began to blend academic achievement with political activism. Rodham was deeply affected by the death of the Reverend Martin Luther King Jr. in 1968, having met him in 1962. After attending Wellesley in Washington, where her political views became more liberal, the president of the College Republicans switched to the Democratic Party at the urging of Professor Alan Schechter. Valedictorian at the 1969 graduation, Rodham was the first student to deliver the commencement address, during which she stated, "The challenge now is to practice politics as the art of making what appears to be impossible, possible." Graduating with a degree in political science, her speech won Rodham a standing ovation and a feature article in Life magazine. After entering Yale Law School in 1969, Rodham served on the board of editors of the Yale Review of Law and Social Action and provided legal advice for underprivileged and abused children at Yale-New Haven Hospital. She also interned with children's advocate Marian Wright Edelman, received a grant to work at the Children's Defense Fund in Cambridge, Massachusetts, in 1970; and worked for Senator Walter Mondale's subcommittee on migrant workers during the summer of 1971. During her second year in law school, Rodham volunteered at the Yale Child Study Center, where she studied new research on early childhood brain development. She also worked at the city legal services providing free assistance to poor residents. It was at Yale's library that she met her future husband, Bill Clinton. Clinton recalls the occasion they met in which she hastily approached his desk and said, "If you're going to keep staring at me, I might as well introduce myself." After graduating from Yale in 1973, Rodham began a year of post-graduate study on children and medicine at the Yale Child Study Center, after having written her widely acknowledged thesis on children's rights. She also became a staff attorney for the Children's Defense Fund and was recruited to serve on the presidential impeachment inquiry staff for the House of Representative's Judiciary Committee, investigating the Watergate Scandal. Rodham moved to Fayetteville, Arkansas, after President Richard M. Nixon resigned in August 1974. She joined boyfriend and colleague Bill on the University of Arkansas Law School faculty. She married Clinton in 1975, retained her maiden name, and bore their only child, Chelsea Victoria Clinton, on February 27, 1980. Kept out of the public eye during her teenage years, Chelsea attended an elite private school and then graduated from Stanford University with a degree in history. At the age of nearly 21, she unofficially acted as first lady when Rodham Clinton ran for the U.S. Senate. The Clintons` daughter earned a master's degree in International Relations at Oxford University, and in 2003, joined a consulting firm in New York City. In Arkansas, the elder Clintons` careers began to ascend, and soon the couple moved to Little Rock. Bill ran unsuccessfully for a seat in the U.S. House. Rodham Clinton joined the Rose Law Firm in 1976. Two years later, Rodham Clinton was appointed to the board of the Legal Services Corporation by President Jimmy Carter, and Clinton was elected to the governor`s office. First lady of Arkansas During Rodham Clinton's 12 years as first lady of Arkansas, she continued to pursue children and family issues. She chaired the Arkansas Education Standards Committee to improve the testing standards of new teachers, founded the Arkansas Advocates for Children and Families, and introduced Arkansas Home Instruction for Preschool Youth, a program that trained parents of preschool children in preparedness and literacy. The first lady also served on the Arkansas Children's Hospital Legal Services board, Children's Defense Fund board, while continuing to work for the Rose Law Firm. She was named one of the 100 most influential attorneys in America by the National Law Journal in 1988 and 1991. She was also named Arkansas Woman of the Year in 1983 and Arkansas Mother of the Year in 1984. Rodham Clinton was wrongly accused of a conflict of interest when it was revealed in 1979 that a $1,000 investment in cattle futures had generated a $100,000 return when she ceased trading 10 months later. Records from the Chicago Mercantile Exchange indicated that $40,000 of the profit came from larger trades through experienced trader James Blair, outside counsel to Tyson Foods. Commodities broker Robert L. "Red" Bone had aided the trades for the Ray E. Friedman and Co. (Refco). Because of Blair's standing as a good client, Clinton was allowed to maintain her positions, even though her account did not cover the activity. Refco was later fined for its illegal dealings with the Chicago Mercantile Exchange and for breaking margin trading laws. It was concluded, however, that Rodham Clinton had not violated trading rules.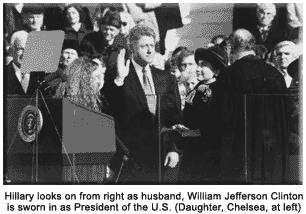 At the time, Rodham Clinton was criticized for maintaining her maiden name upon marrying, having done so to avoid conflicts of interest and to keep their professional lives separate. Bill Clinton's advisors had speculated it was a contributing cause of his failure to retain the governorship in 1980. In Hillary's autobiography, Living History, she said, "I learned the hard way that some voters in Arkansas were seriously offended by the fact that I kept my maiden name." During the winter of 1980, she began to use Clinton as her surname, at Vernon Jordan`s suggestion. When Bill announced his campaign to regain the governor`s office in 1982, she adopted the name Hillary Rodham Clinton and sometimes referred to herself as "Mrs. Bill Clinton." Hillary Rodham Clinton's name was fully established by the time she became first lady of the United States, and she has continued to use that name. First lady of the White House When the Clintons moved into the White House in 1993, the president appointed his wife to head the Task Force on National Health Care Reform that proposed a national health plan. The controversial plan failed to receive enough support to reach the floors of Congress and was abandoned in September 1994. Rodham Clinton attributed her political inexperience as a contributor to its defeat, as well as other factors. Not since Eleanor Roosevelt had a first lady so actively participated in public policy. Unaccustomed to the first lady's central role in the shaping of public policy, such involvement was thought inappropriate by critics. Supporters considered her role as the same as other White House advisors and contended that voters had been aware that Hillary would play an active role in the Clinton administration prior to voting him into office. During her eight years as first lady, Rodham Clinton also initiated the Children's Health Insurance Program in 1997, increased research funding for prostate cancer and childhood asthma to the National Institute of Health, as well as assisted in determining the cause of a mysterious illness affecting veterans of the Gulf War. She also initiated and guided the Adoption and Safe Families Act of 1997.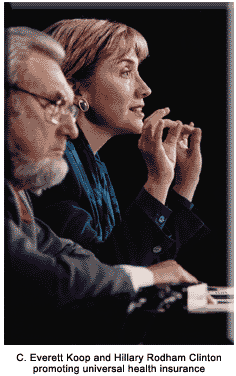 Rodham Clinton has received many prestigious awards, including the Secretary of Defense Medal for Outstanding Public Service, the President's Award of the League of United Latin American Citizens, Role Model of the Year, by the United Steel Workers of America; the Martin Luther King Jr. Award from the Progressive National Baptist Convention, and the National Association of Elementary School Principals Distinguished Service Award. Rodham Clinton also has authored best-selling books, including her autobiography, Living History and It Takes a Village: And Other Lessons Children Teach Us, which won her the 1997 Grammy Award for Best Spoken Word Album for the recorded version.
Years wrought with controversy The Clintons have weathered more than a few controversies. Among the most controversial and difficult occurred when Clinton's fidelity to Hillary was challenged. After it was revealed during the 1992 election campaign that Clinton had kept "a relationship that I should not have had" with Arkansas lounge singer Gennifer Flowers, rumors of extramarital affairs gained currency. In 1995, he reluctantly revealed his affair with White House intern Monica Lewinsky, which was later substantiated by an investigation. Despite that tumultuous and painful time in her marriage, Rodham Clinton did not seek a divorce — and was both criticized and praised for it. Rodham Clinton was accused of involvement in a failed savings and loan in Arkansas, during a 1994 investigation. The Clintons had partnered with the savings and loan owners, Jim and Susan McDougal, in a real estate venture known as Whitewater, while Rodham Clinton worked for the Rose Law Firm. Hillary's billing records were subpoenaed for auditing purposes, but went missing for two years until they were discovered in the first lady's book room. Hillary made history when she testified before a grand jury — as the only first lady to do so. Initiated by independent counsel Ken Starr, the $40 million investigation resulted in no criminal charges brought against the Clintons. Webster Hubbell of Arkansas pled guilty to felony charges of lying about the Clintons' involvement in the savings and loan, and about Whitewater to federal investigators. The McDougals were sent to jail as a result of the investigation. The suicide death of Vince Foster, childhood friend of Bill Clinton's, and Hillary's former Rose Law Firm colleague, was investigated in conjunction with Whitewater. Deputy White House counsel Foster was found dead in a Virginia park on July 20, 1993, and a suicide note, torn into many pieces, was discovered in his briefcase. Critics of the Clintons alleged that Foster had been murdered, but results of the federal investigation found he had killed himself after having been the target of several derogatory editorials by the Wall Street Journal, and being medically treated for depression. Election to the U.S. Senate Amidst much controversy over his infidelity and other political scandals, Clinton finished his second term as president and Hillary was elected a U.S. Senator for New York State. During the campaign, her opponent and other critics accused her of opportunism, given her tenuous connection with the state. Considered to be a proponent of American liberalism, with its origins found in Franklin D. Roosevelt's New Deal policies, the former first lady was elected on November 7, 2000. According to a New York Times article entitled "The Evolution of Hillary Clinton," she has been successful in finding the middle ground between voters of various views on such issues as abortion rights, where her work has focused on reducing the number of abortions through the prevention of unwanted pregnancies rather than restricting abortions. After becoming a senator, Rodham Clinton worked to strengthen New York's economy and homeland security, while supporting a return to fiscal responsibility. She worked to bring economic relief to victims of the September 11, 2001, terrorist attack on the World Trade Center and the Pentagon. The senator introduced legislation to provide funding for threat-based homeland security to ensure adequate resources for first responders, and such high-target communities as New York City.
She served on various senatorial committees, including the Health, Education, Labor, and Pensions Committee; Environment and Public Works Committee; Special Committee on Aging; and in 2004 was the only senator on the Transformation Advisory Group to the Joint Forces Command. She has visited troops in Iraq, Afghanistan and other locations, to learn about the challenges American combat forces face. She also has worked for prescription-drug safety for children, to lower the cost of prescription drugs, and to prevent contamination of the American food supply by bioterrorism. She co-sponsored legislation to extend tax credits in regions that contain designated Renewal Communities, as well as introduced legislation to increase access to broadband technology in rural areas. In 2008, Hillary Clinton ran for the Democratic nomination for president, but lost in the primaries to the eventual nominee Barack Obama. After Obama`s election, he named Clinton as his Secretary of State.
---
For additional famous women, see
Important and Famous Women in America
.