Waco Branch Davidians Siege
David Koresh, the leader of the Branch Davidians in Waco, Texas, thought he was an angel and an agent of God. The government thought he was in possession of illegal firearms and explosives, as well as a criminal who physically and sexually abused several children he fathered with his followers.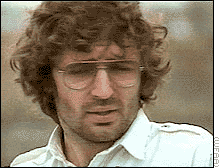 On February 28th, 1993, about 70 highly militarized agents of the Bureau of Alcohol, Tobacco, and Firearms (ATF) approached Mount Carmel, the compound of a controversial Branch Davidian religious group near Waco. Six months earlier, agents had convinced the cult's leader, David Koresh, that he should cooperate with their investigation into his "gun business," by inviting them to see his weapons. When Koresh came to the front door on the 28th of February, shots were fired — to this day, no one is sure who fired first. Koresh was hit in his side, and his father-in-law was mortally wounded. Overhead, helicopters began to spray the compound with return fire against aggressive compound members, killing four more. Later that day, agents killed another Davidian who approached the compound. Four ATF agents were killed and another 16 were wounded that day. A 51-day standoff was in the making. History of the Branch Davidians One Victor Houteff was born in Bulgaria, in 1885. He immigrated with his family to the U.S. and became a member of the Seventh-day Adventist Church, in 1919. By the early 1930s, Houteff had developed Biblical views in conflict with his fellow Adventists. He became the father of a notable religious organization. Houteff's Davidian Seventh-day Adventist movement survived for 26 years before it was disbanded in 1961. Early on, the Seventh-day Adventist Church adopted a unique doctrine known as the investigative judgment of Christ. The doctrine was born out of an attempt to explain Millerite founder¹ William Miller's failure to prophesy of the return of Christ. Miller's teachings had inspired the church's formation. He had set a date of March 21, 1843, to March 21, 1844, as the time of Christ's reappearing. When the latter date had passed, a new date was set: October 22, 1844. The date arrived — but Christ did not. Those failed predictions have continued throughout the history of the Branch Davidians, to the present day. Houteff was branded a disruptive influence on the SDA and excommunicated, in 1935. He and a handful of followers moved to Texas, near Waco. At first they called themselves The Shepherd's Rod. In 1942 they incorporated and took the name Davidian Seventh-day Adventist. Houteff fully expected Christ to return during his lifetime. Houteff died in 1955, and his wife, Florence, assumed the leadership. She announced to the followers that on April 22, 1959, a great sign would appear and then the Lord would return. As the April 1959 date approached, nearly 1,400 followers arrived in Texas to await the sign and the Lord's return. The Lord did not return, but one of Houteff's former followers arrived, claiming he was the sign Florence had predicted. The man was Benjamin Roden, a west Texas businessman, who had just returned from purchasing land in Israel. He managed to convince some of the Davidians that he was a prophet, and he became the leader of a new and separate movement. Roden called his group the Branch Davidians. Florence Houteff issued an announcement in 1961, that the Davidian Seventh-day Adventists were disbanded. Roden's Branch Davidians adopted a narrow theology based on an expected imminent return of Christ. Roden kept not only the Saturday Sabbath, but also instituted the Jewish Old Testament feasts of Passover, Tabernacles, and Atonement as eight-day observances. When Roden died in 1978, his wife, Lois, became head of the group. In 1981 a young man named Vernon Howell (eventually David Koresh) joined the group and quickly gained influence. He had been reared under the influence of Seventh-day Adventist theology and memorized some scripture as a child. Howell had become obsessed with the book of Revelation and Old Testament end-time prophecy. He soon became tired of George Roden, Lois Roden's son. George lived up to an aggressive reputation. In 1985, George Roden forced Vernon Howell's subgroup off the Texas property. The conflict between Roden and Howell ended in a shoot-out in 1987, when Howell returned with a few of his followers and plenty of ammunition. Howell emerged from the conflict as the new leader of the Branch Davidian group. The compound remained relatively quiet until February 28, 1993. David Koresh and his followers Vernon Wayne Howell was born in Houston in 1959. His childhood was difficult; he never knew his father. While being reared by his grandparents, he suffered from dyslexia and his schoolmates' cruelty. He dropped out of school in the ninth grade. After making his way to Hollywood in a failed attempt to become a rock star, he joined the Branch Davidians, in 1981. After Howell took control of the group under his new name, David Koresh, he "annulled" his followers' marriages, according to former members of the cult. He said that only he could be married, which caused several members to leave. Former followers told authorities that Koresh beat the children until they were bruised and bleeding. One defector, Marc Breault, had hired detectives to investigate, and when contacted by the ATF, he supplied a number of detailed descriptions of his former associates. He denounced Koresh, accusing him of child abuse and polygamy. Breault also described numerous minors whom Koresh had subjected to marriage and sex. The youngest was only 12 years old. State social workers investigated, but could never ascertain clear evidence of the charges. Koresh said that the Apocalypse would begin when the U.S. Army attacked Mount Carmel, their compound outside of Waco. Koresh's remaining followers prepared for the end of the world, and even buried a school bus to serve as a food and ammunition bunker. According to former followers, Koresh demanded to know how far they were willing to go in defense of the true faith. The only way to serve God was to be willing to die, he insisted. He even taught the children that suicide might one day be required, and showed them how to accomplish it with cyanide or a gun. Eventually, he changed the name of Mount Carmel to Ranch Apocalypse. The 51-day stand-off Following the February 28th shoot-out with federal agents, Koresh and his followers locked themselves inside the compound. The FBI and ATF then deemed the site a hostage situation, and Koresh's paranoia about the government as the agent of Satan increased dramatically. Koresh quickly contacted the media and participated in several live interviews with CNN about how the ATF had endangered his "flock of sheep." He emphasized the number of children who lived in the compound and said that he had been shot and was bleeding severely. He was planning to die for his cause. By that time, the ATF was reinforced by local Texas Rangers, police officers, members of the FBI's Hostage Rescue Team (HRT), the FBI's Special Agent in Charge (SAC) from the San Antonio office, a bomb squad, and numerous U.S. marshals. The media began to arrive in swarms. President Bill Clinton endorsed a negotiated settlement, and 10 children were released, including a baby. The FBI moved armored vehicles to the compound's perimeter. The day after the first gun battle, Koresh made a tape of his teachings and promised to surrender if the recording were broadcast on national television. Agents agreed to his demands and the tape was broadcast on the Christian Broadcasting Network; however, Koresh went against his word, stating that God had told him to wait. Negotiations continued over the next several days. Koresh's earlier deceptive agreement with agents gave him little leverage for any more demands, and he simply tired agents with his continual nonsense. He continued to make rambling religious statements interspersed with threats of violence. The FBI became concerned that the Davidians would commit mass suicide. Negotiations dragged on. Koresh's apocalypse On April 17, fed up with unreliable negotiations, newly sworn attorney general Janet Reno approved the use of chlorobenzylidene malononitrile (CS) gas to end the six-week standoff. CS gas was miserably uncomfortable on contact, but it would not harm anyone (unless ventilation was shut off, in which case death could result), including the 23 children that remained inside. At dawn on Monday morning, April 19, 1993, the FBI phoned the compound to warn those inside about what was to occur. Three minutes after the initial call, two combat engineering vehicles approached the buildings, easily punched holes into the walls, and began to spray tear gas, pressurized by noncombustible carbon dioxide, through nozzles, into the compound. Davidians began to fire at the tanks, and other approaching agents, but no damage was done. Nine Bradley vehicles, an Abrams tank, and a squad of choppers were positioned nearby for additional backup. Everyone involved in the process was under orders that if children were in any way endangered, the procedure was to be aborted.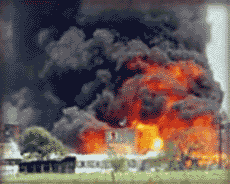 Then around 12 p.m., while the FBI was reloading tear gas and other munitions for a second wave of assaults, the compound suddenly caught on fire and the flames spread fast. Agents next to the buildings heard gunfire and assumed that Koresh's followers had decided to end it all with a mass suicide. An HRT agent later claimed that he had seen someone light a fire in front of the building, and several ear-splitting explosions from within erupted into a black, billowy cloud of smoke. Texas winds unleashed terror that day, and the fire quickly began to possess the compound. People were heard screaming as they ran for life out of the flames. Of the remaining followers, only nine emerged. One woman was seen running out of the compound, partially on fire, then turned back to reenter the flames. HRT agents grabbed her, and extinguished her burning clothes. By 12:45, the compound fire had subsided enough for agents to assess the situation. Incinerated bodies, an arsenal of more than 100 firearms and 400,000 rounds of ammunition were eventually recovered from the scene. Nineteen men, 34 women, and 23 children died that day. Many of the victims had died from gunshot wounds and one child had been stabbed to death. About 100 survivors and relatives of the deceased filed suit against the federal government for $675 million, alleging that agents had used excessive force to end the 51-day siege. Investigations later pointed at FBI and ATF agents for wrongfully deploying the force of tear gas (CS gas). Because the gas was known to be flammable, allegations against the ATF were made public, and court hearings proceeded. A Texas jury found the blame of the incident to rest solely on Koresh and his followers.
---
¹Ellen White was the founder of the SDA.
² One of Houteff's associates formed an organization called the Davidian Seventh-day Adventist Association. Today the group is located in Exeter, Missouri, and has continued Houteff's teachings against the legalism of the traditional SDA.