Election of 1948: Dewey Does (not) Defeat Truman
Republican prospects for the 1948 presidential race appeared to be excellent. The Democrats had been in power for almost 16 years and the public seemed to be tiring of The New Deal and its abundant inefficiencies. Large Republican majorities had been sent to both houses of Congress in the off-year elections in 1946, ending their opponents long reign. The 1948 G.O.P. convention gathered in Philadelphia in June. Much consideration had been given to the candidacy of Senator Robert A. Taft of Ohio, the son of the former president. Taft had been an outspoken critic of the New Deal and an unabashed political foe of President Truman, but many Republican leaders feared that Taft's abrasive personality might actually succeed in uniting the splintering Democratic Party. Based on that concern, the Republicans turned for a second time to Thomas E. Dewey, their candidate in 1944 and an overwhelming victor in his reelection as governor of New York in 1946. Dewey was in many ways an appealing choice, exuding competence and dignity. Earl Warren of California, another governor, was selected as Dewey's 1948 running mate. The Democrats also held their 1948 convention in the City of Brotherly Love, convening in July in a mood bordering on despair. Both the liberal and the conservative wings of the party were disaffected, and some members of the former tried unsuccessfully to engineer a presidential candidacy by Dwight D. Eisenhower, one of the great heroes of the recent war. Any remaining semblance of unity at the convention disappeared when the young mayor of Minneapolis, Hubert H. Humphrey, managed to gain adoption of a strong civil rights plank for the Democratic platform. Southern delegations walked out in protest and later formed the States' Rights Democratic Party — usually called the Dixiecrats — and nominated Strom Thurmond of South Carolina as their presidential candidate. Truman secured the nomination from the remaining delegates and chose Senator Alben Barkley of Kentucky for the 1948 vice-presidential slot. Democratic prospects were further dampened by the emergence of a Progressive Party that attracted many liberals. This group was critical of Truman for what they regarded as timidity on his domestic agenda and were also disapproving of the president's stern treatment of the Soviet Union, a U.S. ally only a few years earlier. The Progressives nominated former vice president Henry A. Wallace of Iowa and Idaho Senator Glen Taylor as his running mate. The campaign of 1948 was a study in contrasts. Dewey, as befitted a clear frontrunner, staged a very subdued campaign, hoping to assure victory by avoiding discussion of troublesome issues. Truman did the opposite, figuring that he had little to lose. He embarked on a 31,000-mile train trip across the nation and delivered hundreds of off-the-cuff speeches to crowds that often greeted the president with cries of "Give 'em Hell, Harry!" And Truman did. He lambasted the "do-nothing, good-for-nothing" Eightieth Congress for its inaction and hoped that his opponent would be tarnished in the process. Truman raised the stakes by summoning a special session of Congress in July, 1948, proclaiming that he was offering the legislators an opportunity to enact some of the liberal planks they had proposed in the Republican platform. The results were meager, reinforcing the allegation that Congress did nothing. At his whistle-stop rallies, Truman spoke out on behalf of civil rights legislation, for repeal of the Taft-Hartley Act and in support of farm aid programs. By trumpeting these issues, the president helped to revive the old New Deal coalition of Southern blacks, labor unionists and farmers. In November, 1948, the electorate responded to Truman's appeals and provided him with one of the greatest political comeback victories in U.S. history. An enduring image was provided the day after the election when a smiling Truman held aloft an early edition of the Chicago Daily Tribune that proclaimed, "DEWEY DEFEATS TRUMAN." Results in Congress were equally stunning; the Democrats won a 93-seat majority in the House and a 12-seat edge in the Senate.
Election of 1948
Candidates

Party

Electoral
Vote

Popular
Vote

Harry S. Truman (Missouri)
Alben W. Barkley (Ky.)

Democratic

303

24,179,345

Thomas E. Dewey (N.Y.)
Earl Warren (California)

Republican

189

21,991,291

J. Strom Thurmond (S.C.)
Fielding L. Wright (Miss.)

States' Rights Democratic

39

1,176,125

Henry A. Wallace (Iowa)
Glen H. Taylor (Idaho)

Progressive

0

1,157,326

Norman M. Thomas (N.Y.)
Tucker P. Smith (Mich.)

Socialist

0

139,572

Claude A. Watson (Cal.)
Dale H. Learn (Penna.)

Prohibition

0

103,900

Edward A. Teichert (Pa.)
Stephen Emery (New York)

Socialist
Labor

0

29,241

Farrell Dobbs (New York)
Grace Carlson (Minn.)

Socialist
Workers

0

13,614
1948 Electoral Results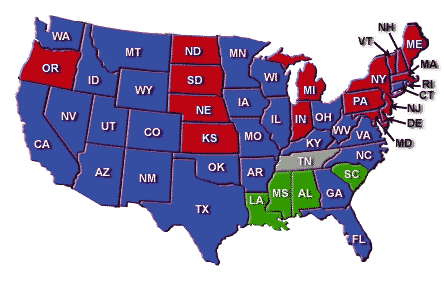 NOTE: Tennessee's electoral vote was split with 11 electors favoring the Democrats and one elector voting for the States' Rights Democrats (
Dixiecrats
).
| | | | | | | | | | | | | | |
| --- | --- | --- | --- | --- | --- | --- | --- | --- | --- | --- | --- | --- | --- |
| AL | 11 | | IL | 28 | | MN | 11 | | NC | 14 | | TX | 23 |
| AZ | 4 | | IN | 13 | | MS | 9 | | ND | 4 | | UT | 4 |
| AR | 9 | | IA | 10 | | MO | 15 | | OH | 25 | | VT | 3 |
| CA | 25 | | KS | 8 | | MT | 4 | | OK | 10 | | VA | 11 |
| CO | 6 | | KY | 11 | | NE | 6 | | OR | 6 | | WA | 8 |
| CT | 8 | | LA | 10 | | NV | 3 | | PA | 35 | | WV | 8 |
| DE | 3 | | ME | 5 | | NH | 4 | | RI | 4 | | WI | 12 |
| FL | 8 | | MD | 8 | | NJ | 16 | | SC | 8 | | WY | 3 |
| GA | 12 | | MA | 16 | | NM | 4 | | SD | 4 | | | |
| ID | 4 | | MI | 19 | | NY | 47 | | TN | 11/1 | | | |
---