Thomas E. Dewey
On March 24, 1902, in Owosso, Michigan, Thomas Edmund Dewey was born above his grandfather's general store, the son of the local newspaper publisher, George M. and homemaker Annie (Thomas) Dewey. His perfect attendance, from kindergarten through graduation from high school in 1919, was characteristic of the tenacity and dedication that he exhibited throughout his life.
After graduating from Owosso High School, Dewey went on to earn his B.A. degree in 1923 at the University of Michigan. Furthering his education, he graduated from Columbia University Law School in 1925 and was admitted to the New York Bar in 1926. Dewey was an associate of the MacNamara and Seymour law firm from 1927 to 1931. He was married in 1928 to Frances E. Hutt.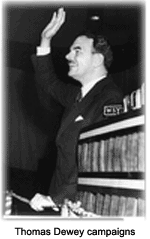 Launching his governmental career, Dewey served as chief assistant to the U.S. Attorney for the southern district of New York from 1930 to 1933. When he became the U.S. Attorney, he also served as special assistant to U.S. Attorney General Homer Stille Cummings, and counsel to the Bar Association of New York. In late 1935, Dewey was appointed the special prosecutor for a grand jury investigation into vice and racketeering in New York City, initiated by Governor Herbert Lehman. From 1935 to 1937, Dewey gained national attention as prosecutor into the investigation of Organized Crime — he obtained 72 convictions out of 73 prosecutions.
Dewey's vigorous crusade on crime began with an attack on prostitution, gambling and loan sharks. FBI director J. Edgar Hoover labeled mobster "Dutch" Schultz Public Enemy No. 1. With Dewey leading the investigation, Schultz set out to convince his mob associates that assassinating Dewey should be their response. Word of the proposal traveled fast, reaching such top Mafia figures as Lucky Luciano and Meyer Lanksy. Even with a $10,000 reward on Dewey's head, the mob's goon squad, Murder Inc., opted to get rid of Schultz instead. The syndicate's national board did not want the trouble nor the attention. Schultz and three associates were shot in October 1935; however, Schulz did not die immediately. While he lingered for two days, federal agents questioned him intensely, but to no avail. It was not until five years later that Dewey learned of the assassination plot to kill him.
With Luciano now exposed to the public eye, Dewey brought him to trial for running prostitution rings all over New York City. Luciano kept clean records, so it was not easy to convict him — like his counterpart, Al Capone of Chicago. Nevertheless, Dewey succeeded in convicting him on 90 counts of prostitution, and in 1936, Luciano was sent to prison for 30 to 50 years.
Following that mighty blow to the national crime syndicate, the electorate was impressed by Dewey's personal drive. Thanks in part to his popularity, he was elected the New York District Attorney in 1937. Dewey received credit for the convictions of numerous mobsters. With the help of assistant D.A. Burton Turkus, such mob members as Gurrah Shapiro and Louis Lepke Buchalter were sent to the electric chair. Continuing his quest to put an end to organized crime, Dewey ran for governor of New York in 1938, but lost the election.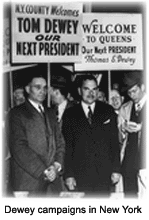 In 1940, Dewey made an unsuccessful bid for the Republican presidential nomination. While he was district attorney, many began to question his ethics. While he was responsible for putting away criminal Lucky Luciano for tax evasion, Dewey also approved his transfer to a less-secure prison, with eventual parole and deportation to Italy.
Rumors abounded, one being that the mob wanted Luciano out of prison so badly that they set up the sinking of the Normandie to show what could possibly happen to other ships in New York harbor. Word spread that Dewey and Luciano were working together with federal agents for the good of the country, to not only protect the docks and other ships from being sunk, but to also assist in liberating Italy from Fascism. In return, Dewey would set Luciano free. Another rumor circulated that Luciano had contributed $90,000 to Dewey's campaign fund, which tarnished the latter's immaculate reputation. Dewey's critics said he went from "Racketbuster" to "Racketbacker."
Not discouraged and more determined than ever, Dewey was elected governor in 1942. He ran a tight ship, providing a professional and businesslike administration. During his term, his accomplishments were many. He insisted on the first state law anywhere against racial or religious discrimination regarding employment, improved employment, and disability benefits. An effective labor mediation board and a large-scale highway building program were added to Dewey's list of accomplishments. Keeping the Democrats on the defensive, and preventing any potential split of Republicans, were parts of his game plan.
By contrast, some believed that Dewey sent top-ranking syndicate member Louis Lepke to the electric chair in 1944 with a direct connection to a payoff from the mob. The Hearst New York Daily Mirror speculated that Lepke, in an attempt to save his own life, offered Dewey information that would link President Franklin D. Roosevelt and his cabinet members to several crimes — including one of murder. With this information, Lepke tried to convince Dewey that it would make him an unbeatable presidential candidate. Dewey granted Lepke a 48-hour reprieve, but with the consequences being too explosive, he did not make a deal, and Lepke was sent to his death.
As the Republican candidate for president in 1944, Dewey could not match the wartime incumbent's reputation, and the nation reelected Franklin D. Roosevelt. Tenacious and unwavering, however, Dewey was nominated again in 1948, this time running against Vice President Harry S. Truman. His aggressive campaign and backing led his supporters to believe that he would be the next president of the United States. In a stunning upset, however, Dewey was defeated.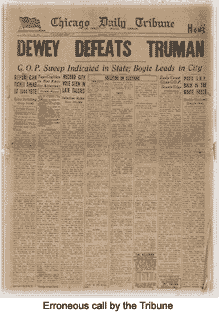 Dewey was a leader of the eastern Republicans at the 1952 national convention and played a key role in the nomination of General Dwight D. Eisenhower for president and Senator Richard M. Nixon for vice president.
Owing to Dewey's eventual lack of interest in, and avoidance of, crime cases, a federal investigative committee decided to question him. They had in mind the Luciano pardon, and also gambling issues in Dewey's state. His lack of response to the committee left more people to wonder about his dealings with the Mob. It appeared that the New York governor knew very little about crime in his own state. His third term as governor ended in 1955. Leaving the political arena at the end of his term as governor, Dewey quietly resumed his lucrative law practice.
Further tarnishing his character, it appeared to many that Dewey had suddenly begun to accommodate the gangsters and their gaming casinos. In the early 1960s, Dewey became a major stockholder in Mary Carter Paints, which held an interest in gambling in the Bahamas. In addition, Carter's chief assistant was none other than Meyer Lansky, who was directly associated with the mafia commission, thus leading to more suspicions about Thomas E. Dewey and his dealings with the Mob.
Citing his age, Dewey declined an offer from President Nixon to serve as Chief Justice of the U.S. Supreme Court in 1968. The author of two books, Journey to the Far Pacific (1952) and Thomas E. Dewey on the Two Party System (1966), Dewey died of heart failure in Bal Harbor, Florida, on March 16, 1971.