D.W. Griffith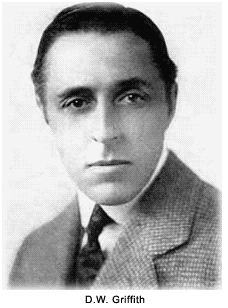 D.W. Griffith was an American film director. He is best known as the director of the controversial silent film The Birth of a Nation. He was also co-founder of United Artists Productions.
Early years David Llewelyn Wark Griffith was born on January 22, 1875, in La Grange, Kentucky. His father was a Confederate Army colonel and Civil War hero. D.W. held many jobs as a young man, including a salesman for the Encyclopedia Britannica, hop-picker, newspaper reporter and drama critic, and an actor with the stage name of Lawrence Griffith, in stock and touring companies. In 1907, he wrote a play, The Fool and the Girl, which was produced in Washington and Baltimore, but was not successful. He then found his way into the motion picture business; he soon began to build a huge body of work. Film direction In 1908, Griffith began to direct films for the Biograph Company. His first film was The Adventures of Dollie in 1908; it starred his wife, Linda Arvidson. He produced no fewer than 450 short films between that year and 1913.
In 1913, Griffith and Biograph parted ways. He took his entire stock company of actors with him. His new production company became an autonomous production unit partner in Triangle Pictures Corporation, with Keystone Studios and Thomas Ince. Through the David W. Griffith Corp., he produced The Birth of a Nation in 1915. Birth of a Nation was extremely popular, but expressed the racist views of the era. One of the scenes shows the Ku Klux Klan galloping in to save the heroine. Griffith's partnership was dissolved in 1917, so he moved on to Artcraft (part of Paramount), then to First National. In 1919, Griffith co-founded United Artists with Charlie Chaplin, Douglas Fairbanks and Mary Pickford. The idea behind United Artists lay in producing their own films and being able to take more control over each release. Although United Artists survived as a company, Griffith's association with it was short lived. Some of his later films did well at the box office, but commercial success often eluded him. A few of the films he made during that time were Broken Blossoms (1919), Way Down East (1920), Orphans of the Storm (1921), and in 1924, America. With the "talkies" coming in to play, Griffith made only two films with sound, Abraham Lincoln (1930) and The Struggle in 1931. Neither was successful, and he never made another film. Later years Successful investments kept Griffith comfortably well off, but he was bitter about being forgotten by the industry he helped to create. Griffith aired a radio show based on his reminiscences in 1933, and received a special Oscar in 1935 for his contributions to the art of motion pictures. Griffith divorced his first wife, Linda, in 1936, and married Evelyn Baldwin the same year. However, they divorced in 1947. D.W. Griffith died in July 23, 1948, in Los Angeles, California. His remains rest in the Mount Tabor Methodist Church graveyard, Crestwood, Kentucky. Griffith has been called the father of film grammar. He was a key figure in establishing the set of codes that have become the universal backbone of film language. He was particularly influential in popularizing "cross-cutting" — using film editing to alternate between different events occurring at the same time — in order to build suspense. Some claim that he invented the close-up shot.