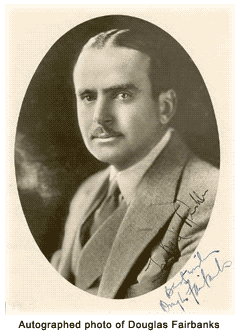 Douglas Fairbanks was an American actor, screenwriter, director and producer, who was known for his roles in silent films. Along with D.W. Griffith, Charlie Chaplin, and Mary Pickford, he was a co-partner in the development of United Artists.
Early years
Born Douglas Elton Thomas Ulman in Denver, Colorado, he was the son of Hezekiah Charles Ullman and Ella Adelaide Marsh. He had a brother, Robert, and a half brother, John, from his mother's first marriage. His father left the family when Douglas was a young boy. His mother was so angry at her husband that she had the boys' names legally changed to Fairbanks, hoping they would become associated with a prestigious name at the time.
When Douglas was 11, he began his acting career by doing amateur theater in the Denver area. He did summer stock at Elitch Gardens Theater, and by the time he was in his teens, he had become a local sensation. Douglas was in such demand, that he dropped out of high school in his senior year. He later claimed he had attended the Colorado School of Mines, and Harvard, but that was not based in fact.
Douglas moved to New York in 1900, seeking fame on Broadway. He worked in odd jobs until he made his Broadway debut in 1902, taking the role of Florio in The Duke's Jester. He continued to work hard to reach the top, but true success did not arrive for several years.
Marriage and other changes
In 1907, Douglas married Anna Beth Sully, the daughter of wealthy industrialist, Daniel Sully ("the Cotton King"). Her father wanted Douglas to work for him, attempting to convince him that acting was no way to support a family. Douglas listened, and began to work for the Buchanan Soap Company in the Flatiron Building. However, he only stayed for six months and went back to Broadway. The move turned out to be a fortunate decision; a few months after he left the family company, it went broke and closed.
On December 9, 1909, Fairbanks' only child was born and named after him. Over the next several years, Douglas Sr. struggled to make a living on the stage. He was barely able to provide for his family, and knew he must make a drastic change. He was familiar with motion pictures, or "the flickers" as they were then known. Fairbanks was offered $104,000 by the Triangle Film Corporation in 1914; he could not pass it up.
Hunting for stardom
In 1915, Douglas Fairbanks arrived in Hollywood, but at the age of 31, he was an unlikely candidate for stardom. However, he flourished under the tutelage of director D.W. Griffith, and went on to become one of the most popular comedians on the silent screen, along with Buster Keaton, and his close friend, Charlie Chaplin.
Fairbanks appeared in The Matrimaniac and The Mystery of the Leaping Fish, both released in 1916. By late 1916, he had gained such a huge amount of popularity that he was able to create his own production company, in which he produced and sometimes wrote the films in which he appeared. "The Douglas Fairbanks Pictures Company" thrived under the Paramount/Artcraft banner. The company released one big hit after another during World War I.
Fairbanks was too old for active duty during the war, so he patriotically sold war bonds instead. On a war-bond tour with Charlie Chaplin and Mary Pickford, he and Mary struck up a secret love affair.
Around that time, Fairbanks began to write self-help books, examples of which include Laugh and Live in 1917, and in 1918, Making Life Worthwhile. Fairbanks published a total of five books, a number of newspaper and magazine articles, and short stories. He also wrote most of his own films under the pseudonym, "Elton Thomas."
United Artists and the flashing sword
Fairbanks became more involved with the film industry's business end. In 1919, Fairbanks, Pickford, Chaplin, and Griffith formed United Artists Corporation (UA). United Artists was created to provide independent distribution for artists who produced their own movies, and to break the big studios' practice of "block booking"* pictures into theaters.
In 1918, Fairbanks' wife filed for divorce, prompted by rumors of his affair. Fairbanks and Pickford kept their romance quiet for more than two years, because they were leery of how the public would react. After both had divorced their spouses, they went public and married in 1920. Not only did he get married in 1920, but he also tackled a new role in The Mark of Zorro, his first action film. Audiences around the world were used to him as a comic, but this venture turned out to be a huge success.
Douglas made more swashbuckling epics, including The Three Musketeers (1921), Robin Hood (1922), The Thief of Baghdad (1924), and Don Q – Son of Zorro in 1925, the sequel to The Mask of Zorro. Those movies set the standard for the genre now known as "action-adventure" movies. With every last detail of production meticulously handled by Douglas himself, they were his masterpieces.
By 1927, Fairbanks knew that his run as a box-office hero was drawing to a close, owing to his age. He could no longer convincingly assume the role of a young swashbuckler.
A Hollywood mogul
Instead, Fairbanks focused on changes in the film industry. The "talkies" were on the way in. Instead of resisting the advent of soundtrack films, he was one of the first to come out in favor of them. In 1927, Fairbanks founded the Academy of Motion Picture Arts and Sciences, and was elected its first president. He also was a major force in the opening of Grauman's Chinese Theater, the world's premier movie palace, on Hollywood Boulevard. Fairbanks and his wife were the first stars to put their hand and footprints in wet cement outside the theatre; hence the tradition.
Fairbanks still found time to make films during that busy period, and they were some of his best works. Some of them include; The Gaucho (1927), The Iron Mask (1928), and in 1931, Reaching For The Moon. The last film he acted in was The Private Life of Don Juan in 1934.
Latter days
Following numerous marital troubles, Fairbanks and Pickford divorced in 1936. He had begun an affair with English-born actress and socialite, Sylvia Ashley, whom he married in March of that year.
Fairbanks had developed heart trouble, and his health started to fail. The final years of his life were spent between an endless flurry of cruise ships and quiet retirement at his home in Santa Monica, overlooking the Pacific Ocean.
On December 12, 1939, Douglas Fairbanks died in his sleep of a heart attack at age 56. His remains are entombed at Hollywood Forever Cemetery in Hollywood, California.
---
*The practice among film distributors of contracting with exhibitors to show a set series of movies.