Mary Pickford
Mary Pickford was a Canadian-born motion picture star and co-founder of United Artists. She was known as "America's Sweetheart," and was the first actor to own a production company.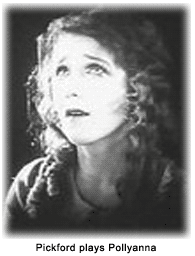 Beginnings Mary Pickford was born Gladys Louise Smith on April 8th, 1892, in Toronto, Ontario, to John Charles Smith and Charlotte Hennessy. She was the eldest of three children. Her father was an alcoholic and died when she was young. Following his death, her mother began to take in boarders. Thanks to one of those guests, seven-year-old Gladys obtained a part at Toronto's Princess Theatre in a stock company production of The Silver King. Thereafter, Gladys was given roles in numerous melodramas and became a popular child actress in Toronto. In 1907, Gladys landed a supporting role in a Broadway play, The Warrens of Virginia. The play's producer, David Belasco, insisted that she assume the stage name, Mary Pickford. Mary Pickford it was In 1909, Pickford's film career began when she joined the Biograph Company in New York City, under the direction of D.W. Griffith. Over the following two years, she appeared in 79 12-minute, one-reel films for Biograph. Pickford married fellow Biograph actor, Owen Moore, on January 7, 1911. The recognition Pickford gained from that period made her a sought-after commodity by rival film companies. She joined the IMP film company in 1911, but missed the production quality that she had enjoyed at Biograph. She rejoined Biograph in 1912. That year, Pickford introduced her childhood friends, Lillian Gish and her sister, Dorothy Gish, to Griffith, who put them to work for Biograph. In 1913, Pickford joined Famous Players, which later became Paramount Pictures, and began to make feature-length films. She appeared in Tess of of the Storm Country in 1914, which became a turning point in her career. She became Hollywood's biggest female star, not only by acting, but producing her own films and supervising their distribution. By 1917, Pickford had acquired the nickname, "America's Sweetheart," and toured with Douglas Fairbanks and Charlie Chaplin as they sold Liberty Bonds for America's effort in World War I. She starred in The Poor Little Rich Girl (1917), Stella Maris (1918), Daddy Long Legs, and Heart O' the Hills, the latter two in 1919. At the beginning of the war-bond tour, Pickford and Douglas Fairbanks had begun a love affair. She divorced Owen Moore in March 1920 and married Douglas by the end of the month. Pickford and Fairbanks thought their union would ruin their careers, but they actually became more popular as Hollywood's First Couple. Their home was called "Pickfair." United Artists In 1919, Pickford, Fairbanks, Griffith, and Chaplin formed United Artists (UA). UA was not only a production company, but a distribution business, which offered filmmakers access to UA's own screens as well as the rental of temporarily unbooked cinemas owned by other companies. Producers who signed with UA were true independents: producing, creating and controlling their work to an unprecedented degree. As a co-founder, producer, and star, Pickford became the most powerful woman who ever worked in Hollywood. She also was the first female actor to earn more than a million dollars per year.* Pickford slowed her film production to one big-budget film per year throughout the Twenties. Sparrows in 1926 and My Best Girl in 1927 continued her success. By the end of the decade, however, her screen persona was beginning to look dated compared to the new look of the Flapper girl. The veteran actress made her "talkie" debut in 1929, in the film Coquette and won the Academy Award for Best Actress. Ironically, she became another name on a long list of casualties of the talking pictures — actors who seemed unsuited to a soundtrack. She retired from acting in 1933. In retirement In 1936, Pickford's marriage to Fairbanks also was over; their relationship was fatally damaged when Fairbanks' romance with England's Lady Sylvia Ashley became public. She married her My Best Girl co-star, Buddy Rogers, in June 1937. The couple adopted two children and remained married until her death in 1979. Even after her retirement from acting, Pickford continued to make films for United Artists; she and Charlie Chaplin remained partners in the company until the mid Fifties. Chaplin left the company in 1955, and Pickford followed suit in 1956, selling her remaining shares for $3 million. In her final decades, Pickford slid into reclusive alcoholism at Pickfair. She allowed only a few visitors, including Lillian Gish, and her stepson, Douglas Fairbanks Jr. By the mid 1960s, she spoke to friends only by telephone. Pickford's husband often gave guest tours of Pickfair, which included views of a genuine western bar she had purchased for Fairbanks, and in the drawing room, her portrait emphasizing her spun-gold curls, painted at the height of her career. A print of that image now hangs in the the Library of Congress. In 1976, Mary Pickford received an honorary Academy Award for a lifetime of achievement. The academy dispatched a TV crew to her house to record her reaction to the award. Her frail appearance and nearly unintelligible speech shocked the viewers. Most fans did not realize how ill she had become. Facing the end of her days, Mary Pickford petitioned the Canadian government to restore her Canadian citizenship, which she believed had been lost when she became a U.S. citizen upon her marriage to Fairbanks in 1920. Owing to the immigration laws of the '20s, the Canadian government was not certain she had lost her citizenship; nevertheless, they officially declared her to be a Canadian. The final scene Pickford died of a cerebral hemorrhage on May 29, 1979, at the age of 87. Her remains rest in the Garden of Memory, Forest Lawn Memorial Park Cemetery in Glendale, California. The Pickford Center for Motion Picture Study at 1313 Vine Street in Hollywood, constructed by the Academy of Motion Picture Arts and Sciences, opened in 1948 as a radio and television studio facility. The Mary Pickford Theater at the Library of Congress was named in her honor. Mary Pickford received a posthumous star on Canada's Walk of Fame in Toronto in 1999, and was the first star, along with Douglas Fairbanks, to officially place hand and footprints in the cement at Grauman's Chinese Theatre on April 30, 1927.
---
*The first male actor to sign a million-dollar deal was Charlie Chaplin.