Charlie Chaplin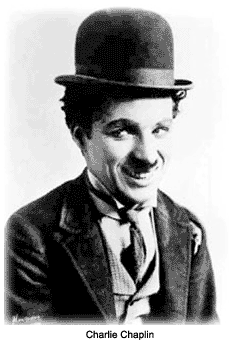 Charlie Chaplin was a British-born actor, considered to be one of the pivotal stars of Hollywood`s early days. He was often associated with his popular Little Tramp character, with a toothbrush mustache, bowler hat, cane, and funny walk. An early career start Charles Spencer Chaplin was born in London, England, on April 16, 1889. His parents were stage actors and singers. His father was Charlie Chaplin Sr. and his mother was Hannah Harriette Hill, stage name: Lily Harley. His father died when Charlie was 10 years old, and his mother suffered from bouts of severe mental illness. As a result, Charlie and his half-brother, Sydney, moved in and out of charity homes and workhouses. The brothers inherited talent from their parents and took to the stage. Charlie made his professional debut at the age of eight as a member of The Eight Lancashire Lads, and became an outstanding tap dancer. When Charlie was 18, he began to tour with Fred Karno`s Vaudeville troupe, and traveled with it to the United States in 1910. In 1913, he joined the Keystone Film Company; his weekly salary was $150. Given his virtually overnight success, Charlie initiated negotiations for his services from other producers. At the end of his contract with Keystone, he signed with the Essanay Company in 1915, with a large salary increase. Sydney moved over from England and took Charlie's old place at Keystone. A career flourishes In 1916, Chaplin signed with Mutual Film Corporation for an even larger salary, to make 12 two-reel comedies. Some of them were The Vagabond, One A.M., in which he was virtually the only character for the entire two reels; and Easy Street, considered to be his greatest production up to that time. Chaplin entered an agreement with First National Studios in 1917, to build Chaplin Studios. His first film under the new deal was A Dog's Life. He then turned his attention to a national tour on behalf of the World War I effort, followed by a film, The Bond, which he made for the U.S. government to popularize the Liberty Loan drive. In 1919, Chaplin, Douglas Fairbanks, Mary Pickford, and D.W. Griffith formed United Artists (UA). Chaplin was obligated to complete his contract with First National before he could take on responsibilities with United Artists. He came out with The Kid (1921), a six-reel masterpiece that introduced Jackie Coogan, one of the world`s greatest child actors.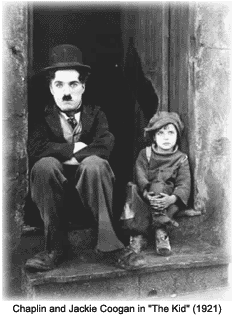 Under his agreement with United Artists, Chaplin created eight full-feature films from 1923 to 1966. Woman of Paris was the first (1923). Chaplin only had a cameo role, but wrote, directed, and produced that film. In 1940, he played a dual role and talked for the first time on screen in The Great Dictator, a parody of Adolf Hitler. In 1947, a new Charlie emerged without his mustache, baggy pants and wobbly cane in Monsieur Verdoux. In 1966, he produced A Countess from Hong Kong, his last picture, starring Sophia Loren and Marlon Brando.
Under scrutiny
Chaplin resided in the United States from 1914 to 1952, but retained his British nationality. Like other Hollywood personalities, he became a suspected communist, and FBI director J. Edgar Hoover initiated what became an extensive file on the actor. When Chaplin left on a trip to England, Hoover negotiated with the Immigration and Naturalization Service to revoke his re-entry permit. Chaplin and his family then took up residency in Vevey, Switzerland. He briefly returned to the States in 1972, to receive an honorary Oscar for "the incalculable effect he has had in making motion pictures the art form of this century." Queen Elizabeth II bestowed a knighthood upon Chaplin on March 4, 1975. The veteran actor/producer displayed other talents, including musical scores he composed for many of his films. He also wrote two books, My Autobiography in 1964, and My Life in Pictures in 1974. A tumultuous private life Chaplin was married four times and had 11 children. His first marriage was to Mildred Harris in 1918. She was 12 years younger than he. The union produced one son who died in infancy. They divorced in 1920. Chaplin married Lita Grey in 1924, after she became pregnant. He was 35; she was 16. They had two sons, then went through a bitter divorce in 1928. Following the divorce, Chaplin announced that he had secretly married Paulette Goddard in 1936; the marriage ended in 1942.* Oona O'Neill wedded Chaplin in 1943. She was 17; he was 54. That long and happy marriage produced three sons and five daughters. The end Charlie Chaplin died of natural causes at his home in Switzerland, on December 25, 1977. He was interred in the cemetery of Corsier-Sur-Vevey, Vaud canton, Switzerland. On March 1, 1978, Chaplin`s body was stolen in an attempt to extort money from his family. The robbers were captured, and the body was recovered 11 weeks later, near Lake Geneva. His remains were re-buried in a vault surrounded by cement. Charlie Chaplin was considered to be one of the greatest film makers in the history of American cinema, whose movies continue to be popular throughout the world.
---
*Around that time, Chaplin briefly dated actress Joan Barry, but ended the relationship when she began to harass him and display signs of severe mental illness. In 1943, she filed a paternity suit against him. Blood tests proved Chaplin was not the father, but such tests were inadmissible evidence at the time. He was ordered to pay $75 a week until the child turned 21.