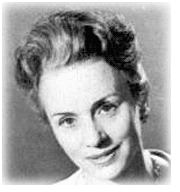 Jessica Tandy was a British-American actress. Her career spanned more than 60 years. Tandy was in her 70s and 80s when she appeared in her best-known films. She also starred in numerous movies with her husband of many years, Hume Cronyn. Tandy not only starred in films, but a large part of her career was devoted to theater as well.
Beginnings
Jessica Tandy was born Jessie Alice Tandy on June 7, 1909, in London, England. Her parents were Harry Tandy, a traveling salesman, and Jessie Helen Horspool.
Jessica was 16 when she made her professional appearance as Sara Manderson in the play, The Manderson Girls, and she subsequently joined the Birmingham Repertory Theatre. Her first appearance in film was in 1932, with her role as a maid in Indiscretions of Eve.
Jessica married a fellow British actor, Jack Hawkins, in 1932, and had one daughter, Susan Hawkins. The couple divorced in 1942. Following her divorce, Jessica moved to New York, where she met Canadian actor, Hume Cronyn. The couple married in September 1942. They had two children, Tandy, who became an actress, and Christopher.
Breaking into American movies and plays
Tandy made her American film debut in 1944, in The Seventh Cross, which also starred her husband, Hume Cronyn. In 1945, she appeared in The Valley of Decision, and in 1946, she had a role in The Green Years; in the latter, she played the daughter of Cronyn`s character. Following her Tony-winning performance as Blanche DuBois in the original Broadway production of Tennessee Williams` A Streetcar Named Desire (1947), Tandy concentrated on the stage, but appeared occasionally in such films as The Light in the Forest (1957) and Alfred Hitchcock's The Birds (1963). She did not appear in the film version of "Streetcar", the movie that made Marlon Brando a star.
In 1978, Tandy and Cronyn appeared in The Gin Game, a stage play that earned her another Tony award. She received a third Tony for her role in the play Foxfire, in 1983. Foxfire was later made for television, for which she won an Emmy, in 1988.
During the 1980s, Tandy`s silver-screen career picked up, as it did for Cronyn. In 1985, the couple starred in Cocoon, Batteries Not Included (1987), and Cocoon: The Return (1988).
A sublime role
The role that made Tandy legendary occurred in 1989, when she starred in Driving Miss Daisy opposite Morgan Freeman. It was the story of a friendship between an elderly Southern Jewish woman and her middle-aged African-American chauffeur. Tandy won her first Academy Award for Best Actress for her work on that film. She was the oldest actor to win an Oscar, beating out George Burns by less than a year.
Even though she had been diagnosed with ovarian cancer in 1990, Tandy continued on. In 1991, she underwent major surgery. A year later, Tandy earned a Best Supporting Actress nomination for her role in Fried Green Tomatoes. She appeared in a television movie with her daughter, Tandy Cronyn, titled The Story Lady (1991). Three years later, Tandy appeared in Camilla with Cronyn — her last performance - and was released posthumously.
A darkened screen and stage
Tandy continued to work and make public appearances until nearly the end, and her legacy still lives today. She died at the age of 85, in her home in Easton, Connecticut, on September 11, 1994.