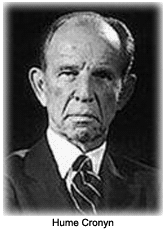 Hume Cronyn was a Canadian-born theater and film actor. He was married to Jessica Tandy for more than 50 years. Not only were they life partners, but they also appeared together in many productions, film and stage.
Early years on stage
Hume Blake Cronyn was born on July 18, 1911, in London, Ontario, to prominent parents. His father, Hume, was a businessman and Member of Parliament, and his mother, Frances Labatt, was a scion of the brewing company family. Hume was one of five children.
Hume attended McGill University and studied law. He also became interested in acting. While still a student at McGill, Hume made his first stage appearance at age 19, with the Montreal Repertory Company. He left Canada to take classes at the American Academy of Dramatic Arts.
In 1931, Hume made his professional debut at the National Theater in Washington, D.C., with Up Pops the Devil; he was nearly 20 years old. Hume became a member of director George Abbott's company for a few years.
He made his first Broadway appearance as a janitor and understudy to Burgess Meredith in the role of Jim Hipper, in Hipper's Holiday in 1934. Once on Broadway, he remained to appear in such plays as Boy Meets Girl, Three Men on a Horse, High Tor, and Room Service.
Jessica Tandy
In 1942, Hume married Jessica Tandy. The couple remained together until her death in 1994. They often worked together on stage and screen. Just a few of the films they appeared in were Cocoon, *Batteries Not Included, and Cocoon: The Return. In 1994, Cronyn and Tandy won the first Tony Award for lifetime theatrical achievement, a shared honor.
To grasp their acting genius, one has to see the 1994 film, Camilla, released the year Jessica Tandy died. Tandy, in her final starring role, plays Freda Lopez, and Cronyn is her husband, Vince. They vacation down in Georgia, when their troubled marriage becomes even more unbearable.
Early years in movies
In the early '40s, Cronyn remained on stage until he was cast by Alfred Hitchcock in the 1943 film, Shadow of a Doubt. He worked with Hitchcock on several more productions, including Lifeboat in 1944, then wrote the film adaptations of the plays Rope and Under Capricorn.
Once Cronyn was seen on the big screen, other offers soon followed. He made two other movies in his debut year, The Cross of Loraine and The Phantom of the Opera, both of which were released in 1943. In 1944, he worked on the film, The Seventh Cross, with Spencer Tracy, which brought him an Academy Award nomination for best supporting actor.
Back to the stage
In 1948, Hume returned to stage work, but his first play lasted for only eight performances. In 1949, he played Polonius in Hamlet, and earned a well-deserved Tony Award. During the 1950s, he appeared mostly on stage, but did make a few film and television appearances.
Hume loved the theater, and during the 1960s, he stayed entrenched in theater. In 1963, he played Harpagon in Moliére's The Miser, and Willie Loman in Death of a Salesman at the Tyrone Guthrie Theater. In 1965, he performed in Richard the III and in The Cherry Orchard, which were also at the Guthrie Theater. In 1969, Hume was part of the cast at the Stratford Festival. He would return to the Statford for roles in The Merchant of Venice and A Midsummer Night's Dream.
In 1978, Hume co-produced the Gin Game, which won a Pulitzer Prize. The play went on to tour the country. In 1981, he played Hector Nations in Foxfire, also at the Stratford Festival. He also played that role at the Ethel Barrymore Theater in New York City, from November to May 1982.
The big and little screens beckon
Between plays, Cronyn squeezed in movie and television performances. In 1963, he played Sosignes in Cleopatra, which also starred Richard Burton and Elizabeth Taylor. In 1968, he appeared in Gaily, Gaily.
Cronyn remained busy throughout the 1970s and '80s, appearing in such films as The Parallax View (1974), Cocoon (1985), and Cocoon: The Return, in 1988, just to name a few.
In 1996, two years after his beloved wife Jessica died, Cronyn married longtime friend, Susan Cooper. They remained married until his death in 2003.
At an age when most people have long retired, Cronyn kept on going. In 1998, in a remake for television of the film Twelve Angry Men, the veteran was as strong and commanding as he had always been.
A long life
Cronyn became a U.S. citizen in 1966. In 1988, he was made an Officer of the Order of Canada. He also published his autobiography, A Terrible Liar, in 1991.
Hume Cronyn died of prostate cancer on June 15, 2003. He was 92.