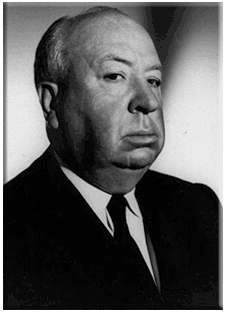 Alfred Hitchcock was a British-American film director and producer, known for his suspense-thriller films. He directed more than 50 feature films in a career that spanned six decades, beginning in the silent film era. Hitchcock remains one of the most popular directors of all time. He is famous for his ability to keep the pace and suspense through an entire movie.
Early days
Alfred Joseph Hitchcock was born in Leytonstone, London, on August 13, 1899, to William and Emma Jane Hitchcock. He was the youngest of three children. His father was a greengrocer. Alfred was sent to Catholic boarding school in London. When Alfred was 14, his father died.
Alfred left the boarding school to study at the School for Engineering and Navigation. Following his graduation, he became a draftsman and advertising designer with a cable company.
Early career and marriage
About that time, Hitchcock became intrigued by photography and started to work in film in London. In 1920, he found employment with American-owned Islington Studios. He designed titles for silent films.
In 1925, Hitchcock was given a chance to direct his first film, The Pleasure Garden. It was not a huge success, nor was his second film, The Mountain Eagle.
Hitchcock married Alma Reville in 1926. They had one daughter, Patricia, in 1928. The couple would remain married until his death in 1980.
The suspense genre brings success
The young director changed his genre to suspense. The initial result was The Lodger: A Story of the London Fog (1927), based on the first novel to present a solution to the Jack-the-Ripper murders. That film was a major success. It was the first movie to reveal the "Hitchcockian" style of suspense, and the first of Hitchcock's 37 cameo appearances in his own films.
In 1929, Hitchcock began work on his 10th film, Blackmail. While it was in production, the studio decided to make it Britian's first sound film. That movie also initiated Hitchcock's habit of using famous landmarks as backdrops to a story. The climax of Blackmail took place on the dome of the British Museum.
Hitchcock began to work for Gaumont-British Picture Corporation in 1933. His first film for the company, The Man Who Knew Too Much (1934), was a success. In 1935, The 39 Steps was considered to be the best film from his early period. Hitchcock was at the top of his field by the end of the 1930s, when David O. Selznick enticed him to go to Hollywood.
Off to Hollywood
To commence his career in Hollywood, Hitchcock made his first American movie, Rebecca, in 1940. The film won Best Picture at the 1940 Academy Awards. He also made Foreign Correspondent the same year, which also received a nomination for Best Picture.
In 1946 Alfred not only directed, but produced the film Notorious. After that he would produce his own films, allowing him the freedom to pursue projects that interested him. Notorious remains one of his most acclaimed films. In 1948, Hitchcock's first color film, Rope, was released. That film starred James Stewart; it would be the first of four Alfred Hitchcock films in which he starred.
The years 1954 and 1955 proved to be a good run for Hitchcock, with the release of three popular films, all starring Grace Kelly. The first, Dial M for Murder, co-starring Ray Milland, featured 3D cinematography. Rear Window also starred James Stewart, and To Catch a Thief starred Grace Kelly and Cary Grant.
Henry Fonda starred in the Wrong Man (1956), which was based on the true story of an innocent man mistaken for a criminal. When Vertigo was released in 1958, it was a commerical failure, but has since become known as a Hitchcock masterpiece.
Hitchcock followed up that film with three very different films, all of which were huge successes. All three also are recognised as among his best films: North by Northwest (1959), Psycho (1960), and The Birds in 1963. The latter two were made with unconventional soundtracks, both by Bernard Herrmann. The screeching strings in the murder scene in Psycho pushed the limits of the time, and remain chilling to this day. The Birds used an electronically produced soundtrack.
Hitchcock's career wound down following those films. His failing health slowed down his output over the last two decades of his life. Family Plot in 1976 was his final film.
The end, with honors
In the 1980 New Year's Honours, Alfred Hitchcock was created a Knight Commander of the Order of the British Empire by Queen Elizabeth II. He died just four months later, in April 1980, before he was formally invested by the Queen. He had remained a British subject when he acquired American citizenship in 1956, so he was entitled to be known as Sir Alfred Hitchcock and use the postnominal letters KBE.
On April 29, 1980, Alfred Hitchcock died of renal failure in his Bel Air, Los Angeles, home, at the age of 80. He was survived by his wife Alma Reville, and their daughter, Patricia Hitchcock O'Connell. His body was cremated; there was no public funeral or memorial service.
Off-site search results for "Alfred Hitchcock"...
Alfred Hitchcock Biography
Hitchcock. Garden City, NY: Doubleday, 1975. Spoto, Donald. The Art of Alfred Hitchcock. New York: Hopkinson and Blake, 1976. Spoto, Donald. The Dark Side of Genius: The Life of Alfred Hitchcock. Boston: Little, Brown, 1983. TaylorAlfred Hitchcock. New York: Hopkinson and Blake, 1976. Spoto, Donald. The Dark Side of Genius: The Life of Alfred Hitchcock. Boston: Little, Brown, 1983. TaylorAlfred Hitchcock. Boston: Little, Brown, 1983. Taylor, John Russell.
http://www.notablebiographies.com/He-Ho/Hitchcock-Alfred.html
Constitutional Officers: Henry Hitchcock
Henry Hitchcock Henry Hitchcock, lawyer, territorial secretary, and attorney general, was born in 1795, in one of the New England states, probably Vermont, and died in 1839, in Mobile; grandson of Gen. Ethan Allen. He came to Alabama in 1817 and ...
http://www.archives.state.al.us/conoff/hitchcoc.html
Alfred Nobel
... behind the prizes Alfred Nobel Biography Alfred Nobel's Industrial Activities Alfred Nobel's Private Library Exhibitions on Alfred Nobel Virtual Tour of Alfred Nobel's Home Search WWW Search The Nobel Prize Internet Archive Links added by ...
http://almaz.com/nobel/alfrednobel.html