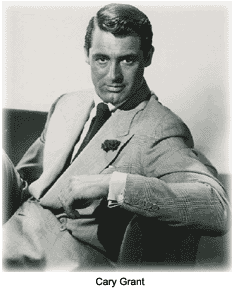 Cary Grant was an American film actor born in Britain. He was recognized as an outstanding leading man who was not only witty and charming, but handsome as well.
Early days
Cary Grant was born Archibald Alexander Leach on January 18, 1904, in Bristol, England. His parents were Elias J. Leach, a clothes presser, and Elsie Kingdom. He grew up in a lower-middle-class home in depressing circumstances. His mother was unable to deal with the loss of her firstborn son, who died in 1899. His father was an alcoholic who cheated on his mother with numerous women. Elias had a son by one of those affairs, Eric Leach. As a child, Archie was never informed about his half brother. His mother was committed to a mental-health sanitarium in 1914; Archie was never told about that, either. He did not learn that his mother was alive until he was in his late twenties.
Archie left school at age 14. He forged his father's signature on a letter, and lied about his age, to join one Bob Pender and his troupe of knockabout comedians. He toured with the group throughout England, and in 1920, the troupe traveled to the United States. Following 456 performances, the group teamed up with Ringling Brothers and Barnum & Bailey Circus, then toured for several months.
When the troupe disbanded, Archie stayed in America. He performed in vaudeville throughout the states and Canada. He returned to England in 1925, then performed in a small repertory theater.
Back to America
Archie moved to New York in 1927, and appeared on Broadway in a number of musicals and plays. He moved to Hollywood in 1931, where he was given the name, Cary Grant, by Paramount studios.
Grant's first silver-screen role was in 1931, when he appeared in Singapore Sue, but he was not credited. In 1932, Grant made his feature debut in This is the Night. At Mae West's request, he starred opposite her in She Done Him Wrong (1933). That was the beginning of his remarkable film career.
Screen success
In 1937, Grant's contract with Paramount studios expired. He decided to freelance as an actor, which proved to be a wise decision. Grant's performances in romances and action films were always a box office smash, but comedies seemed to be his calling. He lit up the screen with his playful charm.
Grant displayed his ability as the comical leading man in The Awful Truth with Irene Dunne (1937). He worked with some of Hollywood's most-talented directors, writers, and actors. In 1938, he co-starred in two back-to-back romantic comedies with Katharine Hepburn: Bringing Up Baby and Holiday.
Crowning a career
In 1941, Grant teamed up in the first of four films with director Alfred Hitchcock in Suspicion, co-starring Joan Fontaine. Over the following 18 years, Grant and Hitchcock worked together on three more films: Notorious, co-starring Ingrid Bergman (1946); To Catch a Thief, with Grace Kelly (1955); and North by Northwest, with Eva Marie Saint (1959) — perhaps Grant's best role.
Grant established his own production company in the mid-1950s. Grantley Productions was distributed via a deal with Universal. A sampler of films produced by his company includes Operation Petticoat (1959), Indiscreet (1958), and That Touch of Mink in 1962. Grant retired from film making in 1966.
Grant was twice nominated for an Academy Award, but never won. He was honored, however, in 1970, with a special Academy Award for Lifetime Achievement; and in 1981, he received the Kennedy Center Honors.
Personal life
Cary Grant's personal life was complicated. He was married five times, and had a stepchild, and a biological child.
Grant married his first wife, Virginia Cherrill, in 1933. They divorced in 1935.
His second wife was Barbara Hutton, from 1942 to 1945. He remained close to his stepson, Lance Reventlow, following the divorce. Grant was devastated when Reventlow died in a 1972 plane crash.
His third wife was Betsy Drake, from 1949 to 1959. It was during that time that Grant underwent controversial psychiatric treatment with LSD, a psychedelic-hallucinogenic drug. He claimed it brought him inner peace.
In 1965, Grant married his fourth wife, Dyan Cannon; they had a daughter, Jennifer, in 1966. Cary and Dyan divorced in 1967; it was a brutal and messy divorce.
His fifth and final marriage was to Barbara Harris in 1981. They remained married until his death in 1986.
Cary Grant died from a massive stroke on November 28, 1986. Upon his request, he was cremated, and his ashes were spread over the Pacific Ocean.
Off-site search results for "Cary Grant"...
Cary Grant Biography
Garden City, NY: Doubleday, 1987. McCann, Graham. Cary Grant: A Class Apart. New York: Columbia University Press, 1996. Nelson, Nancy. Evenings with Cary Grant: Recollections in His Own Words and by Those Who Knew Him Best. New York,Cary Grant: A Class Apart. New York: Columbia University Press, 1996. Nelson, Nancy. Evenings with Cary Grant: Recollections in His Own Words and by Those Who Knew Him Best. New York,Cary Grant: Recollections in His Own Words and by Those Who Knew Him Best. New York, NY: W ...
http://www.notablebiographies.com/Gi-He/Grant-Cary.html
Cary, Phoebe
... Alice and Phoebe Cary Image Details Image Title » Alice and Phoebe Cary Source » The Ohio Historical Society Book » Henry Howe's Historical Collections of Ohio   This image is property of the Ohio Historical Society. If you would like to find ...
http://www.ohiohistorycentral.org/image.php?rec=97&img=45
Cary lithograph
... Room > Cary lithograph Founding Fathers Forum: Cary lithograph Posted by: Brenda Cary Boone (BrendaCBoone@ThisIsToPreventSpam-840-RemoveThis.aol.com) on 5 Nov 2003 at 12:02:00 PM In-Reply-To: George Washington lithograph posted by Diane Cales ...
http://www.foundingfathers.info/forums/Main01/messages/553206741.html