Mae West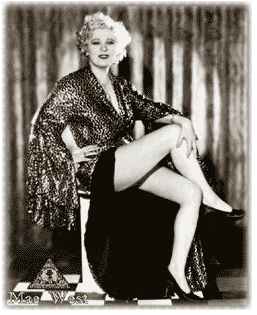 Mae West was an American sex symbol, actress, and playwright. She was known for her one-liners that focused on sexual innuendo. Her comedic talent continues to be a part of America`s cultural consciousness, and her impact on sexual customs remains significant. Early years Mae West was born Mary Jane West on August 17, 1893, in Brooklyn, New York. Her father was John Patrick West, a livery stable owner and prizefighter known as Battlin` Jack West, and her mother was Matilda (Tillie) Delker-Doelger, a corset and fashion model. Mae had a brother and a sister; she was the middle child. Her family had a Protestant background. By the time Mae was five years old, she was performing in Vaudeville and was doing burlesque by the age of 12 under the name Baby Vamp.* Mae began to write her own plays under the pen name, Jane Mast. In 1926, she snagged her first starring role on Broadway with a play she wrote, produced and directed. It was titled, Sex. The critics hated it, but ticket sales were robust. In 1927, police raided the show, with the charge that it was "corrupting the morals of the youth." She and everyone else starring in the play were arrested. West spent 10 days in jail. Ironically, the fiasco won her nationwide attention and a boost to her career.
Broadway and the pictures In 1928, West had a Broadway hit on her hands with Diamond Lil, about an easygoing, racy woman of the 1890s. The production was a huge hit and struck box office gold. West would revive the play numerous times throughout her career. West signed on with Paramount Pictures in 1932. Her first film was Night after Night, starring George Raft. West was unhappy with her role, but was delighted when allowed to revise her lines. She became an instant success with the first scene, in which a hat-check girl exclaims to her, "Goodness, what lovely diamonds." West replies, "Goodness had nothing to do with it, dearie." In 1933, West brought Diamond Lil to the screen in She Done Him Wrong, in which she played Lady Lou. West personally selected Cary Grant for the leading male; the role made him a star. The film was a success and received an Academy Award nomination for Best Picture. West was paired with Grant again in I'm No Angel. In 1940, West starred opposite of W.C. Fields in My Little Chickadee. They were accustomed to working as individual stars, not co-stars. The two did not work well together, and that marked the beginning of the end of West`s film career. During World War II Allied soldiers called their inflatable life jackets "Mae Wests" because of their resemblance to her curvaceous bust.
The silver screen dims West appeared in The Heat's On in 1943, which was her last movie until 1978. However, she kept busy on Broadway and even staged her own Las Vegas show, in which she was surrounded by body builders, and sang to the audience. In 1959, West`s autobiography, Goodness Had Nothing To Do With It, was published, then updated in the 1970s. During the 1960s, in attempts to keep up with the younger generation, she recorded two rock `n roll albums, Way Out West and Wild Christmas. She recorded another album in the 1970s, Great Balls of Fire, in which she borrowed songs from Elvis Presley and the Beatles, among others. In 1970, West returned to the silver screen following a 26-year absence, in Myra Breckinridge. She had only a small part, and the film was not successful. West's final movie was Sextette in 1978. Geroge Raft appeared in that film. Thus, he appeared in her last movie as well as her first. Closing year West suffered a mild stoke in the summer of 1980, but recovered; however, she had another stroke that November. She died at the age of 87 on November 22, 1980. West was entombed at Cypress Hills Cemetery in Brooklyn, New York, in the family crypt she had purchased years earlier. Mae West has a star on the Hollywood Walk of Fame, in Hollywood, California.
---
*West was apparently married to a Frank Wallace on April 11, 1911, in
Milwaukee, Wisconsin
. Wallace showed up in 1937, claiming he wanted a share of "their" community property. West denied ever being married to Wallace, and records showed she had never lived with him. However, she did obtain a legal divorce in 1942.