Katharine Hepburn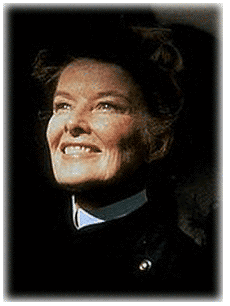 Katharine Hepburn was an American film, television and stage actress. She is considered to be a screen legend, and holds the record with a collection of four Oscars. Her acting career spanned 70 years. Beginnings Katharine Houghton Hepburn was born in Hartford, Connecticut, on May 12, 1907. Her father was Thomas Norval Hepburn, M.D., and her mother was Katharine Martha Houghton, a suffragette and birth-control advocate. She had an older brother, Tom, of whom she was very fond. When she was a young girl, she found him dead. It was surmised that he had been trying a trick their father taught him. Something went terribly wrong, and he accidently hanged himself. Katharine was devastated by his death and became very shy. She used her brother's birthdate, November 8, as her own for numerous years — revealing her true date in her autobiography many years later. Katharine was largely schooled at home. She attended Bryn Mawr College, and graduated in 1928 with a degree in history and philosophy. That year, Katharine landed a bit part on Broadway. She also married Ludlow Ogden Smith in 1928, having met him while attending Bryn Mawr. Their marriage was rocky, and they divorced in 1934. She never remarried or had children. The picture business Hepburn was given the starring role of the Amazon princess, Antiope, in the 1932 movie, A Warrior's Husband. She was then cast in A Bill of Divorcement in 1932, co-starring with John Barrymore. The film was a huge success, and RKO studios signed her to a contract. Between 1932 and 1934, she made five films, including Morning Glory in 1933, for which she won her first Academy Award. Her fourth film was Little Women in 1933, which was the most successful picture of its time. Off the set, Hepburn rejected the Hollywood game, and wore overalls and old tennis shoes instead of what was expected of a starlet. She never posed for photos or did interviews. Audiences became shocked at Hepburn unconventional behavior instead of applauding it, so she returned to Broadway in 1934 to star in The Lake. The play was a flop.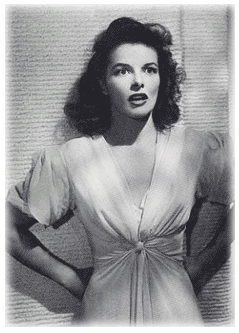 Hepburn returned to Hollywood, but things did not get much better; she had just two hits from 1935 to 1938. In 1935, she starred in Alice Adams, for which she received her second Academy Award nomination. She made many films that were dismissed as flops during that time, but Bringing Up Baby (1938) is now considered to be a classic. After a run of poor films, Hepburn was labeled as "box-office poison." She returned to Broadway once more, and starred in The Philadelphia Story in 1938, which was a smash hit. She bought the rights to the film version of Philadelphia and managed to negotiate her way back to Hollywood. In 1940, the film was a box office hit. She won her third Oscar nomination for her role. Spencer Tracy In 1942, Hepburn was paired with Spencer Tracy for the film, Woman of the Year. Their chemistry lasted through eight more films — and their off-screen romance spanned 25 years. Some of the successful films they made together included Adams Rib (1949), Pat and Mike (1952), and Desk Set in 1957. When Hepburn filmed The African Queen in 1951 with Humphrey Bogart, she received her fifth Oscar nomination. It was filmed mostly on location in Africa. Nearly the entire cast and crew contracted malaria and dysentery. Hepburn was ill for months after she returned home. The trip affected her so profoundly, that later in life, she wrote a book about the filming: The Making of the African Queen: Or, How I Went to Africa with Bogart, Bacall and Huston and Almost Lost My Mind. The book landed on the bestsellers list — she was 77. Hepburn played middle-aged spinster roles throughout the 1950s, and won more Oscar nominations for many of them, including her roles in Summertime (1955), The Rainmaker (1956), and in 1959, Suddenly, Last Summer.
In 1967, Hepburn made her last film with Spencer Tracy, Guess Who's Coming to Dinner, for which she won her second Academy Award. Her longtime friend and lover died shortly after filming was complete. Tracy was a Roman Catholic and had remained married to his wife, notwithstanding his lengthy affair with Hepburn. Out of respect for his family, she did not attend his funeral. She was, however, deeply affected by his death.
In 1968, Hepburn filmed The Lion in Winter with Peter O'Toole, which brought her a third Oscar win. In 1981, she won her fourth Oscar for her role in On Golden Pond, opposite Henry Fonda. In 1985, Hepburn received the Humanist Arts Award of the American Humanist Association, presented by her friend, Corliss Lamont. Her final film was Love Affair in 1994, with Warren Beatty and Annette Bening. A long-running classic Katharine Hepburn died of natural causes on June 29, 2003, in Old Saybrook, Connecticut. She was 96 years old. Many said she had suffered from Parkinson's Disease — which she maintained was not the case. Hepburn claimed to have inherited her head tremor from her grandfather.