John Muir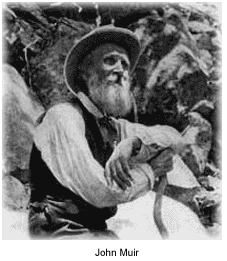 John Muir is best remembered as one of the greatest champions of the Yosemite and Sierra Nevada's natural wonders. He argued for the preservation of Nature as a primary source revealing God's character, and against what he felt to be questionable hunting ethics. Childhood and youth Muir was born in 1838 in Dunbar, East Lothian, Scotland, to Daniel Muir and Ann Gilrye. He had two brothers and five sisters. Two pursuits in his childhood became important in his adulthood: John and his friends played relay running games lasting for hours, which built tremendous physical endurance. He also was involved in the slaughter of a huge number of local birds, for nothing more than the thrill. In 1849, Muir emigrated to the United States with his parents and siblings, and they established a farm in Wisconsin. He attended the University of Wisconsin for several years, but did not want to graduate from a school built by the hand of man. He opted instead to enroll in the "university of the wilderness" and began a thousand-mile walk from Indiana to Florida. He had planned to continue on to South America, but was stricken by malaria and went to California instead. Yosemite Muir arrived in San Francisco in March 1868, then left for a place he had read about, called "Yosemite." After seeing Yosemite Valley for the first time, he was captivated and wrote, "No temple made with hands can compare with Yosemite." In May 1869, a rancher named Pat Delaney offered Muir a summer job to accompany him into the mountains to tend his sheep. That summer, Muir climbed Cathedral Peak and Mount Dana, and hiked an old Indian trail down Bloody Canyon to Mono Lake. It was during that time that he started to develop theories about how the area developed and how its ecosystem functioned. Muir then found a job operating a sawmill in the Yosemite Valley. A natural-born inventor, he designed a water-powered mill to cut trees the wind had blown down, and he built a small cabin for himself along Yosemite Creek. After spending all his free time getting familiar with the area, he became convinced that glaciers had sculpted many of its features. From studying to protecting In 1871, Muir discovered an active cirque glacier* below Merced Peak, which helped his theories gain acceptance. Muir was a talented writer. He was encouraged by a former university professor to publish his ideas about how he believed the area had been formed. In 1876, the American Association for the Advancement of Science published a paper Muir wrote, about the Giant Sequoia's ecology and distribution. In 1880, Muir married Louisa Wanda Strentzel, and they had two daughters. Shortly after his daughters were born, Muir's attention switched from studying the Yosemite area and the Sierra to protecting it. Muir threw himself into his new role with great vigor. He also agreed to use his influence to introduce a bill to Congress that would make the Yosemite area into a national park, modeled after Yellowstone National Park. The bill was passed by Congress in 1890. That year, Muir settled in Martinez, California. His home is now the John Muir National Historic Site.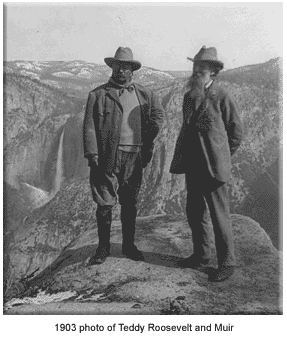 With a victory under his belt, Muir helped to form an environmental organization dubbed the Sierra Club in 1892, and was elected as its first president. He held that position until his death 22 years later. In 1903, Muir convinced President Theodore Roosevelt that the best way to manage the park was through federal control and management. When President Roosevelt visited the spectacular park, he never forgot it. Muir's final fight was to prevent the damming of the Tuolumne river for use as a reservoir for San Francisco. Following years of national debate, Roosevelt's successor, Woodrow Wilson, signed the dam bill into law in December 1913. Muir felt a great loss from the valley's destruction. Recognition John Muir died in Los Angeles in December 1914, some say from a broken heart. The John Muir Trail, the John Muir Wilderness, the Muir Woods National Monument, John Muir College in San Diego, and the John Muir Country Park in Dunbar are named after the great conservationist. An image of Muir, with the California Condor and Half Dome, appears on the California state quarter, which was released in 2005.
---
*Natural amphitheater.
See also
Sierra National Forest
.