Born Hiram Ulysses Grant in Point Pleasant, Ohio, the future military hero grew up in neighboring Georgetown. He started to work on the family farm and became skilled with handling horses.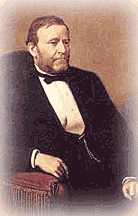 An appointment to West Point was secured through his fatherís efforts, despite Grantís lack of interest in a military career. He graduated in 1843, in the bottom half of his class, having impressed few because of his unmilitary bearing, but enjoying success with mathematics and horsemanship. His early tastes ran heavily toward novels and art.
His first military experience was gained in the Mexican War (1846-1848). He initially served with the Quartermaster Corps where he gained a lasting understanding of supply issues, but later saw action. Grant would later look back on the American military activities in Mexico with contempt.
In 1852, Grant was assigned to Fort Vancouver in the Oregon Territory and later to Fort Humboldt in northern California. The climate`s dreariness and separation from his wife and sons apparently led Grant to a dependence on alcohol, an issue that led to his resignation from the service in 1854.
Grant returned to his family and ran his wifeís farm in Missouri without much success. He later entered the real estate business, but floundered there as well. At the time of the outbreak of the Civil War, Grant was working as a clerk in a family leather shop.
In 1861, Grant was appointed as a colonel of the Illinois Volunteers. In early 1862, he was instrumental in the capture of Fort Donelson, the first important Union victory of the war. Lincoln noted Grantís success and promoted him to major-general of the volunteers. His career took a downward turn at Pittsburg Landing (Shiloh) in April 1862, when Grant was criticized for heavy losses and failure to heed his superior`s instructions.
Grantís most important victory came in July 1863, with the capture of Vicksburg, a key point on the Mississippi River, which enabled the Union to cut the Confederacy in half. Grant was made the supreme commander of the Union forces in the West, in October. He closed out 1863óthe ďyear of decision"óby leading the defeat of Braxton Bragg at Chattanooga in November.
Grant transferred his energies to Virginia in 1864, where his strategy was to keep Lee occupied while Sherman had a free hand in the South. In March he was made a lieutenant-general, a rank revived especially for Grant by Congress.
The Wilderness Campaign amounted to war by attrition with superior manpower and supply sources gradually grinding away at Leeís army. Grant surprised his counterpart by breaking away and moving his forces south to an important rail center.
The siege of Petersburg began in June and lasted until the following April. The city`s fall led to the Confederate evacuation of Richmond, its capital. Richmond was untenable without Petersburg, a vital transportation hub. Grant accepted the surrender of Leeís army on April 9, 1865.
Any debate about whether Lee was a superior general to Grant, or vice versa, is a moot point. The Union clearly enjoyed massive advantages in manpower and arms, but no general before Grant was able to translate those strengths into victories. He receives high marks from most military historians as a skilled tactician and somewhat lesser marks as a strategist.
Further, Grant possessed other qualities that contributed to his success, including a thorough understanding of supply and administrative issues, an openness to new ideas from his subordinates and a willingness to examine his failures and make adjustments.
In 1867, Grant was appointed the interim Secretary of War by Andrew Johnson, a move that sparked a confrontation involving Edwin M. Stanton, Congress and the Tenure of Office Act. Grant resigned, precipitating a break with the president. However, he emerged as a Republican presidential frontrunner and earned a slim popular victory in the Election of 1868.
Grant`s first administration was marred by bad judgment and corruption, most notably the Black Friday scandal. Conservative economic values prevailed as evidenced in Grantís stand on the Greenback issue. Positive steps were taken, however, on diplomatic issues under Secretary of State Hamilton Fish. A mixed record was achieved in the area of civil service reform.
Grant was overwhelmingly returned to office in the Election of 1872. Further scandals erupted, including the Belknap scandal, Credit Mobilier scandal, and the Whiskey Ring. Despite this sorry record, Grant, much to his credit, supported political rehabilitation of Confederate leaders and backed the 15th Amendment.
Grant left office in 1877 and departed on a world tour with his wife; he was greeted as a great hero by leaders in Europe and Asia. Old Guard Republicans tried to engineer a third term for Grant in the Election of 1880, but failed to corner the nomination.
Grant took up residence in New York City where he became involved in a private tanking business; the actions of a corrupt partner forced the bankruptcy of the business, Grant, and many investors. This event did great damage to the former presidentís reputation.
Grant, dying a painful death from throat cancer, wrote his Personal Memoirs (1885-86) to help support his family. This work is highly regarded by historians for its candor, evenness, and humor.
In 1897, Grantís remains were moved from a temporary burial site to a massive mausoleum, now known as Grant`s Tomb, on Riverside Drive, on Morningside Heights in New York City. More than a million people turned out for the ceremonies honoring the former military hero and president.
---- Selected Quotes ----
Quotes by Ulysses S. Grant.
Regarding Tennessee River Campaign
The art of war is simple enough. Find out where your enemy is. Get at him as soon as you can. Strike him as hard as you can, and keep moving on.
Regarding Separation of Church and State
Leave the matter of religion to the family altar, the church, and the private school, supported entirely by private contributions. Keep the church and the State forever separate.
Speech at Des Moines, Iowa, 1875

Quotes regarding Ulysses S. Grant.
By Abraham Lincoln
Well, I wish some of you would tell me the brand of whiskey that Grant drinks. I would like to send a barrel of it to my other generals.
Response to criticism of General Grant

- - - Books You May Like Include: ----
Louisville & the Civil War by Bryan S. Bush.
On March 9, 1864, Grant met with Sherman at the Galt House in Louisville to discuss the spring campaign. Grant would take on Robert E. Lee, and Sherma...
Ulysses S. Grant by Josiah Bunting.
As a general, Ulysses S. Grant is routinely described in glowing terms-the man who turned the tide of the Civil War, who accepted Lee's surrender at A...
One Thousand White Women: The Journals of May Dodd by Jim Fergus.
One Thousand White Women is the story of May Dodd and a colorful assembly of pioneer women who, under the auspices of the U.S. government, travel to t...
Personal Memoirs by Ulysses S. Grant.
In the words of Mark Twain, this is Ulysses S. Grant, the simple soldier who, all untaught by the silken phrasemakers, linked words together with an a...
1864: Lincoln at the Gates of History by Charles Bracelen Flood.
1864 is the story of Lincoln's struggle with the war on the battlefields and a political scene in which his own secretary of the treasury, Salmon P. C...
A Terrible Glory: Custer and the Little Bighorn - the Last Great Battle of the American West by Jim Donovan.
In June of 1876, on a desolate hill above a winding river called "the Little BIghorn," George Armstrong Custer and all 210 men under his direct comman...
Grant and Sherman: The Friendship That Won the Civil War by Charles Bracelen Flood.
The lives of Ulysses S. Grant and William T. Sherman are classic underdog stories. Both of these "obscure failures" experienced more disappointment th...
Shiloh, 1862 by Winston Groom.
In the spring of 1862, many Americans still believed that the Civil War, "would be over by Christmas." The previous summer in Virginia, Bull Run, with...