The Lee Family of Virginia
The Lee Family of Virginia has enjoyed a long and illustrious history, and is a significant family in Virginia, starting in 1642 with the arrival of Richard Lee. Some of the more prominent Lee family members are best known for their accomplishments in the military and politics. Richard Lee (1610-1664) emigrated from England, settled in Jamestown, and fathered the Lee line of Virginia. Lee was a member of the Coton branch of the Lees of Shropshire, England. He came to America in 1641 as secretary of the King's Privy Council. In 1642, Lee received a land grant of 1,000 acres. By 1648, he had patented* other large tracts of land in York, Gloucester, and in upper Norfolk counties. During his life he was at various times a justice and member of the council. He served as attorney general of the colony in 1643, secretary of the colony in 1651, and burgess of York in 1663. That year, Lee returned to England to settle his English estate and arrange for his children's education, returning thereafter to Virginia. Thomas Lee (1690-1750) was an agent for the Proprietary of the Northern Neck, a member of the House of Burgesses, naval officer of the Potomac, founder of the Ohio Company, a diplomat to the Treaty of Lancaster, and an acting governor of Virginia. Philip Ludwell Lee (1727-1775) served as a judge, officer in the militia, elected official in the House of Burgesses, and member of the governing Council of Virginia. A member of the Ohio Company, he was appointed a justice of the peace for Westmoreland County. Thomas Ludwell Lee (1730-1778) served in the Virginia Senate from 1776 to 1778. His career was cut short soon after his election to Virginia's first supreme court. At the age of 48, he died of rheumatic fever. Richard Henry Lee (1732-1794) was a justice of the peace for Westmoreland County in 1757, a member of the House of Burgesses from 1758 to 1775, a member of the Continental Congress (1774-1779, 1784-1785, and 1787), and served as president of the Congress in 1784. Lee was a signer of the Declaration of Independence, a member of the state house of delegates (1777, 1780, and 1785), served as colonel of the Westmoreland militia, and was a member of the Virginia convention that ratified the Federal Constitution in 1788. He was elected to the U.S. Senate and served from 1789 until 1792. He also served as president pro tempore during the second Congress.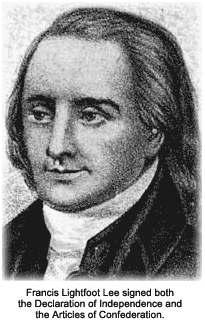 Francis Lightfoot Lee (1734-1797) was a member of the Virginia House of Burgesses from 1758 to 1772. He was elected to the Continental Congress in 1775 and served until 1779. Lee was a signer of the Declaration of Independence and was a member of the State house of delegates in 1780 and 1781. He also served in the Virginia State senate, beginning in 1778 and ending in 1782. William Lee (1739-1795). In July 1773, Lee was elected Sheriff of London. He was the Continental Congress's commercial agent in French ports. Lee later became the commissioner to the courts of Berlin and Vienna. Arthur Lee (1740-1792). Graduating with honors from Edinburgh University after earning a degree in medicine, Lee also studied law in London before leaving those careers to write political tracts in support of the colonies. The Continental Congress named Lee its secret agent in London. He initiated a flow of supplies between France and America, and was named by Congress as Commissioner to the court of Versailles. Henry "Light Horse Harry" Lee III (1756-1818). As a cavalry commander, Lee captured the fort at Paulus Hook, for which he received the Congressional Gold Medal in 1779. He was elected to Congress in 1785 and was governor of Virginia from 1791 to 1794. Lee was a Federalist congressman from 1799 to 1801. He was the father of Robert E. Lee, the great Confederate general.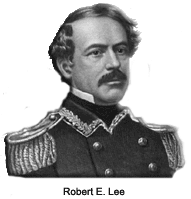 Robert Edward Lee (1807–1870) was the son of Henry "Light-Horse Harry" Lee, and general-in-chief of the Confederate armies in the Civil War. He graduated second in his class from West Point in 1829, and was the superintendent at the academy from 1852 to 1855. That year, he was made lieutenant colonel of the Second Cavalry and sent to west Texas. Lee commanded and fought conscientiously in the Union Army until Virginia seceded from the Union. As a general, and advisor to Confederate president Jefferson Davis, Lee fought bravely through numerous campaigns. Following the Confederacy's collapse, Lee graciously surrendered to Ulysses S. Grant at the Appomattox Courthouse. Following the war, Lee became president of Washington College, now Washington and Lee University. George Washington Custis Lee (1832–1913) was the eldest son of Robert E. Lee and a Confederate general in the Civil War. He was aide-de-camp to President Jefferson Davis through most of the conflict. Lee was promoted to major general in 1864, but was captured at Sailor's Creek in 1865. From 1865 to 1871, Lee was a professor of civil and military engineering at the Virginia Military Institute, and succeeded his father as president of Washington and Lee University from 1871 until 1897.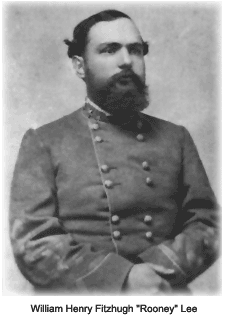 William Henry Fitzhugh Lee (1837–1891), known as Rooney Lee, was a son of Robert E. Lee. He was a Confederate cavalry general in the Civil War. Lee entered Harvard in 1854, but left in 1857 when he secured a commission in the infantry. After serving under Albert S. Johnston in the campaign against the Mormons, he resigned in 1859 and lived at White House, his Virginia plantation, until the war began. Lee served in J.E.B. Stuart's cavalry. Wounded at Brandy Station in June 1863, he was subsequently captured. Upon his exchange in 1864, Lee was promoted to major general and served until the end of the war. From 1887 to his death, Lee was a Democratic representative in Congress. Many more Lees of the Virginia clan, past and present, have served their state well, securing their family's place and times in history.
---
*A grant made by a government that confers on an individual fee-simple title to public lands.