The Battle of Pittsburg Landing
Following the victories at Forts Henry and Donelson, Grantís Army of Tennessee pushed southward along the Tennessee River toward the Confederate army of Albert Sydney Johnston. Johnston had pulled back to Corinth, Mississippi, an important railway center.
By early April, Grantís force of 40,000 men had reached the community of Pittsburg Landing in southern Tennessee. Halleck had issued orders instructing Grant to fortify his position; Grant ignored the order, believing that a Confederate attack was not imminent.
On April 6, the Union forces were surprised by Johnstonís attack, which occurred near Shiloh Church, a meetinghouse outside of Pittsburg Landing. The first dayís action went heavily in favor of the Confederates, pushing Grantís forces back nearly a mile. During the course of the fighting, Johnston was killed; he was replaced by P.G.T. Beauregard.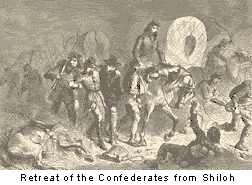 Before fighting resumed on April 7, Grant received reinforcements. Despite a skillful effort by Beauregard, the Union forces turned the tide and eventually forced the Confederates to retreat to Corinth.
Losses were extremely high on both sides, perhaps as high as 10,000 casualties for each army. Northern critics of Grant were appalled by the ongoing carnage and called upon the president to replace the general. Lincoln, however, was pleased to finally have an aggressive military leader.
The events at Shiloh also had an impact on Grant, who became convinced that the South could not be defeated without waging ďtotal war."
Beauregardís forces remained in Corinth for only about a month, then abandoned that vital position.
- - - Books You May Like Include: ----
Shiloh by Shelby Foote.
In the novel Shiloh, historian and Civil War expert Shelby Foote delivers a spare, unflinching account of the battle of Shiloh, which was fought over ...
Shiloh, 1862 by Winston Groom.
In the spring of 1862, many Americans still believed that the Civil War, "would be over by Christmas." The previous summer in Virginia, Bull Run, with...
That Devil Forrest by John Allan Wyeth.
Grant called him ďthat devil Forrest." Sherman, it is reported, considered him ďthe most remarkable man our civil war produced on either side." He was...
Fields of Honor: Pivotal Battles of the Civil War by Edwin C. Bearss.
Few historians have ever captured the drama, excitement, and tragedy of the War Between the States quite like Edwin Bearss. The acclaimed "Homer of th...
Stonewall of the West: Patrick Cleburne and the Civil War by Craig L. Symonds.
To Jefferson Davis, he was the "Stonewall of the West"; to Robert E. Lee he was "a meteor shining from a clouded sky"; and to Braxton Bragg, he was an...