Henry Fonda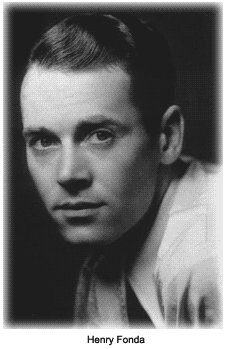 Henry Fonda was a top American actor who appeared in film, on stage, and on television. He left a legacy of many classic performances over a long career, most of which are considered to be sterling examples of the "Golden Age of Hollywood." Early years Henry Jaynes Fonda was born in Grand Island, Nebraska, on May 16, 1905, to William Brace Fonda and Herberta Krueger Jaynes. He was the eldest of three children. When Henry was a small child, his family moved to Omaha, where his father opened a printing shop. Henry was a Boy Scout, and liked to write stories; he won a short-story contest when he was 10 years old. Henry graduated from Omaha Central High School in 1923. He entered the University of Minnesota to study journalism, immediately after graduating from high school. Henry had two jobs while attending the university, which may have contributed to his dropping out two years later. He returned to Omaha to look for a job in journalism in 1925. The acting bug Fonda got his first taste of acting when he was offered a chance to audition for a part at the Omaha Community Playhouse. He was cast as Ricky in You and I, despite his inexperience. Fonda thoroughly enjoyed the experience and began to spend all of his spare time at the playhouse, helping with set building and even ushering. In 1928, Fonda moved to New York City to pursue an acting career. That first summer, he worked at the Cape Playhouse in Dennis, Massachusetts, where he was an assistant stage manager and also took several small roles. His first Broadway appearance was a small walk-on role in the 1929 production of The Game of Life and Death. It lasted only six weeks, and several years would pass before Fonda managed to establish himself in New York City. In addition to his summer work with the University Players Guild, Fonda appeared in many productions of the National Junior Theatre in Washington, D.C. When Fonda was in New York, he met and became a roommate with James Stewart; they would be lifelong friends. In 1931, Fonda married fellow actor, Margaret Sullivan; however, the couple divorced just two years later. Fonda got his big break in 1934 when he was cast as the farmer, Dan Harrow, in The Farmer Takes a Wife. The play ran in Washington D.C. first, then moved to New York City, where it received critical acclaim. Stardom In 1935, Fonda was cast in the leading role in the screen adaptation of The Farmer Takes a Wife, reprising the role from his Broadway production. The film was well received by critics, and Fonda began to make epic-type films immediately. The first was The Trail of the Lonesome Pine in 1936, with that he became recognized as a movie star. In the same year, he married his second wife, Frances Seymour Brokaw. They produced two children, Jane and Peter, both of whom became actors. In 1939, Fonda appeared in Young Mr. Lincoln, directed by John Ford. That was the first of many films he would make with Ford. In 1940 he was cast as Tom Joad in The Grapes of Wrath, which resulted in one of Fonda's best performances and an Academy Award nomination.
Military service
After Fonda completed the Immortal Sergeant and The Ox-Bow Incident in 1942, he volunteered for the U.S. Navy as a seaman to serve his country during World War II. Fonda worked in operations and air combat intelligence. He earned a Bronze Star and a presidential citation for his bravery, reaching the rank of lieutenant by the time of his discharge in 1945. Following his tour of duty, Fonda made a short return to film before returning to theater. In 1946 he played the role of Wyatt Earp in My Darling Clementine, and in 1948 he appeared in Fort Apache — his last film appearance for seven years. On stage again In 1948, Fonda appeared on Broadway and starred as in Mister Roberts. The show ran for 1,077 performances — he never missed one. He won a Tony Award and took the show on a national tour. During the Mister Rogers run, Fonda's marriage to Frances ended. He asked her for a divorce; she had been mentally unstable for most of their marriage — and committed suicide in October 1950. A few months later, Fonda married his third wife, Susan Blanchard. He adopted Susan's daughter, Amy, but the couple divorced in 1956. A string of classics Fonda returned to film in 1955, with the production of Mister Rogers, the role he had created on stage. He followed that success with a string of classic films; the first was the epic War and Peace, which co-starred Audrey Hepburn. In 1956, he worked with Alfred Hitchcock in The Wrong Man. In 1957, Fonda produce his first film, 12 Angry Men. He shared Academy Award and Golden Globe nominations with coproducer Reginald Rose, and won the 1958 BAFTA Award for Best Actor. Fonda was married for a fourth time to Countess Afdera Franchetti, on March 10, 1957. They divorced in 1962. Henry married Shirlee Adams in 1965; she would be his fifth and final wife.
In 1959, Fonda was the co-producer and star of the short-lived television series, The Deputy. During the 1960s, he starred in a number of war and western epics, including The Longest Day in 1962, and How the West Was Won, also in 1962. He took on the role of the president of the United States in the film Fail-Safe in 1964. Fonda also took on a lighter side of cinema when he co-starred in Yours, Mine, and Ours in 1968 with Lucille Ball. The versatile actor appeared on Broadway and on a national tour from 1974 to 1975, as Clarence Darrow, for which he was nominated for a Tony. He collapsed one night before a performance, and was forced to have a pacemaker implanted to keep his heart beating regularly. In 1976, Fonda starred in the World War II blockbuster, Midway. Along with many other actors in the Seventies, Henry appeared in a number of disaster movies, including; Rollercoaster in 1977, The Swarm in 1978, Meteor in 1979, in which he played the president again, and in 1979, City on Fire. As his health worsened, Fonda took roles less frequently. In 1979, he was given a special Tony award for his achievements on Broadway. He was also given Lifetime Achievement awards from the Golden Globes and the Motion Picture Academy in 1980 and 1981, respectively. The final role Fonda's last and arguably best film appearance occurred in 1981, with On Golden Pond, which co-starred Katharine Hepburn and his daughter, Jane Fonda. He won his one and only Best Actor Oscar. Henry Fonda died at his Los Angeles home on August 12, 1982, at the age of 77 after suffering from heart failure. His wife Shirlee, and daughter Jane, were at his side when he passed away.