Willie Mays
From his start in the major leagues in 1951 with the New York Giants, to his finale with the New York Mets in 1973, Willie Mays exerted an impact on baseball as few men have, before or since.
"Say Hey" Kid
Not a towering, hulking specimen like more modern players, Mays played the game standing 5'11" and weighing a solid 180.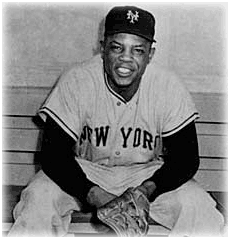 What you can't tell about those average numbers is the quite unaverage love of the game that lay in his soul when he took to the field. With a bounce in his step and a twinkle in his eye, you knew something special was going to happen in this game — that's why you brought your son or daughter to the game. Or maybe it was you, clutching your first glove in hopes of snagging a foul ball, who were taken out to the ball game.
The Early Years
Willie was born in May 1931, just west of Birmingham, Alabama. He proved to be precocious from the start, playing among the older teens when he was 10 or 12 years old. He was a three-sport athlete who saw football as his favorite sport, with basketball next and baseball third. As proof of Mays' athleticism, he was offered college scholarships in football and basketball.
However, Mays chose baseball as his career, being influenced by several factors. His persuasive uncle continually reminded him, "You're going to be a baseball player . . . we're gonna' see to that." Mays himself pointed out that "there wasn't any height limit in baseball." He also admitted that he "picked baseball because it was the easiest of the three. With the others [sports], I thought I might get hurt."
Willie was discovered in 1948, at the age of 17, by Piper Davis of the Negro Leagues' Birmingham Black Barons. He played ball with them until he signed with the Major League New York Giants in 1950.
An anecdote about Mays in Birmingham tells of the day he was was hit in the head by a baseball. When he regained consciousness, Davis was standing over him. "Are you OK?" Piper asked. Willie nodded weakly. "Can you see first base?" Another nod. "Well then," Davis said, "get up and get on it."
Willie's Major League Career
After dazzling Class B ball with a .353 average in 1950 for the Giants' Trenton, New Jersey affiliate, Mays was promoted to AAA Minneapolis to start the 1951 season. After the first 35 games, Mays was hitting .477 and got the call to join the parent club in Shibe Park, for a game against the Philadelphia Phillies.
Although Mays was a "five-tool" player* from the outset, he got off to a horrendous start, going 0-25, which prompted the teary-eyed rookie to beg to go back to triple-A. Leo "The Lip" Durocher, the colorful, controversial (and future Hall of Fame) Giants manager, would have none of it, insisting that he, Mays, would be on the Giants roster as long as Durocher remained as manager.
That vote of confidence was enough to relax the young man, and the following day, he got his first major-league hit — a home run — off future Hall-of-Famer Warren Spahn of the Boston Braves. Mays ended his freshman campaign with Rookie of the Year honors on a .274 average, 20 home runs, and 68 RBIs in 121 games. Those statistics proved to be the worst of Mays' career.
The Giants ended the year tied with the Brooklyn Dodgers and beat them in the third game of a three-game playoff, coming from behind in the bottom of the ninth with Bobby Thomson's three-run home run — the famous "shot heard round the world." What is significant is that Mays was in the on-deck circle at the time of Thomson's heroics.
The War Effort
Mays enlisted in the armed forces the following year, 1952, after playing just 34 games. He served stateside during the Korean War.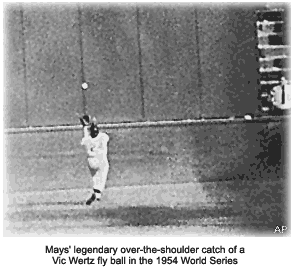 After missing the entire '53 season, he came back in 1954, hitting .345 with 41 home runs and 110 RBIs on a career-high slugging percentage of .667, leading the Giants to the pennant and a World Series sweep of the powerful Cleveland Indians. It was in Game 1 of that series that Mays made what is now called simply "The Catch" — an amazing over-the-shoulder, back-to-the-plate snag, on the warning track of a long drive by Vic Wertz into the centerfield of the spacious Polo Grounds in New York.
Mays was named the National League's MVP that year and also was the recipient of the Hickok Belt, symbolic of the top professional athlete of the year. It also kicked off the remarkable career of a remarkable athlete.
It seemed as though Mays put up career numbers every year. It was true, at least in the existing offensive categories: Starting in 1954, he had a career high in a different category in seven straight years, eight out of nine, and nine out of 12:
In 1955, 382 total bases;

1956, 40 stolen bases;

1957, 20 triples;

1958, 208 hits and a .347 average;

1959, 43 doubles;

1960, nine sacrifice flies;

1962, scored 130 runs, had 141 RBIs and tied his total bases mark, in another World Series run;

1965 (his second MVP year), 52 home runs (playing home games in fog-laden, wind-swirled Candlestick Park); and

in 1971, career highs in walks (112) and on-base percentage (.425).
In 1962, Mays' final World Series year with the Giants (he joined the Mets in 1973 World Series year), he led the team in nearly every offensive category. Batting .304 in 162 games, May hoisted the Giants onto his back to lead them in doubles, triples, home runs (49), stolen bases, on-base percentage, and slugging percentage. Despite his efforts, the Giants fell to the Yankees in seven games.
In 1965, Mays hit his 500th home run in mid-September. Spahn, now at the end of his career and on the Giants roster, greeted Mays upon his arrival in the dugout, "Was it anything like the feeling after the first one?" "It was exactly the same feeling," Mays responded. "Same pitch, too."
Spahn mused, "I blame myself for Willie . . .If I had struck him out in '51, maybe we could have gotten rid of him years ago."
One thing Spahn can mull over is that the Braves were scouting and ready to sign Mays when he was 17. That means there could have been a nucleus for the Braves consisting of Mays, Hank Aaron, Spahn, and Hall-of-Fame third-baseman Eddie Matthews, from 1954 to 1965. Alas, the Giants signed Mays first.
Perhaps the most telling thing about Mays can't be measured by statistics — he was a frame of reference for any player of his era and later. "[He] could hit the ball as far as Willie, but . . ." "[He] had an arm almost as good as Mays, but . . . " Mays was similar in this regard to the legendary Walter Johnson, pitcher extraordinaire in the early 1900s.
Late Life
Mays lives in California and is currently Baseball's oldest living Hall of Famer. May's book, 24: Life Stories and Lessons from the Say Hey Kid was published in 2020. A documentary about Willie Mays is scheduled to be released on HBO in 2022. Oh, By the Way
Mays had a penchant for greeting his teammates with an animated "say hey," prompting New York sportswriter Barney Kremenko to call Willie the Say Hey Kid.
By the Numbers
Mays was selected by The Sporting News as the second-best baseball player of all time; he was selected third all time (behind Ruth and Honus Wagner) by Bill Harris in his Historical Baseball Abstract, where Harris rates every player who has played at the Major League level and has assigned a "statistical value" to each.
Among the accolades:
Mays was selected to the all-decade team for the 1950s and 1960s, as well as the all-Gold Glove team for each decade (he earned 12 Gold Gloves in his career).

Selected as the No. 1 all-time centerfielder — some Negro Leaguers would dispute that, saying Oscar Charleston was better.

Selected as the best player in the Majors by Harris in 1954, '55 (with Mickey Mantle), '58 (with Mantle), '62 (with Frank Robinson), and '65.

Mays stole the most bases in the 1950s of any player (179).

He was rated in the top five for his "value" before the age of 26 and his value after the age of 35.

Mays enjoyed seven seasons where hits produced "Hall-of-Fame numbers" — a batting average of .300 or above, 30 or more home runs, and 100 RBIs.

He hit 660 home runs, boasted nearly 3,300 hits, and was the first player into the 300/300 club — 300 home runs and 300 stolen bases in a career. He garnered two National League MVPs and played in a record-tying 24 All-Star games.

Hall-of-Famer Al Kaline of the Detroit Tigers listed his choices for the top-10 clutch hitters of all time, with Mays listed second behind another Hall-of-Famer Frank Robinson.
---
*One who can hit for a good average and good power, field his position, has a strong, accurate throw, and has good base-running skills.