Elvis Presley
Elvis Presley was an American singer, actor and song producer. He also was known as the King of Rock `n Roll. More than one billion Elvis records have sold worldwide, with 120 singles in the U.S. top 40 — 20 reaching number one. Early years Elvis Aaron Presley was born in Tupelo, Mississippi, on January 8, 1935, to Vernon and Gladys Presley. He had a twin brother, Jessie Garon, who was stillborn, leaving Elvis to grow up as an only child. His family moved to Memphis, Tennessee, in 1948, and Elvis graduated from Humes High School in 1953. As a teenager, Elvis frequently attended all-night gospel sings at a church and listened to black rhythm and blues on historic Beale Street in Memphis.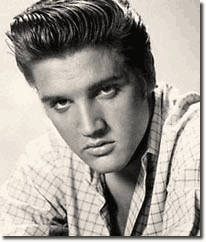 A career catches fire In 1954, Presley began his singing career with Sun Records in Memphis. His first double-sided demo was "My Happiness" and "That's When Your Heartaches Begin," both popular ballads at the time. He gave the record to his mother as a belated birthday present. The founder of Sun Records and an assistant heard the recording, then asked him to fill in for a missing ballad singer in 1954. The session was not productive, but Elvis was thrown together with local musicians Scotty Moore and Bill Black, to see what would happen. During a rehearsal break in July 1954, Presley began to sing a blues song, "That's All Right," written by Arthur Crudeup. As a result, he released a 78 rpm with a hopped-up version of "Blue Moon Of Kentucky." It became a local hit, and Elvis began a regular touring schedule that expanded beyond Tennessee. Also during that year, Presley performed his one and only gig at the Grand Ole Opry in Memphis. Although he was politely received, he would never return. The colonel In August 1955, Elvis Presley was signed by Hank Snow Attractions, a management company jointly owned by Hank Snow and Colonel Tom Parker. Colonel Parker took full control, and didn't like the limitations of Sun Studios. He negotiated a deal with RCA Records in November 1955. Parker understood the commercial value for songwriters having their songs recorded by Presley, and demanded that they share any royalties with Elvis. As a promoter, Parker started marketing Elvis's image — everything from cookware to guitars. Elvis's live appearances held tremendous appeal for teenagers, especially the girls. His sexy moves, unusual style, and good looks sparked excitement that increased with every performance. Sometimes, near-riotous behavior erupted with kids screaming and breaking through barriers. Elvis gained more and more popularity. He was warned by concert promoters not "gyrate" on stage. One of the most famous instances of that occurred in 1957, when he appeared on the Ed Sullivan Show — and was televised from the waist up. He was asked to sing a spiritual song instead of a rock song. He made the "duck tail" hairdo a fashion statement of young men in the Fifties. Music on celluloid Parker was approached by Hollywood Studios, and eventually negotiated a seven- year contract and multi-picture deal to augment Presley's career with movies. Parker set the terms for Presley's fee, which included a cut for performing, plus a percentage of the profits from each of the films. Elvis and the colonel renegotiated their management contract to a 50/50 split between the two. Presley's first movie was Love Me Tender (1956), and in 1957, he starred in Jailhouse Rock, which most critics considered to be his best film. Presley appeared in 33 movies. His last film was Tickle Me (1965). Graceland Presley bought Graceland mansion in March 1957 from Ruth Brown Moore for $102,500. The mansion, built of tan Tennessee limestone, consisted of 23 rooms and nearly 14 surrounding acres. Presley had the famous Music Gates installed in April 1957. Called up In December of that year, Presley received a draft notice for the compulsory two-year service with the U.S. Army. He entered the army on March 24, 1958, at the Memphis Draft Board office. Presley received no special treatment, and was widely respected for not doing what most wealthy people did to avoid the service. He sailed to Europe on the USS General George M. Randall, and served in Germany as an ordinary soldier. He returned to the states on March 2, 1960, with an honorable discharge. Back to a lucrative career In 1960, the album Elvis is Back was released to mixed reviews. With the British Invasion of the Beatles, Presley`s stardom faded for a short period, until he staged a huge television performance that was later called the "68 Comeback Special." It was aired in December 1968, and it shot him back into rock `n roll stardom. In 1969, Presley returned to live perfomances, beginning in Las Vegas, Nevada, then crisscrossing the country. From 1971 to his death in 1977, Presley used a gospel group for his backup vocals. He recorded several gospel albums, earning three Grammy Awards for his gospel music. In his stage shows in later years, he nearly always performed "How Great Thou Art," a 19th-century gospel song. More than 24 years after his death, Presley was inducted into the Gospel Music Hall of Fame in 2001. Priscilla and others Following an eight-year courtship, Presley married Priscilla Ann Beaulieu on May 1, 1967. Shortly after he and Priscilla were married, she became pregnant. Presley then became involved with singer Nancy Sinatra. When Priscilla confronted him about it, he denied the affair, but he left his pregnant wife shortly after. Priscilla gave birth to Lisa Marie Presley on February 1, 1968, in Memphis, Tennessee. The couple divorced in 1972. Elvis dated numerous women following his divorce from Priscilla, including Linda Thompson, a young beauty queen. However, when he met Ginger Alden, he claimed to have met the love of his life and asked her to marry him in 1977. They planned a Christmas wedding for that year. By that time, he had become quite overweight.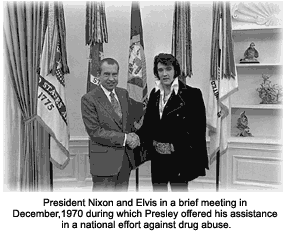 An untimely end Presley died before the wedding date. Ginger found Elvis's lifeless body in his bathroom suite at Graceland mansion on August 16, 1977. He was only 42 years old. The medical examiner concluded that he died from a heart attack. There has been speculation by many that Elvis was addicted to prescription medications. His autopsy records will not be released until 2027. Presley was buried at Forest Hill Cemetery in Memphis, next to his mother. Following an attempted theft of his body, his and his mother`s remains were moved to Graceland. The king Some of Presley`s numerous accomplishments include being one of only three singers (including Roy Orbison and Nelly), to have two Top-Five albums on the charts simultaneously; induction into the Rock `n Roll Hall of Fame in 1986, Country Music Hall of Fame in 1998, and Gospel Music Hall of Fame in 2001. Presley`s image appeared on a U.S. postage stamp in 1993. In 2002, the Disney animated film, Lilo and Stich, featured more Elvis songs than any film he starred in himself. Elvis impersonations are a cottage industry, and numerous "Elvis sightings" have been reported since his death. Some believe that his "supposed" death was a cover-up to give Elvis Presley a chance at a peaceful life.