Duke Ellington
Duke Ellington was an American jazz bandleader, pianist and composer. He is considered by many to be America`s greatest composer. By the time of his death, Ellington had appeared for more than 20,000 performances worldwide.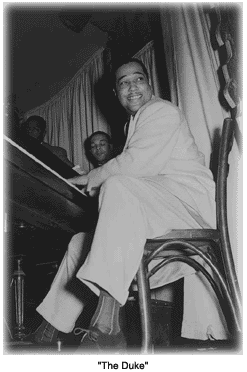 Early years Edward Kennedy "Duke" Ellington was born in Washington, D.C., on April 29, 1899, to James Edward and Daisy Kennedy Ellington. His father made blueprints for the U.S. Navy and worked as a butler in the White House for extra money. His grandfather, James Ellington, had been a slave. Both of Duke's parents played the piano, so it was natural that he took up lessons at the young age of seven. He also became interested in the visual arts, and chose to attend Armstrong Manual Training School to study commercial art. While vacationing with his mother, Duke heard a hot pianist named Harvey Brooks. At the end of his vacation, Duke sought out Brooks in Philadelphia, where the performer showed him some pianistic tricks and shortcuts. Duke couldn't wait to get home and try them out. That marked the birth of his career. Three months shy of graduation, Duke dropped out of school and began his life as a professional musician. Early career In 1917, Ellington formed his first group, The Duke's Serenaders. Between 1918 and 1919, he worked toward his independence by moving out of his parents` home into a house he purchased himself. Then he became his own agent, and began to perform throughout the D.C. area and Virginia. Ellington met and married Edna Thompson. They had a son on March 11, 1919, and named him Mercer Kennedy Ellington. In 1928, songwriter and music scout Irving Mills agreed to produce and publish Ellington`s music, which would become highly prized throughout the United States and the world. Three-minute masterpieces (length of a 78 rpm record) flowed from the minds of Ellington, Billy Strayhorn, his son Mercer, and members of the orchestra. Some of the songs from the era include "Cottontail," "Mainstem," "Harlem Airshaft," and "Streets of New York." A long-term goal was to extend the music from the three-minute limit. He had recorded the longer "Creole Rhapsody" in 1931, but it was not until the 1940s that it became a feature of his work. In the early 1940s, the band reached a creative peak. When Ellington wrote for an orchestra of distinctive voices, he displayed an arresting level of creativity. The band suffered a setback in 1951, when drummer Sonny Greer, trombonist Lawrence Brown, and saxophonist Johnny Hodges left to pursue other avenues. Bouncing back In 1956, Ellington appeared at the Newport Jazz Festival in Rhode Island, which marked his return to prominence. In the early 1960s, Ellington was between recording contracts, which enabled him to record with other musicians. For instance, he was part of a session with Charles Mingus and Max Roach in 1962, that produced the album, "Money Jungle." Ellington was nominated for a Pulitzer Prize in 1965. The following year, he performed his first "Sacred Concert," an attempt to fuse Christian liturgy with jazz. Generating considerable controversy, many saw it as an attempt to commercialize religion. Ellington said it was "the most important thing I`ve done." Ellington continued to turn out innovative recordings, including "The Far East Suite" in 1966, "The New Orleans Suite" in 1970, and "The Afro-Eurasian Eclipse" in 1971. It was during this period that people realized how creative he was, and would continue to be, until the end of his life. In his memory Duke Ellington died on May 24, 1974, and was buried in Woodlawn Cemetery, the Bronx. In 1997, an Ellington memorial, located in New York City`s Central Park, was created by sculptor Robert Graham. The Duke Ellington School of the Arts, in Washington, D.C., was dedicated in his honor. The school prepares students for post-secondary education and/or professional careers in the arts. Following Ellington's death, the orchestra carried on as the Ghost Band, led by Mercer Ellington, who died in 1996.
---
See also Jazz legend
Dave Brubeck
.