Dave Brubeck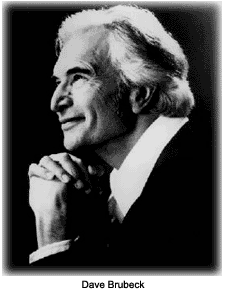 Dave Brubeck, an American Jazz legend and icon, is equally distinguished as a pianist and composer. He is known the world over as a consummate keyboard master. As a composer, Brubeck has written several large-scale works, including two ballets, a musical, an oratorio, four cantatas, a mass, works for jazz combo and orchestra, and numerous solo piano pieces.
Birth and childhood David Warren Brubeck was born on December 6, 1920, in Concord, California. He was the youngest of three musical sons. Brubeck`s mother, who had studied piano in England, exposed him to music early in his life. Although she was able to nourish his two older brothers on classical music, she could never dissuade Dave from playing his own music and popular tunes. Brubeck enjoyed creating his own melodies, a talent he revealed when he was only four — and never learned to read sheet music. When Dave was 11, his family moved to a ranch in the foothills of the Sierras near Ione, California. He soon loved life on the ranch and relished its daily chores. In his early youth, Dave did not visualize becoming a musician professionally; he still enjoyed playing the piano, but he wanted to follow his father's career as a cowboy and rancher. Nevertheless, by age 15, Dave was performing jazz professionally. His schedule amounted to weekend dances in Ione and surrounding towns — from eight at night until four in the morning. College days and military service Brubeck left the ranch at 18 to attend the College of the Pacific in Stockton, California. He planned to become a veterinarian and fulfill his dream of returning to the ranch. It became apparent in Brubeck`s freshman year, however, that veterinary courses did not suit him well. Following his first year, Brubeck switched to a music major. He progressed through the curriculum on natural talent — still not able to read sheet music when he graduated. Brubeck graduated with his music degree in 1942, the first full year of America`s involvement in World War II. He was quickly drafted into the Army. Brubeck held convictions against fighting in the war, but did not have to give them up: He served two years in a camp band in southern California. Eventually, however, Brubeck was transferred to Europe in 1944. He was due to be rotated to the front, but an army officer who liked jazz intervened and covertly kept Brubeck busy entertaining troops throughout Europe, even troops on the front lines. Brubeck spent nearly four years in the army. Postwar college and early career Following his service, Brubeck enrolled at Mills College in the foothills of Oakland, California, and studied under composer Darius Milhaud. The relationship with Milhaud developed, with fellow students, into the experimental Jazz Workshop Ensemble. The association was to go on and record as the Dave Brubeck Octet in 1949. In 1958, Brubeck collaborated with fellow musicians Joe Morello, Eugene Wright, and Paul Desmond, to form the Dave Brubeck Quartet, and quickly achieved great popular success. Brubeck, intrigued by time signatures, experimented with different ones to produce such works as "Blue Rondo a la Turk" in 9/8 time. "Blue Rondo A La Turk" is a play on Mozart`s "Rondo alla Turca," and the 9/8 is the time signature of traditional Turkish music. The famous "Take Five" is in 5/4 time, "Pick Up Sticks" in 6/4, and "Unsquare Dance" in 7/4. The group went on to perform and record through 1967. In 1954, just three years following the quartet`s founding, Brubeck became the first jazz musician featured on the cover of Time magazine. The quartet`s magnum opus, the innovative "Time Out," released in 1959, spawned not only the first million-selling jazz record, but opened the way for other artists, also experimenting in nontraditional time signatures, to invest in the "jazz scene." Later career Brubeck left the quartet in 1967 to develop his composing skills. He continued to build upon his role as a jazz-inspired composer, creating ballets, scores, oratorios, cantatas, symphonic pieces, classical compositions, sacramental compositions (including a contemporary mass), and Native American-inspired compositions. Brubeck collaborated in a quartet with his sons, Dan, Darius, and Chris, all jazz artists in their own right. Brubeck performed twice at the White House, in 1964 and 1981. He has frequently appeared at numerous jazz events, including the Newport and Monterey jazz festivals. Brubeck turned 85 in December 2005. Honors and awards Since the breakup of the Classic Quartet, Dave Brubeck has received the following honors and awards:
Down Beat Hall of Fame,

San Francisco Jazz Festival Laureate,

appearance at the Reagan-Gorbachev Moscow Summit in 1988,

Lifetime Achievement Award from the National Academy of Recording Arts and Sciences (1996),

National Medal of the Arts (1995),

composition for Pope John Paul II`s visit to San Francisco in 1987,

BMI Jazz Pioneer Award,

1988 American Eagle Award presented by the National Music Council,

six honorary doctorate degrees,

Duke Ellington Fellow at Yale University,

honorary doctorate degree from Duisberg University, the first awarded to an American jazz musician from a German university, and

NEA Jazz Master (1999).
---
See also Jazz legend
Duke Ellington
.