Marilyn Monroe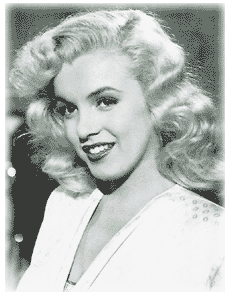 Her name brings beauty and sensuality, with a note of innocence, to the minds of those who hear it. Marilyn Monroe dominated the age of movie stars to become, without question, one of the most famous women of the 20th century. During her career, Monroe made 30 films and left one, "Something's Got to Give," unfinished. A worldwide sensation in her lifetime, Monroe's popularity made her much more than a star; she became an American icon. Childhood and schooling Monroe was born Norma Jeane Mortenson on June 1, 1926, in Los Angeles, California, to Gladys Baker. There was a dispute about her father's identity, and she was later baptized Norma Jeane Baker. After her mother was committed to a mental institution, Norma Jeane spent most of her childhood in foster homes and orphanages until 1937, when she moved in with family friend Grace McKee Goddard. While with her, Norma Jeane attended Van Nuys High School and University High School. When Grace's husband was transferred to the East Coast in 1942, the couple could not afford to take 16-year-old Norma Jeane with them. That left her with one of two choices: Return to the orphanage or get married. She chose the latter. On June 19, 1942, Norma Jeane wedded 21-year-old Jimmy Dougherty, whom she had been dating for six months. In 1944, Jimmy joined the Merchant Marines and was sent to the South Pacific. A big break After Jimmy left, Norma Jeane took a job on the assembly line at the Radio Plane Munitions factory in Burbank, California. Several months later, "Yank" magazine photographer David Conover saw her while taking pictures of women contributing to the war effort. Conover used Norma Jeane for the shoot, then began to send modeling jobs her way. Within two years, she was a reputable model with numerous popular magazine covers to her credit. Norma Jeane began to study the work of legendary actresses Jean Harlow and Lana Turner, and enrolled in drama classes. She was forced to make a hard choice between her marriage and her career, when Jimmy returned in 1946. Norma Jeane divorced him in June 1946, and signed her first studio contract with Twentieth Century Fox in August.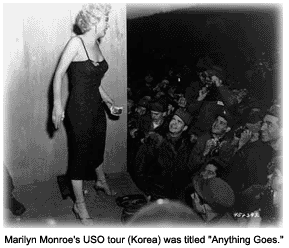 Norma Jeane becomes Marilyn Soon after, Norma Jeane dyed her hair blonde and changed her name to Marilyn Monroe, borrowing her grandmother's last name. Her beauty and bubbly personality won her the title "Miss California Artichoke Queen" in 1947. Monroe's first movie role was a bit part in "The Shocking Miss Pilgrim" (1947). She played a series of supporting characters until 1950, when John Huston's movie, "The Asphalt Jungle," provided her with a small, but influential role. Later that year, Monroe's performance in "All About Eve," which starred Bette Davis, earned her considerable notice. From then on, Monroe worked steadily in such movies as, "Let's Make It Legal," "As Young As You Feel," "Monkey Business," and "Don't Bother to Knock." It was her performance in "Niagara" (1953) that made her a star. Film stardom Monroe's success in "Niagara" was followed with lead roles in such popular movies as "Gentlemen Prefer Blondes," co-starring Jane Russell, and "How to Marry a Millionaire," which also starred Lauren Bacall and Betty Grable. In 1953, "Photoplay" magazine voted Monroe the Best New Actress. Also in 1953, Monroe became the first centerfold for "Playboy" magazine.
In January 1954, Monroe married baseball star Joe Dimaggio at San Francisco's City Hall. During their Tokyo honeymoon, she took time to perform for the servicemen stationed in Korea. Her presence caused a near-riot among the troops. Unfortunately, Monroe's fame and sexual image became a sore spot in their marriage. Nine months later, Marilyn and Joe divorced, but they remained close friends. In 1956, Monroe established her own motion picture company, Marilyn Monroe Productions. The company produced "Bus Stop" and "The Prince and the Showgirl." With those films, Monroe demonstrated her talent and versatility as an actress. She received a Golden Globe for Best Actress in a Comedy in 1959 for the movie "Some Like It Hot." In June 1956, Monroe wedded playwright Arthur Miller. Miller wrote the part of Roslyn Taber especially for Monroe, in the 1961 film "The Misfits." The movie co-starred Clark Gable and Montgomery Clift. The marriage ended in divorce in January 1961, and "The Misfits" was to be Monroe's last completed film. In 1962, Monroe was purportedly involved in affairs with President Kennedy and his brother, Robert Kennedy. Also that year, at the Golden Globe Awards, Marilyn was named female "World Film Favorite," proving once and for all that she was worthy of the title "Icon."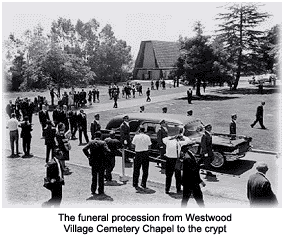 Demise of an icon Early on the morning of August 5, 1962, 36-year-old Marilyn Monroe died in mysterious circumstances at her Brentwood, California home. The world was stunned, and speculation about the cause of death persists. On August 8, 1962, Monroe's remains were laid to rest in the Corridor of Memories, at Westwood Memorial Park in Los Angeles. Shortly following Monroe's death, pop artist Andy Warhol helped to immortalize her with a series of colorful prints, and singer Elton John did his part with "Candle in the Wind," recorded in the early Seventies.
---
For additional famous women, see
Important and Famous Women in America
.